We continue our series that uncovers the daily processes for those working within the fertility sector by following the incredible work of a fertility counsellor, with Fertility Road again being granted exclusive access behind the scenes at some of the leading UK facilities. Ruth Wilde guides us through an average day.
I have a look at the system to check who I have on my list for the day. I normally see four or five patients each day. Some people may be coming for a follow-up session if I have seen them before, so I remind myself where we got to in the last session.
9am – I arrive at the clinic after driving into work. Most of the other staff will have been there since 8am, so when I get in the nurses are already busy scanning patients and there are egg collections going on as well.
I'll check in on our donor co-ordinator to see how her diary is looking for the day, and to enquire as to whether there is anything particular I need to know about any of the patients or donors who are coming through.
My station at the centre is with the nurses in their office, so when I arrive I have a chance to catch up with them. In between answering phone calls from patients, they'll update me on any news or pregnancy test results, and if a patient I've been working with has had a failed cycle, I will give them a quick call or send an email to ask if I can help. Sometimes the nurses may need me to call someone or fit a patient in at short notice.
I have a look at the system to check who I have on my list for the day. I normally see four or five patients each day. Some people may be coming for a follow-up session if I have seen them before, so I remind myself where we got to in the last session.
9.15am – I go into my infertility counselling training room. It's a very comfortable, private place with a sofa, two chairs and a plant. Staff know they can't disturb me once I am in the room as counselling is much respected in the clinic.
My first patients come in and will sit in the waiting room. I get a note from reception on my computer to let me know when they arrive, so I can go out and collect them. We have a policy at Compete Fertility Centre of only using first names in case other patients might know them… it's also much more personal. I offer them a drink, and then bring them into the counselling room.
There are two routes for patients to see me. They can refer themselves if they need some support – cards with my contact details are freely available in the clinic and anyone who wants to is welcome to contact me, either by phone or on email.
The other route is for people to be referred to see me if they are using donor eggs, sperm or embryos, or if they themselves are donating. At the centre, counselling for infertile couples is a routine part of treatment and is seen by all staff members as an important process for preparing people for treatment.
We have up to an hour for each appointment, so my second appointment is at 10.30am and then another at 11.45am.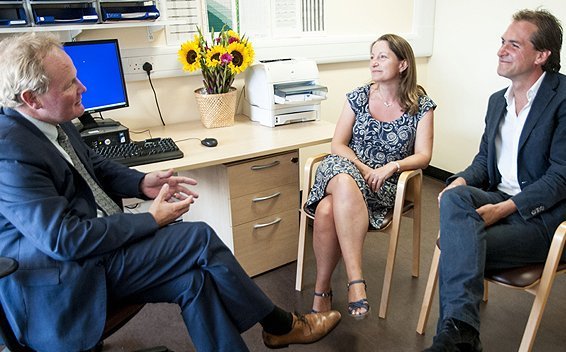 There are all kinds of reasons why patients may come to see me. Quite often it's around decision-making, perhaps about whether to have more treatment, especially for women who are deciding whether to carry on with their own eggs or to use those of a donor.

Sometimes there are people who have had to stop treatment for financial reasons and want help with putting some sort of line under treatment.
On other occasions, patients are simply finding treatment very stressful and we encourage them to pop in and offload on the fertility counsellor in order to help clear their heads so that they are in a better place to carry on. Often patients lose hope when they have had failed cycles and are trying to find ways of being more positive for the next. In myself, I have to prepare differently depending on whether it has been a miscarriage or a biochemical pregnancy, knowing that
I can also provide information to patients on the process of treatment, NHS funding, what appointments they will need to make and more. And, of course, in many instances I may be the first person a couple sees if they are embarking on treatment with donor eggs or sperm.
I meet all the egg sharers, altruistic egg donors and sperm donors about the implications of donating. They have decided on a course of action, but I can add a touch of objectivity and I describe myself as 'the pause button'. When they sign on the dotted line we want them to know all there is to know about treatment or donation. We want a good outcome for everyone, including the donor, and that's our aim.
Every single person I see is told about confidentiality when I see them. All fertility counselling questions are confidential. People know that I write one line on their medical notes to say that I have seen them, but that's all it says. I only ever discuss something with the rest of the team if the patient wants me to raise it – it can only ever be with their permission.
At the centre, patients who may need donor eggs or sperm see me before they meet a doctor as they need to understand the implications; they need to have had a chance to talk about it and decide that they definitely want to go ahead. I see them early on, and sometimes I may spend four or five sessions with them before they feel ready for donor sperm or eggs. A lot of it is about helping them to talk about it. With men particularly there can be a lot of shutting off because it is so painful. There can be grief work helping them to deal with the loss of their genetic child and then moving gently through the implications of treatment with a donor, working through the legal and ethical aspects.
For same sex couples and single women, the implications of treatment with donor sperm are different but equally important and, at the end of the day, all potential parents of donor-conceived children need to consider how they will manage disclosure to the child and wider social networks. I can help them to prepare for this.
What it's important to understand is that an implications counselling session isn't about running through the sort of information you can read on a website or in written information – it's about how it will affect this particular person or couple and their family and friends. It's a very personal session which is why it is done with a fertility counsellor.
One of the first things I say to anyone is that it's not an assessment; I am not there to make a decision or to say whether or not they should have a child. I make it clear that it's for them. I don't have a tick list for the clinic; it's not like that at all. It's about what it's going to be like for the couple or single woman in front of me.
Fertility Counselling isn't necessarily a comfortable experience of just being listened to. It can be a challenging interaction. My job is to help people think about things they may not want to think about, especially with implications and especially with couples who may find it difficult to talk about differences between them. Done well, counselling is supportively challenging!
Ruth's day as a Fertility Counsellor
12.45pm – After my last appointment of the morning I am meant to have about an hour-and-a-quarter before the first appointment in the afternoon to offer time to do all the necessary admin, and then an hour for lunch.
1pm – This should be the start of my lunch break, but in fact there are often counselling emergencies where people need to be seen urgently and this is a time to fit them in. It might be someone whose treatment has just failed, or a woman who had no eggs collected, or where there were no embryos to transfer, or perhaps it may be a man who has been unable to produce a sample on the day. This time is often for dealing with crises that can arise and also for seeing cancer patients who have to make quick decisions about preserving their fertility.
One of the first things I say to anyone is that it's not an assessment; I am not there to make a decision or to say whether or not they should have a child. I make it clear that it's for them. I don't have a tick list for the clinic; it's not like that at all. It's about what it's going to be like for the couple or single woman in front of me.
2pm – Sometimes I will see another patient or I may do some training for the nurses and trainee embryologists, for example about breaking bad news. It can be hard for the nurses if things don't work out for a patient, and the embryologists get very involved as they have to let people know about the development of their embryos. We may rehearse how to deal with a difficult phone call as they may need some support. Training is often done where we can fit it in, as all the staff are very busy and no one can be spared for too long.
3pm – We have our weekly clinical meeting. Everyone from the team who is available – consultants, specialist registrars, nursing and scientific staff – gets together once a week to discuss failed cycles. We go through each case individually and look at what to do next, making decisions as a whole team. I may contribute if a couple have asked me to say something or to find something out for them.
4pm – I have some admin time. This is important as I manage the fertility counselling service at Complete Fertility Centre so I don't just turn up and see patients. I also have to perform audits of the service to ensure I am up to date with organisations to refer people for further information or support.
During this time I might have some calls to make to patients about arranging appointments and may need to email a few of them. I may have to take the time to support other members of the team if, for example, they have been involved with a lot of bad news that day. We all get upset when cycles don't work and it's particularly hard when people have had two or three failed cycles.
5pm – I take a break. Sometimes I have private clients in the evenings who I see in practice rooms in Salisbury, but I only usually see one per night. If we have our support group meeting in the evening, I don't go home as I don't live close enough. I'll often nip out to the supermarket round the corner and get a sandwich or some soup to heat up in the microwave, and I'll buy some fruit and biscuits for the group. I'll sit and have a cup of coffee and often do a trawl of the journals for the latest research articles to see if there's anything new and interesting that I want to share with patients. I may do some photocopying of articles for the group, or sort out slides if I am doing a presentation.
7pm – I have a helper from another clinic who assists me with the group and she arrives to put out the chairs and get ready. Our support group is open to everyone, not just people from our clinic.
7.30pm – The support group members arrive. We usually have around 14 people there and more who are wanting to join all the time. We advertise the group through flyers in the clinic or on our website and the Infertility Network UK website. It's a very informal group and the people who are there set the agenda. We sometimes have people to talk, but mostly it's about giving quite a bit of input on coping.
9pm – The group ends and I clear up before driving home. When I get home I relax and catch up reading the paper from the weekend. It usually takes me the whole week to get through the Saturday Guardian!
Midnight – It is often midnight before I go to bed. I like to stay up and have some peace and quiet at the end of the day. It's also really important that I get some time on my own as I will have absorbed quite a lot during the day and need to recharge my batteries with some quiet time before I finally go to sleep.