The Elecsys Anti-Müllerian Hormone or AMH Test from Roche is proving to be an accurate marker of female fertility.
According to the WHO, fertility issues affect one in 10 couples, up to 80 million people globally, and this number is rising. Choosing whether to embark on the process of IVF is a huge decision for couples who are experiencing fertility problems and one that cannot be taken lightly.
Ovarian reserve testing can help with the decision-making process as it determines how many eggs remain in the ovaries and therefore gives a good indication of whether a couple will have a successful conception.
The age of the woman has traditionally been a good indicator of egg quantity and quality, as egg numbers steadily decline from the time of puberty and this decline accelerates from around the age of 37.
FSH or follicle-stimulating hormone testing has been a popular test for ovarian reserve for many years as FSH is instrumental in the production, growth and maturing of the follicles in the ovaries. Antral follicle count (AFC) testing with transvaginal sonography is also considered to be a good tool for determining the ovarian reserve.
However, a relatively new test called the antimüllerian hormone or AMH test is proving to be a particularly accurate marker of female fertility and reproductive lifespan.
The Elecsys® Anti-Müllerian Hormone (AMH test) from leading biotech company Roche was launched last year and has been shown to be a superior indicator of ovarian reserve compared to the FSH and oestradiol tests, the latter of which measures the amount of oestradiol, a form of the hormone oestrogen, in your blood.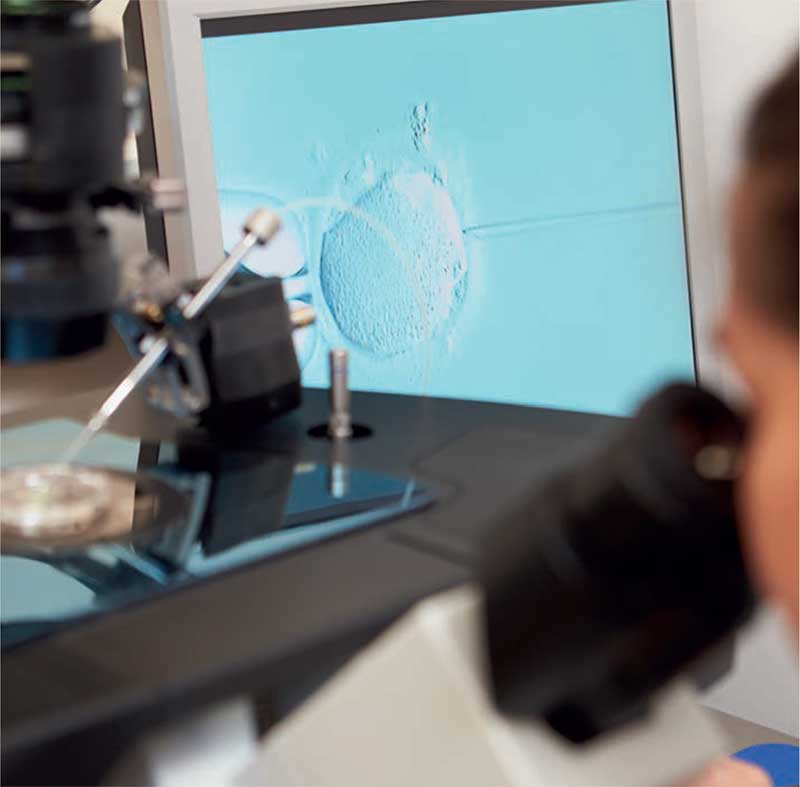 How does the AMH test work?
AMH is a hormone which is produced by the granulosa cells of the developing antral and preantral follicles (or egg sacks) in the ovaries. Its production is highest when the follicles are less than 4mm in diameter. As the follicles continue to grow, production decreases and then stops.
Virtually no AMH is produced in follicles over 8mm.
Since AMH is only produced in small ovarian follicles, blood levels of this hormone are used to measure the size of the pool of a woman's growing follicles. In other words, AMH levels are thought to indicate a woman's ovarian reserve. Therefore, testing blood levels of AMH before embarking on the IVF process is a useful indicator of ovarian reserve and potential response to IVF drugs.
If AMH levels are within the normal range, the ovaries are likely to react more positively to stimulating medication and more eggs are likely to be retrieved. Having more eggs with IVF tends to result in a higher success rate.
The benefits of Elecsys AMH test
Prior to the launch of the Elecsys AMH test, the only tests – or assays – that were available were manual, plate-based enzyme linked immunosorbent assays (ELISAs).
These have helped to increase understanding of the value of AMH measurement across a wide range of physiologic and clinical situations, but there are issues surrounding the lack of standardisation among those produced by different manufacturers as well as concerns about data reliability.
The Elecsys AMH test is a sandwich assay based on electrochemiluminescence technology. This means that the chemiluminescence reaction for the detection of the reaction complex is initiated by applying a voltage to the sample solution, resulting in a precisely controlled reaction. This technology can accommodate many immunoassay principles while providing superior performance.
"There is less chance of an error occurring because it is fully automated and there is limited intervention from staff. Another benefit is that a smaller sample volume is required."
What the experts think
Arun Sankaralingam, Principal Clinical Scientist with the Automated Clinical Biochemistry Laboratory at St Thomas' Hospital in London, carried out an evaluation of the Elecsys AMH test.
She said: "The test is carried out prior to the IVF process and although it was not previously available on the NHS it is available now. If a patient is considering IVF treatment this test will be able to determine whether the outcome will be successful or not. 
The IVF clinician will then be able to advise the patient whether to go ahead or not based on the results. We already use the manual test in our laboratory, but this test is fully automated, meaning that it is very precise and there is less room for error. Not only is the test easy to use but it is also accurate and very reliable.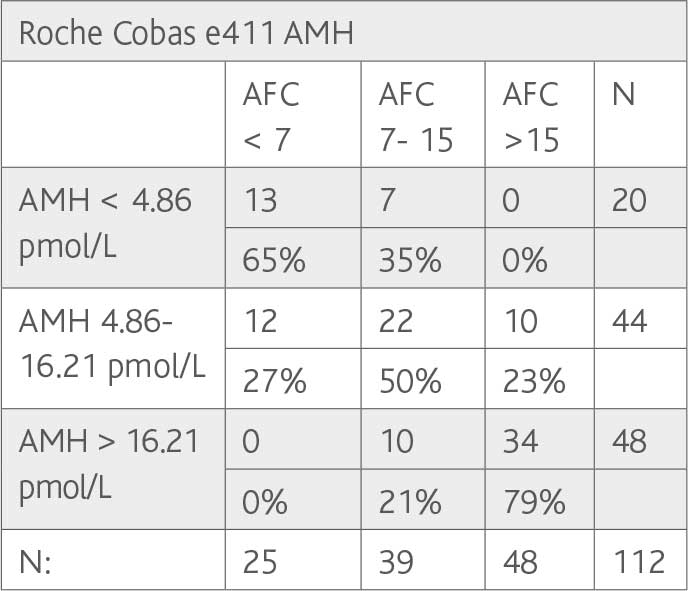 "As this is an automated test, the patient can get their results on the same day, whereas manual tests could take up to a week. It's therefore much easier and more convenient for patients."

Allison Gaskell, a biomedical scientist with Manchester Royal Hospital, added: "This assay has really simplified the whole process in our laboratory. Previously, with the manual assay, it took a long time to prepare the sample and then perform the assay, whereas now the sample is placed onto the analyser and we don't see it again until the result comes through. The test is much more sensitive than the manual assay too.
There is less chance of an error occurring because it is fully automated and there is limited intervention from staff. Another benefit is that a smaller sample volume is required. Previously, with the manual assay, we ran the tests in duplicate because there was a greater likelihood of errors occurring, but now we only need to run the test once."
Damian Lally from the biochemistry lab at the National Maternity Hospital in Dublin recently carried out an evaluation of the Elecsys AMH test. He said: "To do this we compared the results from the new Roche test with an existing test. We also checked the accuracy and precision of the new test. This is the standard procedure for all new lab tests. As an added study we compared the AMH results to the AFC from 110 patients in our fertility clinic. We have shown there is a good correlation between AMH and AFC in our hospital (shown below)."
Lally added: "The antral follicle count by transvaginal sonography is considered to be the best tool for determining the ovarian reserve and represents the active cohort of growing antral and pre-antral ovarian follicles. However, AMH could be used as a surrogate marker for the AFC in ovarian reserve testing.
Measuring AMH using an automated method has benefits in that it provides standardised results with minimum inter-operator and inter-laboratory variability, unlike AFC measurements which may be subjective, with many complications, a high inter-operator variability and within-subject variability.
The AFC by ultrasound also requires sophisticated ultrasound equipment and a trained ultrasonographer and can only be performed on day three of the menstrual cycle." Future plans for the test include using it in combination with the new human recombinant follicle-stimulating hormone (human rFSH) treatment which is currently in development.
This combination, which will make possible individualised dosing of human rFSH based on a woman's specific AMH level, may provide an improved option for couples seeking to conceive through IVF.
ABOUT ROCHE
Headquartered in Basel, Switzerland, Roche is a leader in research-focused healthcare with combined strengths in pharmaceuticals and diagnostics. Roche is the world's largest biotech company, with truly differentiated medicines in oncology, immunology, infectious diseases, ophthalmology and neuroscience. For more information, please visit www.roche.com.