- Advertisement -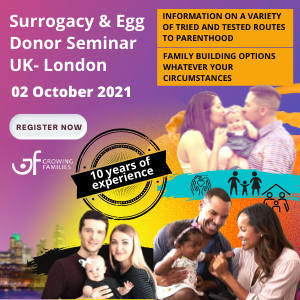 "What Is It Really Like To Go Through IVF…?" As a former IVF patient, it's a question I have been asked frequently.
It's a loaded question. Almost everyone knows that it can be a dark place for some, and a miracle for others. For me, there is no straightforward answer. So I decided to write my journey down in a metaphoric story as a way of explaining it…
Imagine you're standing at the foot of a huge snowy mountain. The kind with jagged rocks and impenetrable inclines that makes you feel queasy looking up. It will take you months to climb and if you make it, the duration will take you through the seasons, changing you as a person along the way.
You're prepared for the journey, it's all you've thought about for months. You hold your personalised three-month plan in your hand. It's oddly exciting. Milestones will have to be met along the way and you will need to pass all of them in order to progress. It's all about you now, everyone who knows seems still, waiting for news.
Your positivity gets you going. You feel all zen-like with motherly instincts kicking in already. There's baggage you have to carry uphill – let's call it a 15-kilo backpack representing the weight of your parents' dreams to become grandparents. You are weighted down by drugs too, brown paper bags filled with hormone pills, vitamins and vails for injections.
You crack on, shield up, sword outwards prepared to battle anyone who tries to knock you off the baby path to utopia. Thousands of woman have walked this trail before, and they made it just fine.
Let's think about that utopia for a moment; imagine on the other side of this mountain is a life with a family. You catch a glimpse of another you. In this imaginary place, you are holding a tiny delicate version of yourself. You become someone else entirely responsible and in the process form a love that only real mothers can understand.
You have a mild sense of that, but it's only imaginable at this stage. You aren't quite there yet…
The climb begins and you stop for breaks, telling yourself that you are still strong, healthy, in control and age doesn't mean a thing – even at 40 you feel 29. A routine begins to form and as you make progress you begin to allow yourself small treats of wonderings. You have a photocopy in your back pocket of the blastocyst – your baby in its most primitive form. What might my future look like if this works? Boy or girl?
The mountain gets snowy, some days it seems impassable. You wonder why you have to go to such lengths when others don't have to. It's unfair.
Climb, climb, climb…stab with needles.
Weariness takes over and your mood changes. You want to be alone. You don't want to be alone. But you are alone. You fight yourself and enter into a new kind of torture, the torture of hope.
The control you thought you had is now out of your hands.
You are more than halfway there and have reached a critical stage. You feel like you're winning. Everything is on schedule, you are doing what you are supposed to be doing. But it has become all-consuming and it's taking its toll on your body.
Months pass by as you climb, climb, climb. "It will be worth it" is a mantra you find yourself saying over and over again the rockier it gets.
The path evens out, and even the weather casts a bright ray of sunshine on you. The top is nearing and it seems that unwavering positivity is driving you to the top. Mummy club here I come. You congratulate yourself and sit on a smooth rock to look at the utopia below before descending.
In an instant, you are cast from that sunny rock to your bathroom toilet peering at the pregnancy stick you just peed on. Three months to get to here.
It feels like all your efforts have been for nothing and with it, you tumble backwards, down the mountain. All the energy and drugs it has taken for your body to get this far has been wasted. You are a shell of who you were and as you tumble backwards your heart detaches from your chest.
At the bottom you sit bruised and exhausted, you feel you are a complete and utter failure. The grieving process for an embryo that never fully formed, begins. Why did my embryo not stick? Did I do something wrong? How do I tell the others?
This pilgrimage can only truly be understood by those who have hiked this mountain. When I meet other IVF couples there's a silence that says it all. We've been there, our own silent war. But for some, the end goal is still worth persisting, no matter what it takes.
Personally – I have endured this journey five times and each time, I never made it even close to my utopia. The reality is that IVF is a lottery – almost impossible to win. I just hope that the next girl going up there is going to make it back down the other side.
Written by G.C.P