- Advertisement -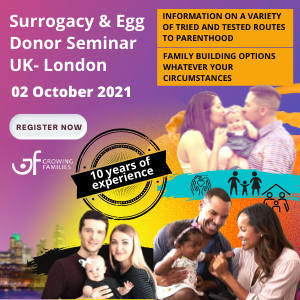 BabyStart provides a unique brand of male infertility test and pre-conception fertility products consisting of Male and Female Fertility Tests and vitamin supplements for couples planning a pregnancy.
Infertility affects as many as 15% of couples of childbearing age. The reasons for not getting pregnant, when planning a family, are split evenly 50/50 between men and women.
Humans are amongst the least fertile of any species on earth and getting pregnant immediately is not as common as popular culture leads us to believe. Doctors do not consider a couple to be infertile until they have been trying to conceive for at least six months if they are both over 35 and for those couples under 35, it must be for at least for one year.
According to some statistics, infertility affects approximately 15 percent of the reproductive-age population and in terms of male and female fertility factors, both men and women account for 40% of infertility cases each. Current surveys suggest that, as many as 50% of the 'trying to conceive' couples lifestyles have not left them in the best condition for conception. Therefore the time taken to conceive can vary greatly and is a real concern to those who are having difficulty getting pregnant and can lead to anxiety.
The Babystart Male Fertility Test products include:
Babystart FertilCount Male Fertility Test
The babystart FertilCount Male Fertility test is a rapid diagnostic test of sperm concentration in semen. Sperm count is widely recognised as the major indicator of the fertility in men. There is a one test kit and a two test kit.
The babystart Male Fertility test kits provide a way for men to test at home that will indicate if a man's sperm concentration is greater or less than the devices cut off point of 15 million sperm per mL of sperm. A positive result is going to be good news although it is not proof of male fertility. A negative result suggests that the man should consult with his doctor as he is close to being sub-fertile, which is not all bad news, because it does at least save a couple months of trying for a baby when there may be issues to resolve.
Babystart FertilMan
With babystart FertilMan there is no longer the need to purchase complicated and expensive combinations of male fertility vitamins and minerals. Just one daily male fertility tablet provides safe levels of essential nutrients for men and should be taken by the man as soon as a couple start planning a pregnancy. FertilMan Studies show that anti-oxidant supplementation, Glutathione in particular, can improve sperm quality, and possibly increase the chances of conception.
Babystart FertilMate
The babystart® FertilMate™ Scrotum Cooling Patch is a specially designed hydrogel pad with natural l-menthol used to provide the cooling effect.
The Cooling Patch has a pleasant aroma and a slim, flexible, non-messy format. It is easily trimmed and shaped for use on all sizes of scrotum and comes in a re-sealable bag, with no need for refrigeration.
There are two versions of the FertilMate™ Scrotum Cooling Patch, a 'Trial' pack of 8 off patches for those men that want to ensure that the patch can be worn successfully by them, either one a day whilst at work or during daytime 'warm' periods and/or another one worn during sleep.
Then there is a full boxed set which contains 32 off patches for an effective use of one spermatogenesis cycle, 16 days at 2 patches per day, one worn whilst at work or during daytime 'warm' periods and the other during sleep.
Babystart FertilMan Plus
Babystart FertilManplus is aFertilManPlus nutritional male fertility supplement formulated to support sperm quality. Sperm quality relates to motility, count/concentration, morphology and volume.
babystart FertilManplus should be taken by men that have a known sperm quality problem or in support when, as a couple, a pregnancy is not occurring.
The formulation contains no herbals, only pure scientifically proven compounds, with known effects, giving babystart FertilManplus a high "quality" status. Studies show that L-Carnitine and anti-oxidant supplementation, Glutathione in particular, can improve sperm quality, and possibly increase the chances of conception.
There is strong clinical evidence to show that men diagnosed with infertility have high levels of oxidative stress that may impair the quality of their sperm. Previous evidence has also shown that oxidative stress can decrease a sperm's life span, its motility, and its ability to penetrate the oocyst, or egg cell.
Nutritional therapies and antioxidants that have proven beneficial in treating male infertility and improving sperm counts, sperm morphology and motility include: L-Carnitine, L-Arginine, Zinc, Selenium, Vitamin A, B Vitamins, Vitamin C, Vitamin E, Glutathione, Coenzyme Q10 and Folic Acid, ALL of these are included in the formulation of the babystart FertilManplus sperm male infertility supplement.
The Babystart male fertility test portfolio aims to prepare 'trying to conceive couples' for natural conception and guide them to early medical support if they show signs of reduced fertility.