It was this year's most keenly awaited fertility book, and Jessica Hepburn's 21 Miles – swimming in search of the meaning of motherhood doesn't disappoint. Jessica has become one of the country's leading patient voices on the experience of fertility treatment after going through eleven unsuccessful cycles of IVF, and 21 Miles is her second book. It's the story of her decision to try to swim the English Channel but it's also about fertility, about relationships and about what motivates us to want to be mothers.
Jessica was Executive Director of the Lyric Theatre when she and her partner decided they would try to have a baby, and her first book, The Pursuit of Motherhood, tells her story of fertility tests and unsuccessful treatment. Most of us might have taken some time out to lick our wounds if we'd been through the ups and downs of eleven rounds of IVF, several miscarriages and an ectopic pregnancy, but Jessica, who is not most of us, decided to take a more radical route out of the sadness, and '21 Miles' is about what happens next.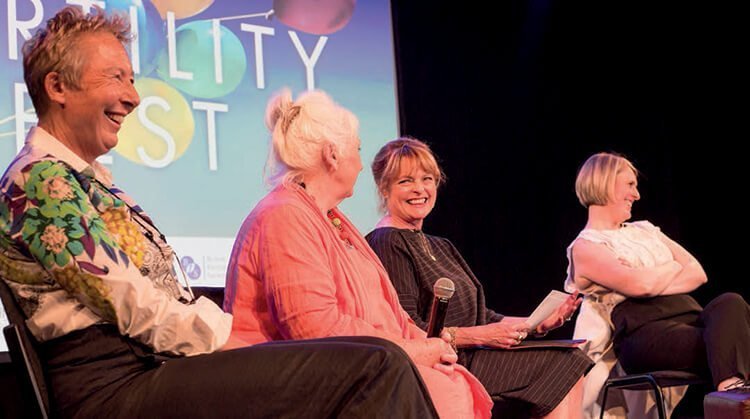 TV Presenter Janet Ellis interviews Jessica and some of the women from her book at the 21 Miles book launch.
It was her New Year's Resolution to "Give up IVF and do something big instead" which directly led to Jessica's decision to attempt to swim the Channel. Despite having no experience of swimming beyond school lessons and occasional lengths of the pool, she sets herself the challenge of the 21 mile swim from the Kent Coast to France. She also decides to interview 20 women, inviting them to have a meal with her to help her to "get fat to swim the English Channel and answer the question: Does motherhood make you happy?".
The book intersperses chapters about her preparations for the swim with her meetings with the women she has invited to to address her question, some of whom are familiar figures in the public eye. There is no particular theme to the interviewees, some have children and others don't, and they come from very different walks of life, but they are all women whose stories around motherhood or living without children have sparked Jessica's interest.
The meals she had envisaged often turn into cups of coffee, one a ten minute phone call and another an extremely brief email, but each of the women brings a different perspective to the question of motherhood and what it means. She also asks each of the women to give her a word to motivate her for the swim, a talisman for the challenge ahead.
The juxtaposition of these two very different parts of the book, the swimming and the interviews, is a structure that ought to feel disjointed, and yet Jessica makes it work effortlessly as we follow her through her training and her discussions about motherhood. Perhaps it works because these are in essence the two parts of her story and the interviews help to give context to the experience that has driven her to the swim.
Never being able to feel happy for someone when they announce they're pregnant without feeling sad for yourself at the same time
Jessica calls that driver "the pain of never", and if you have ever experienced fertility problems, her list of symptoms will be all too familiar (such as "Never being able to feel happy for someone when they announce they're pregnant without feeling sad for yourself at the same time" followed by "Never being able to admit that you've been in the loo crying about it because you don't want people to pity you"). She describes it as a hole in her life, the pain of losing something you never had, a pain no one can entirely understand unless they've been there themselves.
Meanwhile, we learn that swimming the Channel is a complex business; you don't just get into the sea and set off. There are training camps, hours in the water that have to be ticked off, the strict regimes of the weekends swimming off Dover beach, the pilots and boats to be booked to accompany you, the tides and weather which dictate whether you can swim and the cold of the water and the jellyfish to contend with. It is a huge commitment and you need patience, grit and determination. Jessica had certainly found her "something big" to do instead.
The interspersed interviews raise all kinds of questions around motherhood and our attitudes towards having children. There's Justine Roberts, the founder of the website Mumsnet, who despite her day job and four children, is adamant that you don't need children to live a happy life there's Jody Day, founder of Gateway Women, whose own experiences of coming to terms with childlessness led her to set up her support network, there's politician Fiona Mactaggart who had six unsuccessful rounds of IVF before being diagnosed with multiple sclerosis and former Chief Constable Julie Spence who illustrates how full life can be without children. These are just some of the women Jessica meets on her quest to discover more about women's relationships to motherhood.
There are some interesting insights in these vignettes about being a mother or living without children and what that means to different women, but it's Jessica's own story that is at the heart of the narrative as she recognises that she is "swimming my way out of grief".
She has moments of enlightenment along the way as she questions her own desire to be a mother, and there's also a subtext in the shadows of the story which is Jessica's own relationship with her partner, and the toll that the infertility and the treatment seem to have taken there.
If you've had personal experience of fertility problems, there is a lot that will resonate, but this is not just a book about in fertility, or about swimming the Channel.
'21 Miles – swimming in search of the meaning of motherhood' is a thought provoking read. If you've had personal experience of fertility problems, there is a lot that will resonate, but this is not just a book about infertility, or about swimming the Channel. It's a book which aims to make us think about motherhood and society's attitudes to mothers, about our own thoughts on the subject and about what lies behind them. Jessica has an engaging style and a light touch, making  '21 Miles' an enjoyable read. Of course, the question you really want answered is whether Jessica ever completed her swim across the Channel, and finding out is just one of the many reasons you should go and buy this highly recommended book right away!