- Advertisement -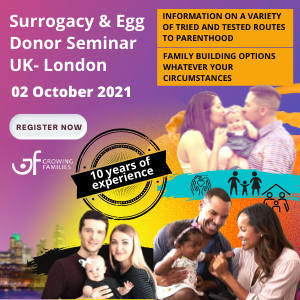 Brexit. Now there is a word that divides a nation!
At the time of publication of this edition of Fertility Road, the UK will most likely still be in the midst of confusion and uncertainty over what will become of Brexit.
Let's recap on the situation. Back in June 2016, the UK held a referendum, to decide whether to leave or remain in the European Union (EU). Brexit won by 52% to 48%, with over 30 million people voting.
The tussles with Brussels have been ongoing ever since. Will the UK leave the EU without a deal, or will there be another referendum? At the time of writing, none of us know. If the UK leaves without a deal on 29 March 2019, major disruption to businesses is predicted, with long tailbacks at all UK borders.
As a result of the uncertainty, the Department of Health and the NHS have been working with suppliers to ensure there are contingency plans in the event of import problems. The NHS has already started stockpiling medicines and medical products, and alternative routes are being explored to maximise the ability for supply to continue unimpeded.
How might Brexit affect fertility clinics in the UK?
We have to ensure that we have enough essential supplies for our patients' treatment. These include fertility drugs, other medicines, medical gases and all lab and theatre consumables, such as sterile dishes, pipettes and catheters.
Now we can stockpile of course. However, the specially designed media that we use to culture the eggs, sperm and embryos, only has a limited shelf-life. We have more flexibility with plastic consumables, such as embryo culture dishes and catheters, but then again, there is only so much stockpiling that clinics can cope with.
All of the above has caused clinic staff countless sleepless nights. I wonder if the 52% who voted to leave had considered how fertility treatments would be affected!
One import that is unique to UK fertility clinics is donor sperm. Many patients and clinics look to sperm banks in the EU to source their donor sperm. This could be a problem if the UK and the EU end up with "no deal". EU sperm banks have been working hard on contingency plans to assure deliveries will continue, but uncertainty remains.
It may be that many of these banks follow the example of the European Sperm Bank, who began construction of a UK branch in 2016 – way before the letters "Br" and the word "Exit" had joined up, and when the idea of a Brexit bus telling us that leaving the EU would save us £350 million a week to spend on the NHS, was a mere twinkling in a cocksure Brexiteer's eye.
Whatever world the UK finds itself in on 30 March 2019 fertility clinics will no doubt be affected in some way which might include the proliferation of more UK based sperm banks. At the moment your guess is as good as mine in terms of the knock-on effect of Brexit but hopefully whatever way the politicians jump, our fertility sector will not experience any negative side effects.
We wait with baited breath.
At the time of publication of this edition of Fertility Road, the UK will most likely still be in the midst of confusion and uncertainty over what will become of Brexit.
'Old' sperm produces healthier offspring
Until now, there was a general assumption that it doesn't really matter which sperm fertilises an egg as long as it can fertilise it.
New research from the University of East Anglia (UEA) and Uppsala University in Sweden however suggests that sperm that live for longer before fertilising an egg produce healthier offspring. The research showed that longer-lived sperm in an ejaculate of a zebrafish male produced offspring with longer and healthier lifespans – who in turn produced more and healthier offspring themselves – than the shorter-lived sperm in the same ejaculate.
Lead researcher Dr Simone Immler, from UEA's School of Biological Sciences, said:
"One male produces thousands to millions of sperm in a single ejaculate but only very few end up fertilizing an egg.
The sperm within an ejaculate vary not only in their shape and performance, but also in the genetic material that each of them carries.
Until now, there was a general assumption that it doesn't really matter which sperm fertilises an egg as long as it can fertilise it.
But we have shown that there are massive differences between sperm and how they affect the offspring."
The research team performed in vitro fertilisations by collecting gametes from males and females. They then split the ejaculate of a male into two halves. In one half, they selected for shorter-lived sperm and in the other for longer lived sperm. They then added the sperm to two half clutches from a female to fertilise the eggs and reared the offspring into adulthood.
They then monitored their lifespan and their reproductive output for two years.
Dr Immler said:
"We found that when we select for the longer-lived sperm within the ejaculate of male zebrafish, the resulting offspring is much fitter than their full siblings sired by the shorter-lived sperm of the same male.
More specifically, offspring sired by longer-lived sperm produce more and healthier offspring throughout their life that age at a slower rate.
This is a surprising result, which suggests that it is important to understand how sperm selection may contribute to the fitness of the next generations."
This research has important implications for evolutionary biology and potentially beyond into areas that use assisted fertilization technologies, for example in livestock rearing or IVF in humans," added Dr Immler.
'Selection for longer lived sperm within ejaculate reduces reproductive ageing in offspring' is published in the journal Evolution Letters on February 14, 2019.
…………………………………….
Surprising
A recent study involving the analysis of semen from 662 men between 2000 and 2017 has divided opinion on the reproductive health effects of marijuana use. Published in the journal of Human Reproduction the study suggested that low levels of marijuana use could actually benefit sperm production.
Before all you men rush out and get your hands on the illicit substance it should be noted however that we do not conclusively know a great deal about the health effects of marijuana in general, whether positive or negative. One plausible explanation which has been put forward as a response to the research finding is that it could reflect the fact that men with higher testosterone levels are more likely to engage in risk-seeking behaviours, including smoking marijuana!
Until we have some more research however we think the jury remains out on the question of the link between the Class B (UK) drug and reproductive health!