When Raylene de Villiers consulted with fertility astrologer Nicola Smuts she was prepared for the fact she may never become a mother.
"I was pretty desperate, and at the point where I just wanted to have an indication of whether I would ever be able to get pregnant," says Raylene, who lives in Johannesburg, South Africa.
"I didn't really have an opinion about astrology but I was quite open to trying it." Her husband Jacques, though, was not as keen. "He thought it would be a long story about nothing," she admits.
Up to that point, the couple had trodden a familiar route navigated by so many. For them, it had been a four-year struggle to become parents. Both had fertility problems: Raylene had polycystic ovary syndrome, while her husband's sperm quality was poor.
After three failed rounds of intrauterine insemination, they had initially tried IVF with their own eggs and sperm. Unfortunately, the first round failed and a second ended in miscarriage. After the third and fourth rounds were unsuccessful and tests showed chromosomal abnormalities, Raylene and Jacques were advised to use donor eggs. Sadly, two further rounds of IVF with donor eggs also failed.
In 2009 they were considering further fertility treatment with both donor eggs and sperm. But after Raylene and Jacques (who were then both 30) spoke with fertility astrologer Nicola in September of that year, those plans were overturned immediately.
"Nicola said my husband's once-in-a-lifetime opportunity was coming up in April 2010," says Raylene. Such a defining statement took confused as to why we were using donor eggs at all; she said she did not foresee that I would need donor eggs."
It was a ray of light, a beam of hope for the couple. Heeding Nicola's words, they switched fertility clinics (as their original clinic insisted they use donor gametes) and tried again using their own eggs and sperm at the selected astrologically auspicious moment. To their amazement, this time IVF worked and Raylene gave birth to three baby girls: Amelie, Elyssa and Genevieve, on December 6, 2010. Had fertility astrology solved four years of pain?
With triplets, Raylene and Jacques thought their family was complete. However, Nicola advised Raylene to be aware that in May 2012 she would be very fertile. "I didn't really take this to heart," she laughs, but in June 2012, after weeks of sickness – which was originally thought to be a lingering bout of gastroenteritis – and a couple of trips to the hospital, Raylene discovered she was pregnant, naturally. Her son, Ethan, was born on February 6, 2013.
Raylene and Jacques are one of the thousands of couples who have been helped by a fertility astrologer, and the practice is as prevalent now as it has ever been. Of course, it's a method that divides opinion – some refuse to believe the outer elements of the sky can dictate the inner workings of our bodies, and scientific research doesn't help to bring about any conclusive answer either way. For others, it is a holistic method every bit as valuable and worthy of being embraced as yoga, herbal medicine, hypnotherapy and acupuncture – after all astrology is defined as a technique for the study of life cycles.
First practising fertility astrology 15 years ago, Nicola Smuts now lives and works in the UK. Her clientele, who consult with her via Skype, is global and varied.
"You don't have to be a believer in astrology to benefit," she is quick to state, speaking exclusively to Fertility Road. "Astrology is not a belief system; you could be a raving atheist, you could be Richard Dawkins, and it would still work!" Indeed, she notes that many of her clients are, initially, sceptics.
Many fertility astrologers will work in similar ways. For Nicola, the process begins with an hour-long Skype consultation, asking couples to provide their natal data: the precise time, date and location of their birth. From this, an astrologer will draw up each person's birth horoscope or chart, and it is the analysis of these charts that provide information regarding the couples' chances of becoming parents.
However, a reading can be possible based on just one individual's data if, for example, one person doesn't have this information, or as is sometimes the case, one half of the couple is unaware that their partner is consulting an astrologer.
"It is more important to have the woman's data," Nicola continues. "Quite often women come to me and their husbands don't know it; although sometimes the husband's birth time can be good enough." She points to Raylene and Jacques' story: "It was his chart that was extremely strong; it was his chart that was shouting out."
The first part of any consultation is about elucidating any medical conditions affecting fertility: hormonal factors, egg quality, the condition of the uterus and fallopian tubes, the nature of the sperm in terms of quality, count and chromosomal abnormalities. This is to illuminate any conditions that the couple might not have thought to test for.
Through conversation and dialogue clients can then come to an agreement with their fertility astrologer about the best way to proceed. This may be, for example, focusing in on the use of a particular fertility treatment, such as ICSI or donor gametes.
The second part of the consultation focuses on the 'lucky times' for the would-be parents – the times when it is most auspicious to try to conceive. "Most people only have three lucky times a year," explains Nicola. "I will figure out when these three key fertility moments occur during the next three years, and these are the times when they should focus on getting pregnant."
Sometimes the news about when to try comes as a surprise. One client, recalls Nicola, was very shocked when she advised her that her next 'lucky time' was four to five weeks away. "I said, 'This is the best chance of your life' and she had to shift everything." The effort was worthwhile though when the astrological timing proved successful.
Nicola is open about the astrological techniques she uses – for each astrologer it may be different. She looks, she says, at the movements of the planet Jupiter, which is traditionally associated with good fortune and expansion. She then notes when Jupiter makes connections with key planets and points in a client's birth horoscope: together these provide the basis for timing conception.
Not all clients want to know about the astrology behind the 'lucky times' though. "For some it is important, but I always ask how much astrology they want to hear. Not everyone wants to know the science; they're just focused on the instruction that it provides."
At the end of a consultation with a fertility astrologer, clients will be sent their astrological notes.
For some people, facing irreversible infertility, the news about their chances of conceiving may not be welcome.
"I cannot help people who don't have a uterus, or a particular medical condition, but I can talk about what might be their path, perhaps adoption," says Nicola.
Looking at their horoscopes, she will assess the degree to which problems are solvable but, as she notes, it can also be what approach clients are prepared to take – a chart may suggest donor eggs or sperm may be the best option, but this may not be acceptable.
"I don't exclude miracles and I like to keep the window open, but I do warn people if they have extreme difficulties. For those clients I'm very clear and say 'you do realise we are talking miracle category here; you must be very realistic'."
Indeed, one of the hardest parts of the job for any fertility astrologer is when having to advise a client that their chances of getting pregnant in the coming months or years are not good. Having already experienced years of heartbreak and waiting, being told to not have treatment for a period of time can be hard to take.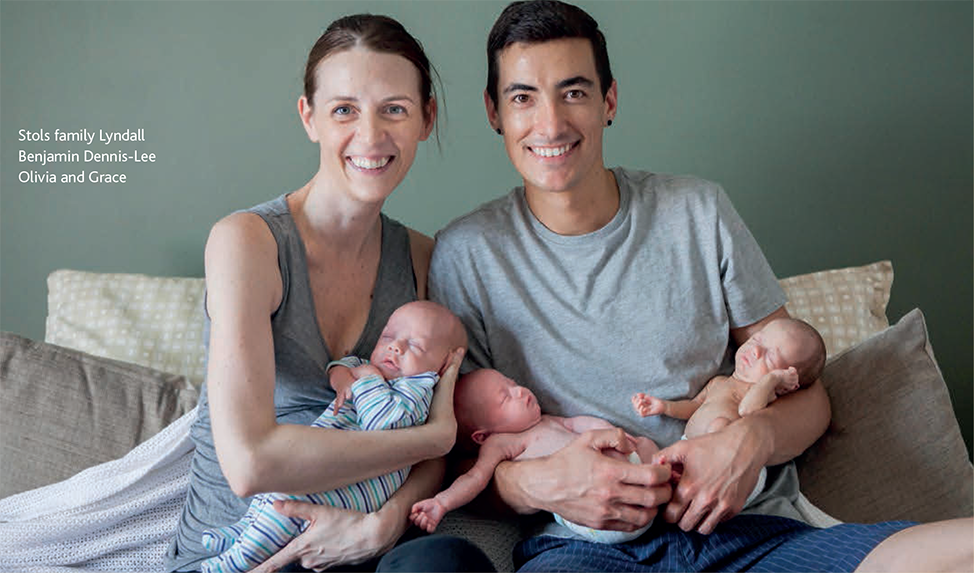 This was the scenario Nicola faced when Raylene de Villiers' sister Lyndall Stols came to see her. Raylene, now a happy mum, had paid for her sister to consult with Nicola, when Lyndall too encountered fertility problems.
"Lyndall presented with infertility, not identical issues to Raylene, but more complex – her chart was much worse off than her sister's. She asked, 'Do the same thing for me as you did for Raylene'. I had to say, 'It's not going to happen for two years', and she was devastated."
Despite the advice, Lyndall did try IVF during those two years, but was not successful. However, another two years on, when she and her husband Dennis-Lee tried in the propitious time selected for them – spring 2014 – she did conceive, also with triplets. Benjamin, Olivia and Grace were born on November 18, 2014.
Regarding the number of babies she's helped bring into the world, Nicola says, "I really, really don't know how many there are." Like many fertility astrologers, she will not contact clients after a consultation, so only finds out if her astrological counsel has helped if they come back to her. What's true though is she has a picture collage of smiling babies on her wall.
She's also acutely aware of astrology's reputation within the general public today, and that many who work in the medical profession dismiss what she is doing. It is a battle against perception that any form of astrology faces, and the simple answer is to let those who participate in it make their own minds up. For all that, however, astrologers still have many supporters within the fertility community, and across the world they can be found working in collaboration with doctors and fertility clinics.
And Raylene de Villiers, who is a scientist by background, admits that she is sometimes reluctant to reveal astrology's role in how her children came into the world. "It depends who I'm talking to," she says. "I have told a couple of people, but I do find that some people are afraid, or get a bit weird about fortune telling."
Her advice for anyone considering consulting a fertility astrologer is to cast aside those rational doubts. "I would say definitely go for it, 100%. I'm a big believer now, and have the evidence to prove it."
More information can be found on Nicola's website www.fertilityastrology.com