Key points:
PGT-A, or preimplantation genetic testing for aneuploidies, is a genetic test performed on embryos produced through IVF.
Both egg and sperm cells normally have 23 chromosomes, and after fertilisation, a single-celled embryo with 46 chromosomes is formed.
PGT-A works by looking at the amount of genetic material within IVF embryos. Embryos with the incorrect number of chromosomes (also called aneuploid embryos) can lead to implantation failure, miscarriage, or the birth of a child with a genetic condition.
PGT-A testing requires an invasive biopsy procedure generally carried out on day 5 of embryo development, and then next generation sequencing is used to perform the ploidy assessment.
Although PGT-A testing is often considered a gold standard test for embryo genetic assessment, its use has not been shown to improve the overall chances of becoming pregnant. PGT-A-only testing also poses specific challenges: it is expensive and often adds thousands of dollars to the total cost of IVF treatment; specialist embryologist expertise is required to perform the biopsy; and there is a small risk that embryos may be harmed during the biopsy procedure. Perhaps even more concerning is the challenge presented by mosaicism.
Although the genetic sequencing provided by PGT-A is highly accurate, mosaicism of some embryos means the biopsy and subsequent PGT-A results may not be representative of the overall genetic integrity of an embryo. In the case of a PGT-A 'aneuploid' result for a mosaic embryo, this could mean a normal embryo is discarded. Despite this, PGT-A results are often used as a proxy for embryo quality.
Genetic health is undoubtedly a key indicator of embryo quality, however it is not completely correlated with implantation potential of an embryo. In recent years, the IVF sector has focused on non-invasive methods of assessing embryo viability and genetic quality, and Artificial Intelligence (AI) shows promise as an adjunctive approach to provide additional information on the overall implantation potential.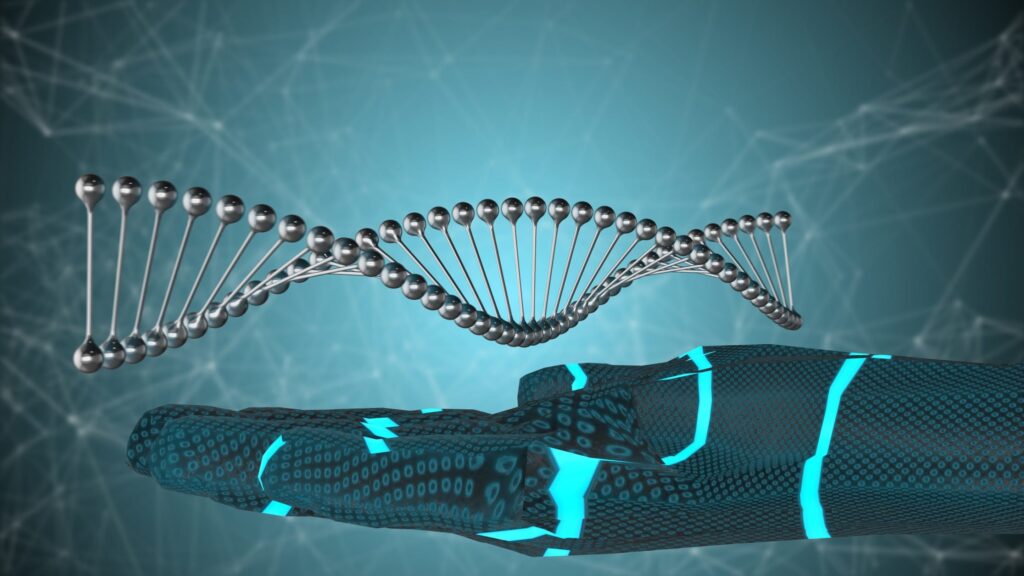 Using AI to support expert embryologists in their decision making
Presagen (www.presagen.com) has developed an AI application, Life Whisperer, which is already being used clinically for viability assessment and ranking of embryos. The AI was trained on a large global dataset of Day 5 embryo images and pregnancy outcome data, and has a high predictability of the likelihood of implantation success.
Life Whisperer (www.lifewhisperer.com) identifies the morphological features that constitute a healthy embryo, including complex patterns invisible to the human eye. Even for the most experienced embryologists, Life Whisperer's embryo viability assessment tool will ensure better-informed decision making about which embryo to transfer first.
A breakthrough in the non-invasive detection of Down Syndrome
In a small-scale pilot study, another Life Whisperer application has been used to investigate whether genetic abnormalities could be non-invasively detected through imaging alone, training the AI on embryo images with known PGT-A results. The study showed the AI was able to detect serious chromosomal changes associated with Down Syndrome, with the paper presented at the prestigious IVF conference, ASRM in Philadelphia in 2019.
Imagine if, for every patient, you were able to perform a non-invasive AI-based viability and genetic assessment of all available embryos within seconds from a single image of each embryo?
At low cost, AI can provide a mechanism of first line assessment of embryo viability, implantation potential, and genetic integrity. Risky and costly PGT-A assessment can be reserved for patients known to be high risk, or performed only on embryos with high implantation potential.
An open call to join the global clinical partnership
Further global data collection is now underway to assess this approach on a much larger and globally diverse dataset. Development and commercialization of this second Life Whisperer application, Embryo Genetic Assessment, is in progress, and a global clinical partnership is currently underway for data collection for AI training, with numerous clinics from multiple countries around the world committed. The Embryo Genetic Assessment application will become part of a suite of Life Whisperer applications for the IVF sector and it is expected to be ready for regulatory approvals and/or use by the end of 2020. Early discussions with clinics indicate that this application has significant value to the IVF community.
Clinic royalties and first to market use
Clinics can collaborate with Life Whisperer on globally scalable products, such as AI for non-invasive genetic assessment, that can deliver superior healthcare outcomes. Clinics are paid royalties for their contribution and will be first to market using world leading AI technology for their patients.
Collaboration is easy using the Presagen AI Open Projects platform, regardless of clinic size or location. Clinics only need to provide data access, expertise and clinical support. Presagen does the rest, including AI build, regulatory approvals and commercialization. All data is private, secure and locally hosted; it is not shared to a central location or outside of your local jurisdiction.
If your clinic would like to collaborate with us to develop world leading AI for your patients, join the royalty program, and help us bring this ground-breaking AI to market a little sooner, please don't hesitate to drop me a line.
Richie Bower
Chief Commercial Officer
Life Whisperer
AU: +61452001718
US: +12016465293
UK: +447408801827