- Advertisement -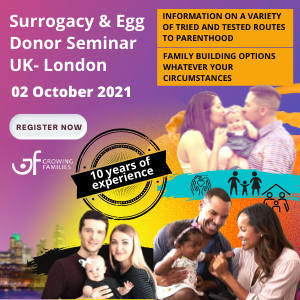 We at Fertility Road are extremely pleased to be once again acting as media sponsors for the 2020 Canadian Fertility Show. The event which will be held in Toronto in February 2020 will bring together leading fertility practitioners from across Canada and is a perfect example of how multi-disciplinary interventions can impact on fertility.
The Show's Founder, Dr Jodie Peacock discusses her career to date and the evolution of the show.
What got you interested in natural medicine?
Natural medicine is currently one of the largest growing sector in healthcare. So, it is no wonder to me that this is a route many people considering or actively trying to start a family will look to for guidance and education.
I am currently a practicing Naturopathic doctor at The Root of Health in Oakville, Ontario Canada. I have been in clinical practice since 2007 and have a focus in hormonal health and in particular supporting fertility. My passion for fertility started in my early 20's when I was diagnosed with a condition called polycystic ovarian syndrome (PCOS). This is a syndrome that can have significant negative impact on future fertility. As I was already in school to become a naturopathic doctor, I was already in the mindset of trying to determine root cause of different conditions and has a significant focus on preventative healthcare.
My initial interest in helping women with PCOS expanded into supporting women with other hormonal based concerns such as endometriosis, premenstrual syndrome, irregular menses through to menopause. In terms of fertility, I believe that the months leading up to a pregnancy play a significant role in both conception and in the health of children. I sincerely enjoy supporting patients with dietary, lifestyle and nutritional supplement support to improve hormonal regulation and optimize their fertility and seeing the positive outcomes that can result. This was the main reason I published my first book called Preconceived (available on Amazon). The book gives a researched-based over to topics such as diet, supplementation and hormone regulation to help optimize to the health of both partners before conceiving. I am also the chief medical officer of a new nutritional supplement line called Enhance Fertility designed to support couples from day 0.
How did it all start?
My route to being trained as a Naturopathic doctor began by completing my bachelors of Science at The University of Guelph. I then went on to complete 4 years of study at the Canadian College of Naturopathic medicine in Toronto, Canada. After graduation I began my clinical practice in Oakville. Since then I have focused my continuing education studies in both environmental medicine, hormonal health and fertility.
Over the years of being in clinical practice I have seen a countless number of couples who came to see me once that they felt they were out of options and were looking to see if anything else could potentially help. This was heart breaking to me as I felt that if patients where able to better understand the role that their lifestyle plays in optimizing their fertility and could implement these changes first, this could have a significant positive impact on both their overall health and the health of their future children.
Tell us a little about the Canadian Fertility Show
I founded the Canadian Fertility Show in 2018 to provide a venue where potential parents could access fertility experts with different areas of clinical focus. Based on my clinical experiences I found often patients accessed care or relied heavily on the internet which for some led to a delay to in seeking proper medical care or certain tests as options hadn't been explored that could make a significant difference in their journey The idea behind the show is to meet 3 main goals.
To provide a safe and supportive event space where no matter where attendees are in their family journey they will be welcomed and supported.
To bring together experts from across a broad range of professions and supports for fertility.
To be a resource for top quality education that attendees can trust.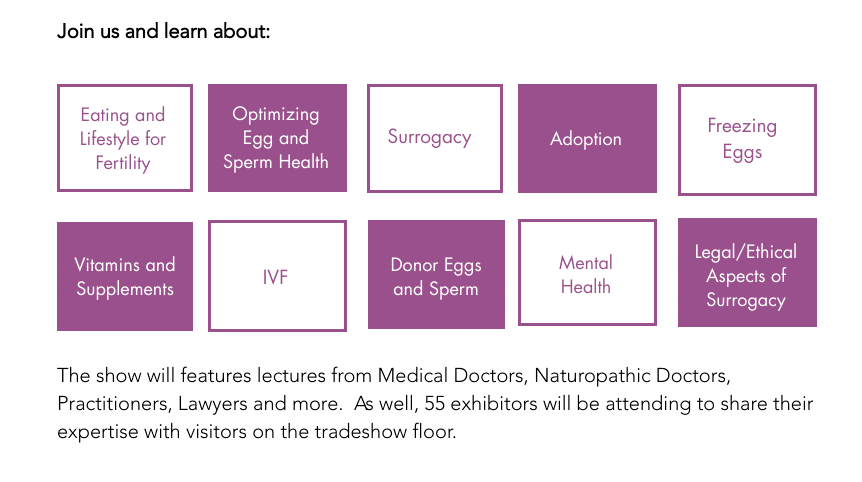 So, Support is a key feature?
Yes. Our goal is support individuals along their journey to parenthood right from the beginning. We know that fertility concerns currently impact approximately 1 in 6 couples but we also aim to support and educate all couples on their journey. Dealing with concerns around fertility can be extremely stressful. There are resource in available to help support potential parents but often people are unaware of them as an overwhelming number of people don't feel comfortable discussing topics surrounding fertility and feel they have limited to no support in their journey. I have heard comments such as "People who haven't been through struggles with fertility just don't understand" or "I am so stressed, and I have no one I can talk to". The show provides an opportunity for individuals to connect with different supports and also to see they aren't alone in the process.
Who will be there?
With any health concern different professionals can have varying opinions on the best ways to approach treatment. Fertility concerns are no exception to this. There is no "one size fits all" approach to treatment for fertility so being able to provide a venue for attendees to access a multitude of fertility experts under one roof is a major asset. This could potentially save someone countless hours of going internet surfing and travelling from clinic to clinic to better understand each professionals approach.
The Canadian Fertility Show brings together Fertility doctors, Doctors of traditional Chinese medicine, Naturopathic doctors, Nutritionists, Massage therapists, social workers, experts in egg and sperm donation and surrogacy as well as several other exhibitors with different areas of expertise. Several of these disciplines are often found working together in the same clinics while others will have differing opinions on how to approach different aspects of fertility concerns. In speaking with previous attendees, several made comments about not realizing that there were supportive services outside of IVF clinics that were available options for them.
Others were happy for a chance to speak to doctors at different clinics to be able to find a doctor that was a good fit for their concerns. It is also a great opportunity to have a chance to learn about new technologies and advancements in the field that may make the fertility journey easier. Some examples include advancements in genetic testing that can make choosing an embryo for transfer significantly easier, or endometrial receptivity testing that ensures that if you are doing an IVF cycle you are transferring your embryo on the optimal day to maximize the chance of implantation. There has also been a wealth of research in nutrients and vitamins, herbal medicines and acupuncture that can support quality of egg and sperm which will also be updated.
Last year we were particularly struck by the diversity of lectures – is that something you will carry on into 2020?
Yes. We were able to provide 24 educational lectures during our event in 2019 on a wide range of topics. Some topics included the ins and outs of IVF, fertility law, optimal nutrition for fertility, optimizing sperm and egg health and some counselling sessions addressing the stress aspect and mind body connection of fertility concerns. Feedback from participants was overwhelmingly positive with attendees feeling that had received amazing value for their day spent at the show.
And finally, when is the show?
The 2020 show is scheduled for 22 February 2020 at the International Centre in Mississauga. We will again have the opportunity to provide 24 speaker sessions during the day again with a broad range of topics. For 2020 we are also considering adding smaller satellite shows or potentially virtual education. Bringing awareness and compassion to people on their journey to parenthood whatever that looks like is the ultimate goal of the Canadian Fertility Show.
For more information about the show please visit www.canadianfertilityshow.ca or to contact Dr. Jodie Peacock ND visit www.enhancefertility.ca.