- Advertisement -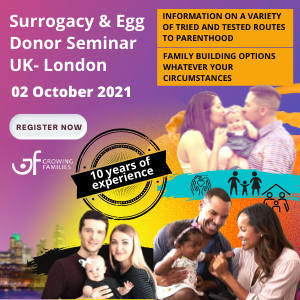 A look at a Conceivable, a practical guide designed to change your experience of your fertility journey and fast track your chances of success written by Coach, Cognitive Hypnotherapist and Fertility Road contributor, Russell Davis.
Making the Magic Happen
'Conceivable' is borne from Russell and his wife Bevan's, own 10 year fertility journey. It is a portrait of self discovery and whilst it contains insight and practical advice which will no doubt help both men and women on their respective fertility journey's, it is perhaps more enlightening from the male perspective.
From the outset Russell is at pains to dismiss the guide as some sort of text book for the infertile – he wants us to immerse ourselves in the experience and use it to rethink and reboot our journey;
"I want to encourage you to read this book for an experience, not making notes, underlining or folding pages down".
The small, bite sized chapters make this an easy read and the title of one of the chapters, 'Project You v Project Baby' really sums up the rationale behind the experience. Making the magic happen, creating a happy end for your fertility journey, will only be achievable once you carry our your own emotional audit of where you are; understand, accept, and if necessary adapt, then 'Project Baby' will be easier to manage and achieve.
The resource reinforces the notion that all journeys are about the whole, not the part. Russell manages to illustrate this notion clearly throughout this thought-provoking guide which reads more like a personal notebook, created from pure experience, which is kindly handed down with love to anyone experiencing fertility issues rather than a cold textbook signposting do's and don'ts. As Russell points out;
"I wish CONCEIVABLE was around 30 years ago because it is a fantastic resource for both those trying to conceive and those caring for them. I wish I had read it 30 years ago"
Riding the Rollercoaster
Russell's use of the analogy of the Rollercoaster Ride is a particularly apt and appropriate one. The fertility journey can be a very bumpy, uncomfortable but ultimately exhilarating ride.
The guide meets the rollercoaster head on; challenging us to examine and process our own emotions; accepting that the whole experience can be extremely tough but ultimately it is the acceptance itself which can be the key to unlocking the journey;
"Acceptance is the WD40 of change. Once you allow what is to be you can begin to move on from it!"
Russell sums this up perfectly when he says, we need to shift our mindset from 'victim to creator'.
The Male Factor
At the beginning of his fertility journey it became obvious to Russell that there were differences between the way he and his wife were dealing with their situation. Whilst his wife was processing emotions Russell was not, instead filling his life with distractions like work.
The dichotomy between the male and female reaction is a typical one and can stem from the way males are programmed and shaped as Russell explains,
"As boys and men, we are bombarded with messages about what it means to be a man. This can come both unconsciously and consciously from our fathers buy also media and society as a whole".
'Manliness' is often measured in emotion – the expression of which was traditionally viewed as a weakness and it is this weakness which can have an adverse effect on the way that men react to fertility issues. It was only when Russell addressed his emotions things began to change, and change significantly;
"When I stopped trying to bury my emotions, when I was no longer scared of feeling them, I felt less of a victim of life. A few months after this realization and experience my wife got pregnant naturally against all odds".
One of the big differences between men and women is characterised by the way they view issues or problems; Davis thinks men are wired to find instant 'solutions' whereas women want to 'understand', before attempting to resolve. Put simply, men in general tend to want to 'run before they can walk' in emotional terms.
This theme runs throughout the guide and Russell provides some excellent insights and practical tips to enable men to shift this mindset.
An Excellent Read
Russell succeeds in his desire to produce an 'experience'; it is a very personal and engaging read which will resonate with many and help many others.
"I wouldn't wish my 10 year fertility journey on anyone, but I hope you've got a glimpse of what I learned about myself and life that you can begin to see in your own life, and perhaps see the gifts for you on your journey that will stay with you forever and help you be the parent you would love to be"
To download some free resources to help you further on your journey and get some inspiration straight to your inbox, sign up on Russell's website, wwwthefertilemind.net
'Conceivable: Get off the infertility emotional rollercoaster and fast-track your journey to getting pregnant whether naturally or with IVF' by Russell Davis is available from Amazon.