"I'm not a scientist. I try not to have an opinion on what is happening in IVF today. There will always be people criticising those who are doing something new. I think it is important to leave this sort of thing to the scientists so they can find ways of helping to solve the problems of the world."
Louise Brown is effectively ground zero for in vitro fertilisation – proof of life and the technology that has brought science and nature together as one. But despite finding herself the centre of an unrelenting global media fascination – a demigoddess to modern fertility – the 35-year-old lives a quiet, unassuming life in Bristol. She's just a normal girl.
In a rare and touching interview, conducted on the eve of her second child, Aiden, who arrived on August 14, Louise talks exclusively to Fertility Road about a life in the lens, her experiences in motherhood, and why building her own family has been such a profound experience.


The miracle of life has always amazed those who witness it, but the world's collective jaw dropped on that joyous day – July 25, 1978 – when Louise Joy Brown became the first human to be born through in-vitro fertilisation.
Amid religious and ethical mutterings, nothing could drown out the joy that spread amongst parents Lesley and John and the rest of the Brown family. It was followed by a wave of unparalleled optimism from hopeful mothers-to-be and scientists who knew they were sitting at the steps of a biological revolution. The so-called 'fathers of IVF', obstetrician Patrick Steptoe and physiologist Robert Edwards, had proved that there is indeed life, and hope, after conventional conception fails.
And while scaremongers fretted that a baby born this way might not have had the same survival prospects as another conceived by entirely natural means, Louise, and five million others after her, are living proof that IVF is a stable, viable and life-giving solution. And on a planetary scale, it has been truly embraced.
Move forward to 2013 and Louise, now 35, is happily married, to Wesley Mullinder. Next year the couple celebrate a decade together as husband and wife. They conceived, naturally, their son Cameron in 2006 and amidst intense media attention, little brother Aiden arrived in the middle of August – fit, healthy, and ready to cement his own place in an incredible tale.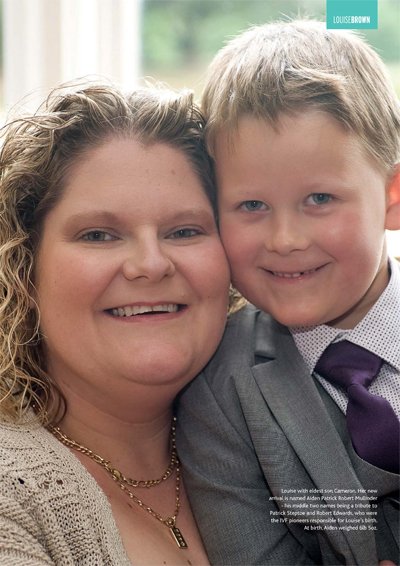 "When I was born, in July 1978, it made headlines all around the world," Louise begins. "Like many other childless couples, mum and dad had simply followed a process. They went to their local doctor and mum had an operation to try to unblock her fallopian tubes. That didn't work and when she went back to the doctor, he referred her to the local health clinic."
Back in the 1970s, blocked fallopian tubes were considered a finality – there simply wasn't a second option for those who couldn't conceive.
"The line was drawn and there was no chance of mum having a child, and that was that. But by chance, the doctor there had heard of some experimental work going on in Oldham, by two scientists, Steptoe and Edwards. Mum put herself forward and was accepted onto the programme, but it wasn't until after she became pregnant she was told that the technique had never worked before."
Within nine months, Lesley Brown had become a beacon of hope. "Mum's story gave hope to millions of men and women all over the world that they could have a family," Louise grins. "Before mum died last year she pointed out that without IVF she wouldn't have had a single blood relative left in the world! This is the reality. It's about keeping families alive.
"She did a remarkable thing, and for the remainder of her life received letters from other women desperate to ask questions… to know more about IVF."
Four years after her birth, Louise was given a younger sister, Natalie, also conceived through IVF. By then, Natalie was the world's 40th IVF baby. Then, in May 1999, her sister was the first IVF baby to give birth herself… to daughter Casey. It runs in the family.
Although the world responded positively to a scientific breakthrough that was to transform the very substance of nations and their communities, there were some who took moral objection to science's impact on mother nature.
"People will always want to have their say," Louise admits. "They're welcome to their opinions – but look, I'm pleased to report that at 35 I am just a normal person with all the same health and life issues as everyone else! There are another five million or so IVF babies younger than me who are just like everyone else too!
"Yes, Bob Edwards and Patrick Steptoe and my mum and dad were all criticised when I was born, but sometimes it takes time to build knowledge and trust. Today, I think the vast majority of people see IVF as a completely normal thing to do if you can't have a baby naturally. There were huge arguments about the morals behind creating a baby this way and fears that it could lead to all kinds of health issues, but it was all speculation. The success of IVF is now unquestioned, and its effects on families can never be put into words. Globally, we have embraced the hope it gives us, and that's the most wonderful thing to see."
Louise has found herself central to that hope. For decades she has adopted the iconic status usually only reserved for pop stars or actors. In the early days, the attention could be overwhelming, but after 35 years, she has come to accept it. Understandably, she rebels against the perception that she should immerse herself in the industry – Louise is, after all, a wondrous if involuntary product of others' actions.
"I'm not a scientist. I try not to have an opinion on what is happening in IVF today," she says. "There will always be people criticising those who are doing something new, but I think it is important to leave this sort of thing to the scientists so they can find ways of helping to solve the problems of the world. It is up to the politicians and the church leaders to talk about any other issues that come up as a result. I've just wanted to get on with living my life."
Having built strong relationships with Steptoe and Edwards, Louise took their passing badly. Steptoe died in March 1988 but Edwards had the pleasure of attending Louise's wedding in 2004. He died in April this year, aged 87. Her parents have both passed too – father John in 2006 and mother Lesley last year.
"Now the four people directly involved in my birth have moved on, I feel more responsible for keeping their memory alive," Louise says. "My only regret is that because of the controversy it was a long time before Edwards and Steptoe were recognised for their amazing achievements and what they brought to the world.
"Edwards was awarded a Nobel Prize for the development of in-vitro fertilisation in 2010, by which time he was too frail to collect his award. He was knighted in the 2011 Birthday Honours List, despite the fact I was born in 1978! Compare that with the honours handed out liberally and hurriedly to sports stars from the 2012 Olympics!"
Yet while it took so long for academic appreciation, the world had already demonstrated that it had no intention of sitting still.
Little did they know it at the time, but the Browns, Steptoe and Edwards had sparked a revolution. As the world's first 'test tube baby' (although she was actually conceived in a Petri dish), Louise was born a healthy 5lb 12oz – exactly the same weight of first IVF baby in the United States, Elizabeth Jordan Carr, who arrived just under three-and-a-half years later.
Some 32 years on, Israel now reports the highest rate of IVF in the world, with 1,657 procedures performed per million people per year; Iceland follows behind, and IVF (and ICSI) is now an internationally established branch of medicine.
In Belgium, new low-cost options are leading scientists to believe they can offer IVF 90 per cent cheaper than conventional treatment programmes, while some of the industry's leading pioneers can be found in India, Barbados and Russia, places considered medical outposts back in 1978.
Louise remains something of a reluctant celebrity. It's not hard to see why.
"Journalists try to get in touch with me all the time," she sighs. "The press have written all kinds of rubbish about me over the years, especially in the early days when mum and dad were suddenly pitched into the world's media spotlight. They had tried for 10 years for a baby. Incredibly, they were given one, but they just wanted to take me home and look after me.
"I understand why journalists want a story, and I don't mind that, as long as they are polite. I have become used to the attention. My family toured with me to Japan and America when I was a baby but after that, it was clear I should be brought up in a normal way, and that's what I've followed going forward. That's just the same as any child of IVF or ICSI."
Louise was told about her unique conception at the age of four, and Lesley and John showed her a film of the event that had been made by the Central Office of Information.
"It was rare then for any birth to be filmed, or for anyone to have such early pictures of a baby. There were no mobile phones and digital cameras to capture such events, as there are today."
Today, Louise uses her 'celebrity' status to help promote IVF and enjoys connecting with women who, just like her mother 35 years ago, are desperate to have children. "In recent years I have been to IVF clinics in the UK, Brazil and Bulgaria and chatted to women who so want a child," she smiles. "It has made me realise how lucky I was that I was able to conceive my two children by the conventional method. I have been very lucky in that respect.
"I think it is hard for the vast majority of people – me included – who had no real issues when getting pregnant, to appreciate everything that people who put themselves into an IVF programme go through. In a sense, I've seen both sides of it, but supporting people I know is something I must do."
But away from it all, Louise really is just a regular girl. "I have a normal office job working for a shipping company in Bristol and my husband Wes is a nightclub doorman," she says. It's proof enough that her 'normality' is no different to anyone else's.
And bringing up her own family is, naturally, the
most important thing, particularly now both her
parents have departed.
"I miss my mum and dad a lot and I have particularly missed mum in the course of being pregnant with Aiden," she says. "Mum was fantastic with Cameron. Right up until she died, she looked after him in the afternoons when he came home from school, before I got in from work. Sadly she died before I knew I was pregnant with my second, but she'd be thrilled now.
"Mum certainly loved babies!"