Lauren Fennemore (31), a first-time mum from Surrey, secured a last minute publishing contract for her self-penned children's book 'The Year We Muddled Through' just a matter of hours before heading to the hospital to give birth.
As an active member of the Instagram IVF community, Lauren wrote and self-published the book in November 2020, selling out her initial print run of 1000 books in the first 3 hours, she knew she was going to need help to keep her 'book baby' going, while giving birth to her own bundle of joy.
After being ignored by traditional book publishers she reached out to up and coming, independent publisher Owlet Press, who had recently launched a book about IVF babies.
"We're really excited to be working with Lauren on releasing 'The Year We muddled Through' on a much larger scale than the initial self-published version. The book perfectly encapsulates the moment in time of 2020 and after making the announcement late on Thursday afternoon (26th Nov) we already received over 1,000 pre-orders in the first few hours." Explains Sam Langley-Swain, managing director of Owlet Press.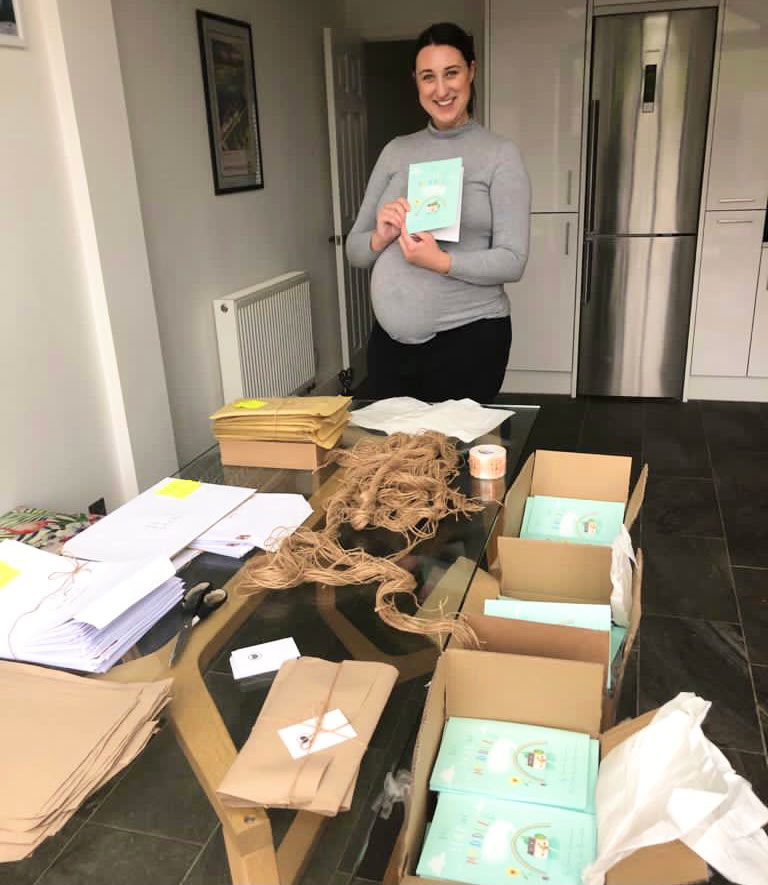 The IVF mum, who suddenly found herself unemployed during the first lockdown of 2020, also discovered she was pregnant around the same time – following extensive treatment.
"Earlier this year, like many people, I found myself unexpectedly out of work. Even more unexpectedly for me, I was also – finally – pregnant after 4 years of fertility treatment and IVF," explains Lauren. "My wildest dreams were coming true in one of the strangest years in history – and it was precisely this that inspired me to write 'The Year We Muddled Through.' I wanted to capture some of the magic hidden amongst the chaos of 2020, the weirdness and wonder of a year that none of us are going to forget in a hurry."
"Most of all, I wanted to capture the love and hope that has kept so many of us going. I'm blown away by the response to the book and heart warmed to think that it has resonated with so many. I hope that it finds a special place on the bookshelves of any family, big or small, who muddled through this mad old year."
The Year We Muddled Through was initially created as a 'hand crafted' limited edition keepsake, and features beautiful illustrations from Illustrator Zoe Damoulakis, a University of Plymouth graduate, who has worked in greeting card design in the past, but this is her children's book debut.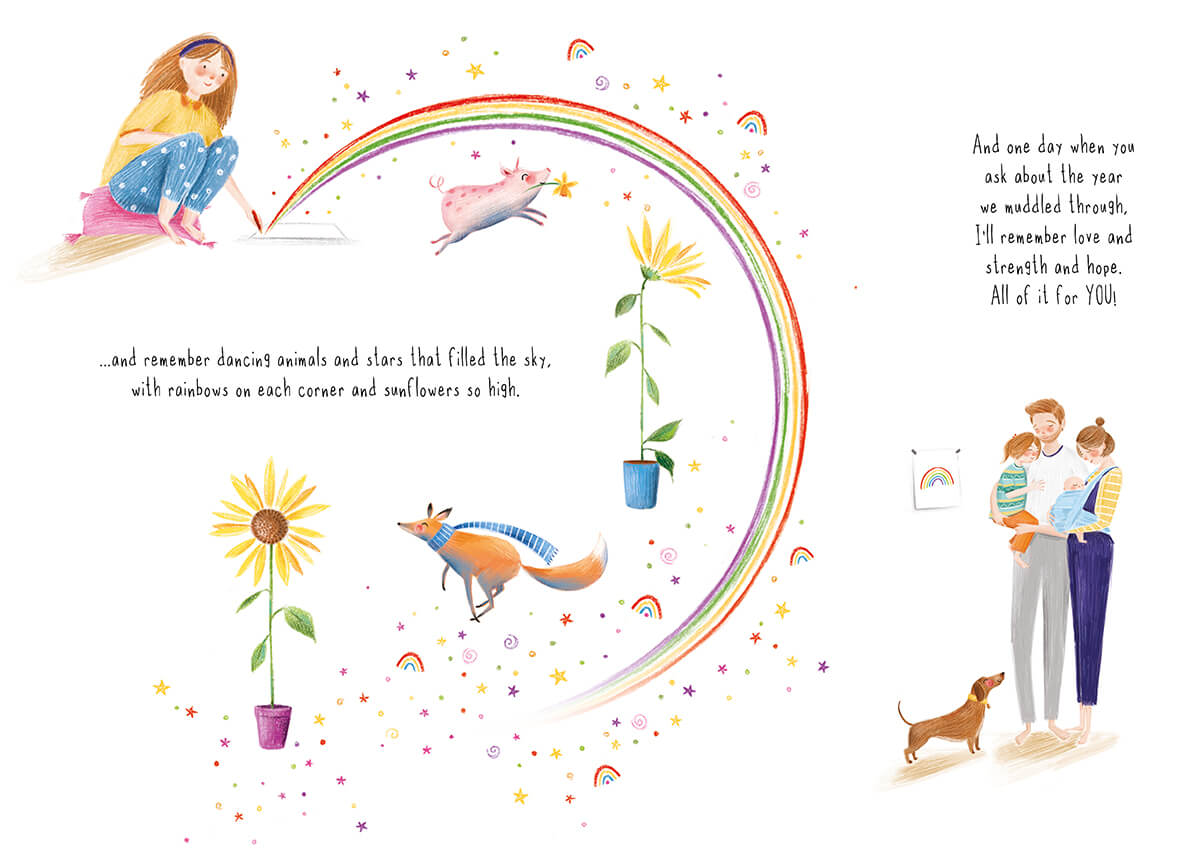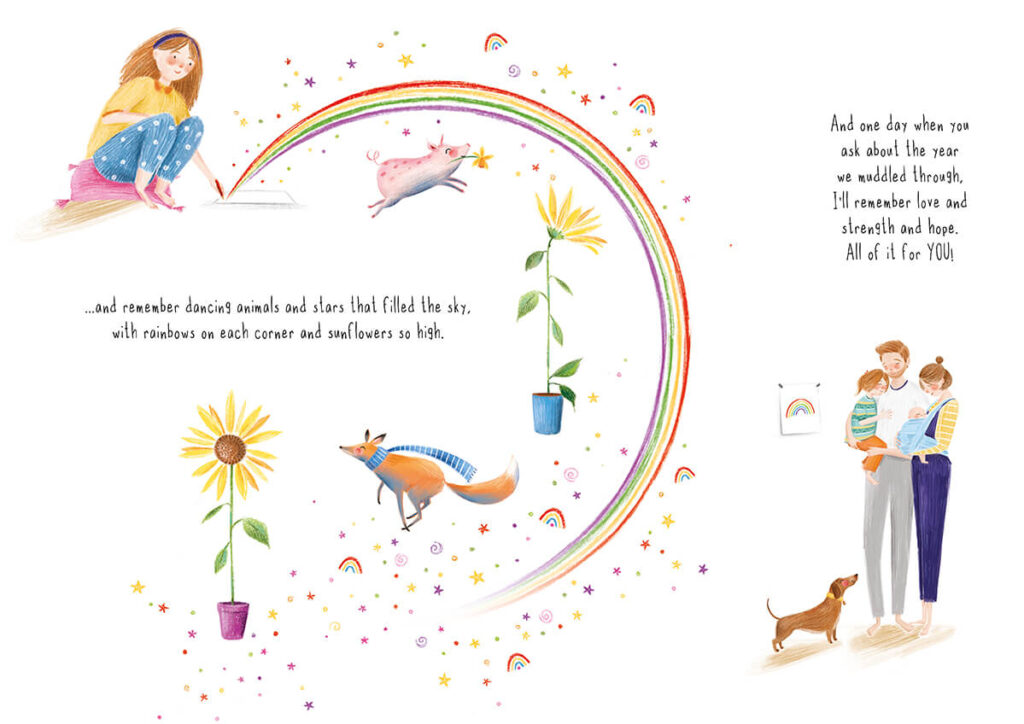 Lauren had been working in communications for several years before losing her job due to the COVID-19 pandemic. She hopes that her words and Zoe's illustrations will give families a positive reminder of a year full of 'weirdness and wonder'. The rhyming story reveals magical rainbows, dancing animals, giant sunflowers and the starriest skies. For adults, the book captures the weirdness and wonder of a year where so much changed in our world … and in our households.
The Year We Muddled Through is a book which can be enjoyed as a family bedtime story, a classroom conversation starter, or a timely bookshelf keepsake to mark the passing of a monumental year.
To find out more visit www.owletpress.com, or follow Lauren's story on Instagram: @laurenifen