As Families Through Surrogacy's consumer-led seminar series returns to the UK in October, Sam Everingham catches up with Stacy Owen, one of a growing number of UK citizens engaging in Ukraine for surrogacy.
Stacy and her Morrocan-born husband Simo live in Sutton, Surrey. Stacy was 41 when she turned to surrogacy after enduring twelve years of infertility grief and loss. Simo, an electrical tester, was ten years younger. None of Stacy's ten pregnancies had lasted more than nine weeks and her doctors could only say the problem was 'immune issues'. Surrogacy was the only option left.
Stacy is frank about her needs. "I looked into the UK surrogacy process (but) I didn't want to have to ….. form a relationship and take the risk (with British law) of not being able to have our baby(s) should the surrogate change her mind.  I wanted it to be a business transaction….. I didn't want to be forced to be involved with the surrogate, although I remain in contact to this day."
With US surrogacy being too pricey, Stacy discovered Ukraine – one of the few countries which provide for legal parentage for foreigners using surrogacy.  One clinic offered an all-inclusive package for €30,000 including IVF and birth costs, egg donor if required, medications, legals, surrogate expenses, compensation as well as their own food and accommodation. She Skyped with the clinic a few times and they signed up in April 2017.
Stacy stimulated for one cycle herself and found the hormonal effects a challenge. Their first transfer took but failed at six weeks. Their 'package' included an egg donor, who they had to choose online as a backup. The 21-year-old they chose produced enough eggs to create six high quality embryos.
Their fertility clinic substituted a new surrogate. Six weeks post transfer Stacy's email pinged with the first scan. An ultrasound had arrived clearly showing two healthy embryo sacs. "It was amazing to receive", Stacy remembers. "We were so excited and over the moon that we had twins".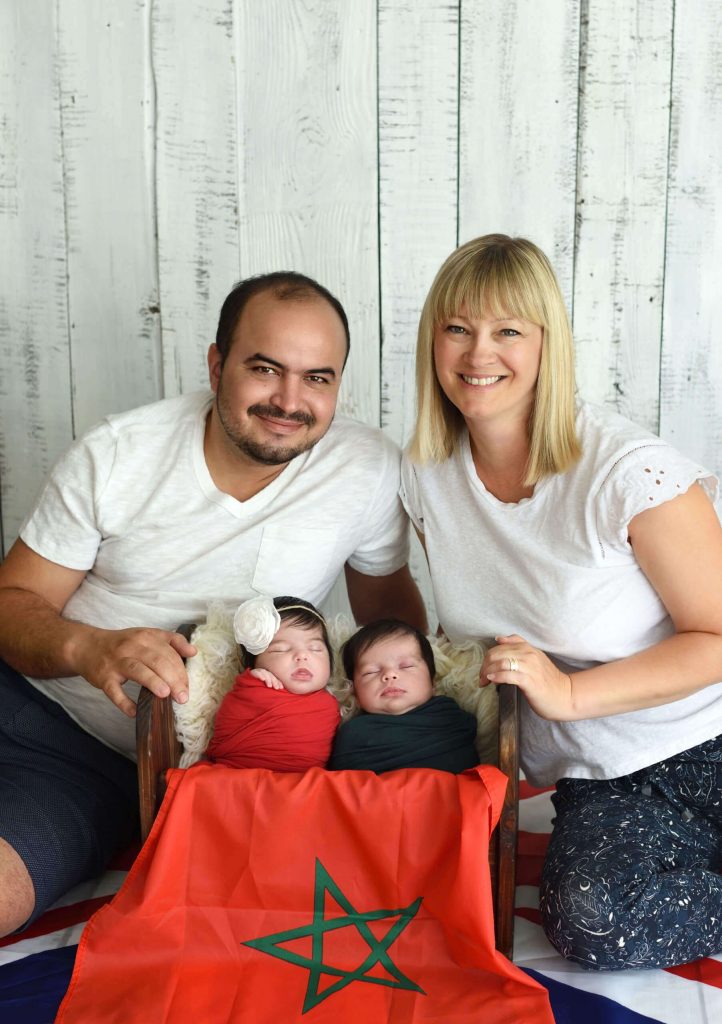 Nonetheless, Stacy only told her parents and one friend.  "I didn't want all the questions and enquiries – the process was a very private one … we had too many past losses to feel comfortable before they were born"
Their clinic had a policy of not introducing intended parents to their surrogate until the end of the first trimester, given pregnancies can often fail prior. So Stacy and Simo had their first face to face contact with their surrogate via Skype at 16 weeks. Until this point letters were exchanged.
Stacy flew to Ukraine to meet her surrogate for the 26-week scan as well as other English couples.
"Legal stuff was the one thing we didn't know about, we thought the clinic handled all of it' Stacy confesses. She had assumed the exit process might take three weeks. When they discovered other UK couples have had to stay in Ukraine between 5 and
7 months post-birth, Stacy felt ill. "Oh my god, what have we done".
But having built a career in educational governance, Stacy was used to project planning and paperwork. So by the time they travelled to Kiev at 37 weeks gestation she had almost two lever arch files in preparation for the application for British Passports and Parental Orders.
The Owens had purchased an economy surrogacy package which gave them a room in a shared villa outside Kiev. It was like a 'Baby Club' boarding house, Stacy recalls, full of expectant parents – Chinese, Romanian, Spanish, Belgian. There was no air-conditioning – it was sweltering.
"I cried for two days when I first arrived – it seemed in the middle of nowhere and the thought of living here alone when my husband left was daunting" Stacy admits. However, the experience and meeting parents from around the world was 'a wonderful one'.
Against all odds, their twins were not premature and Ukraine hospitals do not induce. To their surprise, they had 16 days to kill until the birth at almost 40 weeks.
Their package meant delivery in a cheaper city four hours south of Kiev. They arrived by train. Again their clinic provided transport, interpreters an apartment as well as baby formula, baby clothes, nappies and money for food. When Aleah & Eli were born, strict hospital protocols meant they could visit for an hour daily until discharge on day seven.
Stacy was so organised that she met the UK's arduous passport paperwork requirements on the first attempt. So ten weeks post birth this family of four was winging it back home to Surrey. The Owens had a family building story they would never forget.
Stacy is just one parent who will share her surrogacy advice amongst those who have engaged in the US, Canada, Ukraine or UK at FTS seminar series next month in Dublin (23 Oct), Edinburgh (25 Oct) and London (27 Oct). These will include advice and short talks from surrogates, surrogacy professionals and legal experts. Details at http://www.familiesthrusurrogacy.com/uk-ireland-oct-seminar-series/