The key players in third party reproduction are not in fact the doctors, embryologists and fertility lawyers you are paying. They are the surrogates, egg donors, intended parents and their support networks.
So it is surprising that few fertility seminars put the experiences of these players front and centre. Families Through Surrogacy's events explore not just the logistics of working with friends and strangers to create family, but the emotional and financial stressors, the everyday hurdles experienced and how these are negotiated.
A factor often overlooked in surrogacy journeys is the importance of good quality eggs. Surrogates are giving up so much of their time and energy to carry that it is crucial that the embryos being used are as good as they can be. I used to think Pre-Genetic Screening was just one more way for IVF clinics to make money, but in the case of surrogacy, it's a valuable means to screen out embryos that will never develop. The embryo transfer process is such a palaver that knowing you have the best embryos to work with can give you that much more confidence.
The issue is so important that from 2019 FTS decided to increase its focus on eggs in its ever-popular seminar series. There are holistic diets and processes that can boost a woman's overall health and sometimes her egg quality.
But for many, especially woman over 35 years (after which egg quality starts to decline rapidly) good quality eggs can mean an egg donor. There are a few UK organisations which can provide altruistic donors and some online forums where you can meet prospective donors. However extracting eggs is a somewhat painful and laborious process, requiring numerous injections and medical visits. In the absence of significant payment this means a shortage of UK donors.
Canada has for a few years been a go-to destination for altruistic surrogacy for foreigners unable or unwilling to engage at home. However, Canada also operates under 'no-payment' rules, meaning they now struggle to keep up with the demand from intended parents who can wait six months to match with a donor and even longer to match with a surrogate.
As a result, countries which allow donor compensation, such as Spain, Greece, Eastern Europe and the US, are an important additional source. But it becomes more complicated – under Greek and Ukrainian law donors must be anonymous, while under Georgian law they must be known. Some couples look at taking their own donor to work with an overseas surrogate, so understanding the rules is critical.
Then there's the issue of disclosure. Many women don't want to admit that they needed an egg donor. It's hard enough having to let go of your own genetics, let alone tell family and friends your eggs were no good.
The important thing is that your child understands their identity and how they were created. In this age of cheap DNA testing via sites like ancestry.com, too many adolescents have turned against parents for lying about their use of a donor. All they wanted was honesty.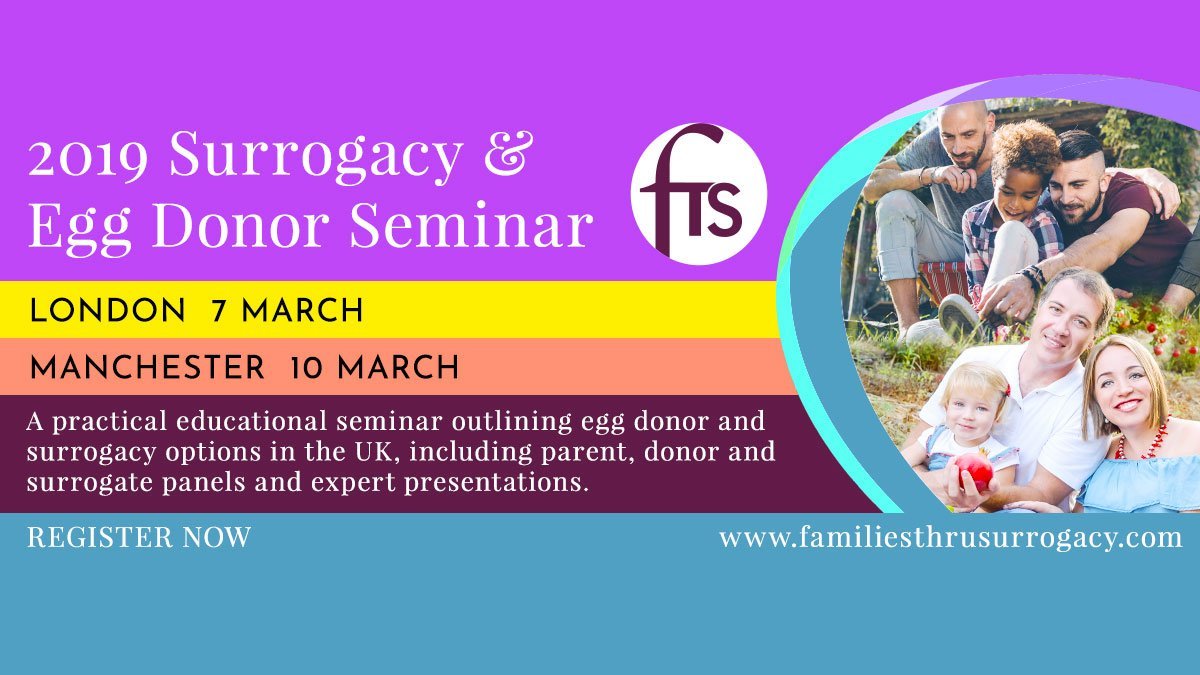 Families Through Surrogacy's upcoming March seminar series in London (7 March) Dublin (9 March) and Manchester (10 March) will provide a practical overview of many of the issues which fertility marketing teams 'forget' to tell you. Parents, surrogates and egg donors will share their stories and advice.
Choosing the right IVF clinic and legal expert is important, but hear from other parents first!