- Advertisement -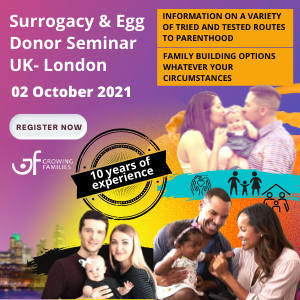 Our friends at MyNutriCounter have four fast fertility recipes to help boost your fertility.
It is never too late to start making healthy and positive changes that affect your reproductive system.
Pre-conception care involves both parents to work as a team, as dad needs a large and high quality sperm count, and mum needs to create a healthy environment for the baby to grow and develop. As well as positive lifestyle changes for you and your partner, a wellbalanced and nutritious diet plays an important role for increasing fertility.
Fresh fruits and vegetables are already part of your pre-conception plan, but did you know that some foods are better for fertility than others? The right amount of nutrients enhances the conditions for making a baby. Although, balance is key. Having too much of a nutrient can have the opposite effect, so ensure you are eating a variety of foods each week.
MyNutriCounter have given you a head start and selected four simple recipes that contain ingredients to improve fertility for both mum and dad.
Orange Marmalade Glazed Chops
Pork is an excellent source of selenium and vitamin B6, which are two important nutrients for fertility. Men that have a selenium deficiency have been linked to small numbers of sperm count and abnormal sperm morphology, which means the sperm is developed in odd shapes and sizes.
For the women, the developing embryo has a chance of being harmed by high levels of thyroid hormones so the selenium actually shields the fetus by neutralising the strength of the hormones. While we are on the topic, the B6 in pork actually helps to regulate hormones in women. It can also increase cervical mucus, which is vital in helping the sperm reach the ova.
So what are you waiting for? Get some pork on your fork with this delicious recipe!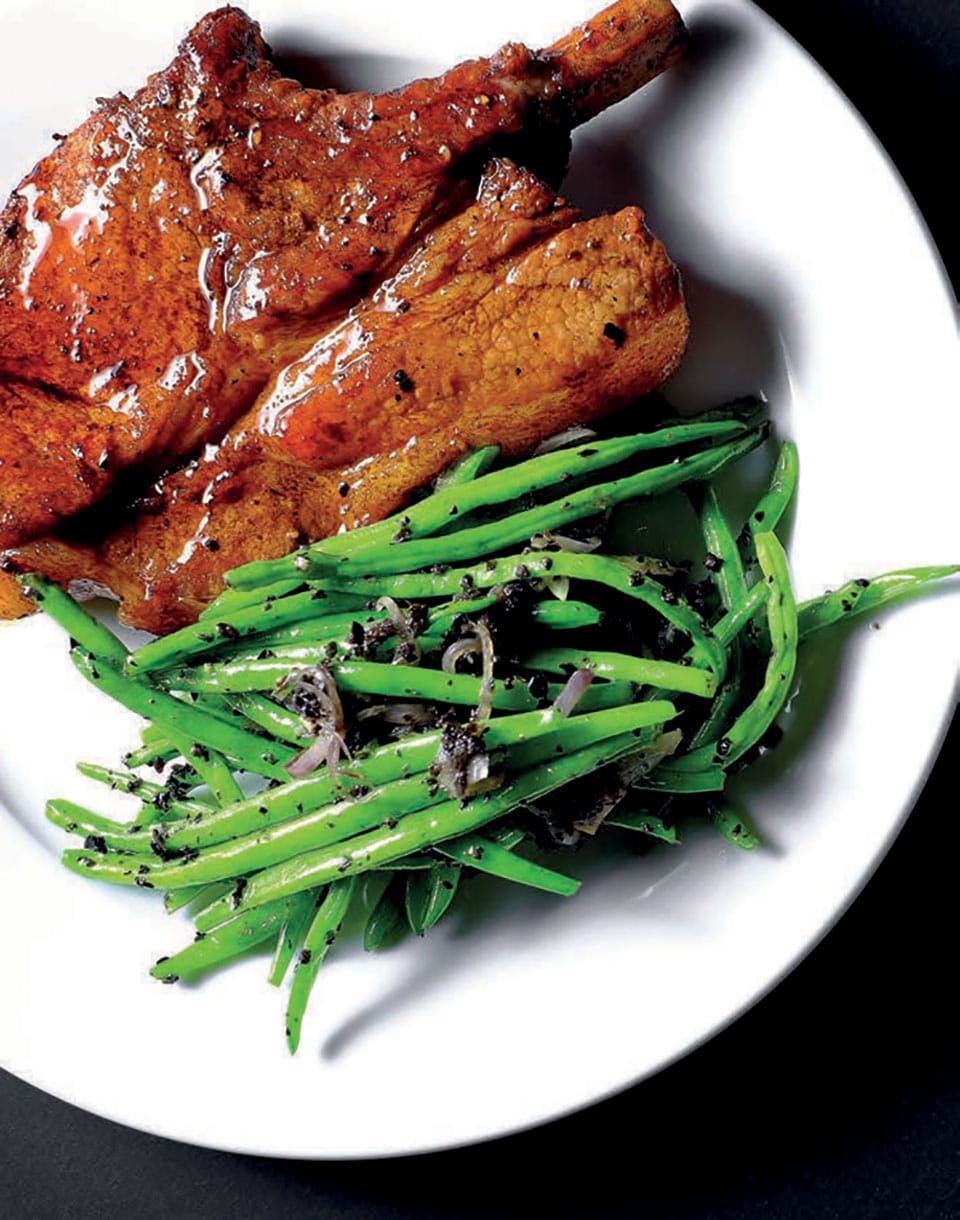 Serves 2
Prep: 10 mins
Cook: 20 mins
Total Time: 30 mins
Dietary: Gluten & Dairy Free
Ingredients:
2 pieces French Pork Chops
salt & pepper to taste
15ml/1 tbsp olive oil
30g/1oz orange marmalade
45ml/1.5fl oz balsamic vinegar
French Green Beans
400g/14oz French green beans
100g/3.5oz shallots
15ml/1 tbsp olive oil
salt & pepper to taste
Olive Tapenade
75g/2.5oz black olives, pitted
10g/0.5oz anchovies
15g/0.5oz shallots, thinly sliced
50ml/1.75fl oz olive oil
salt & pepper to taste
Method:
Season pork chops with salt and pepper on both sides.
Heat olive oil in a pan.
Sear chops for 3-4 minutes on each side.
Add in balsamic vinegar and orange marmalade.
Reduce heat to simmer, cover, and cook for about 7 minutes.
French Beans & Olive Tapenade
Combine all ingredients for the tapenade in a food processor, and process until smooth. Set aside.
Bring a pot of water to a boil.
Add in the french beans and boil for a minute.
Strain out and transfer to an ice water bath for about 2 minutes to stop the cooking process.
Just before serving, sauté the chopped shallots and french beans in a little olive oil.
Top off with the tapenade, give a quick stir, and take off the heat.
Serve while hot.
Pesto Risoni with Mango – Curry Shrimps
Shrimps and mangoes contain zinc, which plays a vital role in reproductive health for both men and women. When levels of zinc are increased in infertile men, it has been shown to boost sperm levels and improve the form, function and quality.
Zinc is also a wonder vitamin for women before and during pregnancy.
This forgotten nutrient helps to produce mature eggs for fertilisation and maintain follicular fluid levels. Without enough fluid, the egg would have trouble travelling through the fallopian tubes and into the uterus.
Zinc not only helps with the cell growth of your baby during pregnancy, it also supports your immune system to prevent sickness. We bet you did not think these two ingredients could pack such a powerful fertility punch.

Serves 2
Prep: 5 mins
Cook: 10 mins
Total Time: 15 mins
Dietary: Gluten & Dairy Free
Ingredients:
150g/5.25oz shrimps/prawns, peeled, deveined
15ml/1 tbsp olive oil
1/2 tsp curry powder
50g/2oz ripe mango, cut into small cubes
15ml/1 tbsp lemon juice
pinch of salt
100g/3.5oz risoni, uncooked
20g/0.75oz cilantro/coriander
4g/0.15oz garlic, peeled, crushed
100ml/3.5fl oz olive oil
15ml/1 tbsp lemon juice
salt & pepper to taste
Method:
Bring a pot of water to a boil.
Combine shrimp, olive oil, curry powder, lemon juice, and salt in a bowl. Set aside.
Cook risoni for 8 minutes or until al dente.
While pasta is boiling, prepare the pesto. Combine cilantro, garlic, pepper, olive oil, lemon juice, and salt in a food processor and pulse until smooth. Set aside.
Cook the shrimp. In a lightly oiled pan, add the shrimps together with the marinade. Cook for two minutes on one side. Flip the shrimps and add in the mangos. Cook for another 2 minutes.
Drain the risoni and toss in a bowl with the cilantro pesto.
Transfer risoni to a serving plate and top with the shrimps and mangos.
Mediterranean Chicken and Couscous
Iron is very important for women who are trying to conceive as research has found that low iron levels can greatly reduce fertility. Chicken contains sufficient protein and iron but only limit to two servings per day as too much protein will actually lower fertility.
Not all chicken is healthy though. Make sure you avoid chicken that is deep-fried or prepared with a lot of fat. Our healthy oven baked chicken dish is sure to help you both pump up your iron.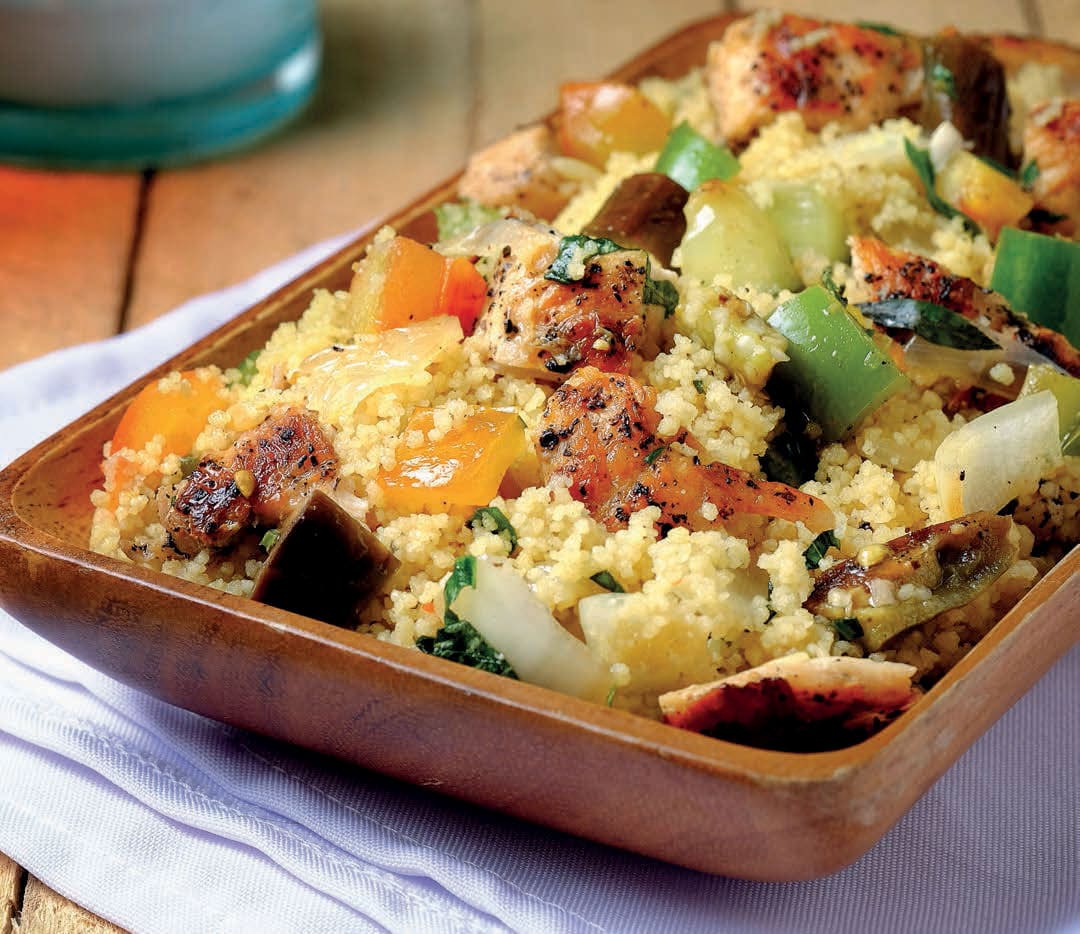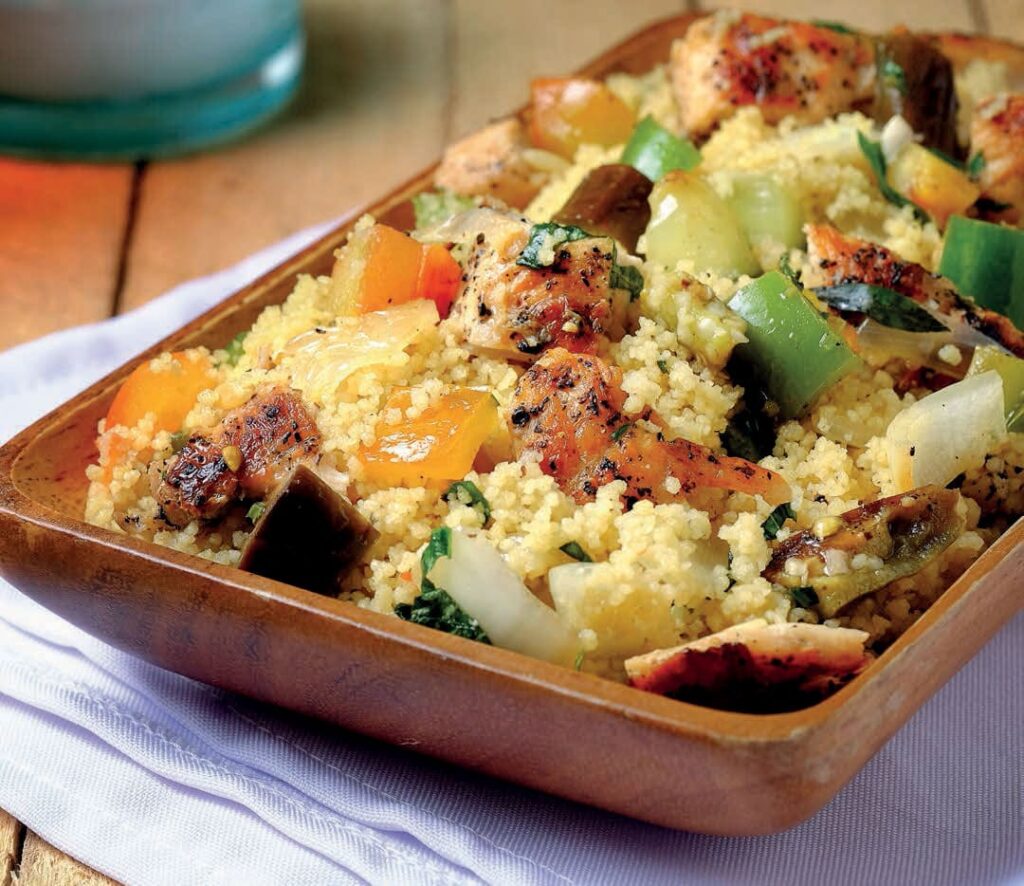 Serves 8
Prep: 15 mins
Cook: 15 mins
Total Time: 30 mins
Dietary: Gluten & Dairy Free
Ingredients:
4 butterflied chicken breast fillets
200g/7oz aubergine/eggplant – sliced
4 ripe tomatoes – 200g/7oz total, cut into halves
1 white onion – 100g/3.5oz, quartered
1 courgette/zucchini – about 200g/7oz piece, cut
in half lengthwise
30ml/1fl oz olive oil
2 sprigs of rosemary
a few tarragon leaves
2 cloves chopped garlic
400g/14oz couscous
500ml/17fl oz chicken stock
1 lemon, juice and zest
salt & pepper to taste
Method:
In a baking pan, lay chicken breasts, eggplant, tomato, onions, zucchini, chopped garlic, and rosemary. Toss with olive oil, and season with salt and pepper.
Roast in a pre-heated oven at 180°C/360F for about 12 minutes or until juices run clear.
Remove out of the oven, tent with aluminum foil and allow to rest for 10 minutes.
In a small stockpot, bring chicken stock to a boil.
Add in couscous, give it a quick stir, and cover. Turn off the heat and let stand to cook for 5 minutes.
While the couscous is cooking, chop chicken and all roasted vegetables into bite-sized pieces.
Fluff the cooked couscous with a meat fork and toss in the chopped chicken and vegetables together with the cooking juices.
Fold in the lemon juice, zest, and chopped herbs.
Season with salt and pepper if needed.
Choco-Avocado Mousse
This no-cook recipe is deliciously simple and contains two important fertility boosting ingredients, avocados and chocolate.
Avocado is full of minerals, essential fats, protein, carbohydrates and fibre, but the most important vitamin in avocados for pre-conception is vitamin E. Vitamin E increases cervical mucus, which is essential for helping sperm to stay alive as well as increasing overall egg health in women.
For men, vitamin E is shown to assist in the development of the sperm without defects and improve sperm mobility.
Dark chocolate contains a rich source of amino acid L-arginine which is also proven to increase sperm count and volume of ejaculate.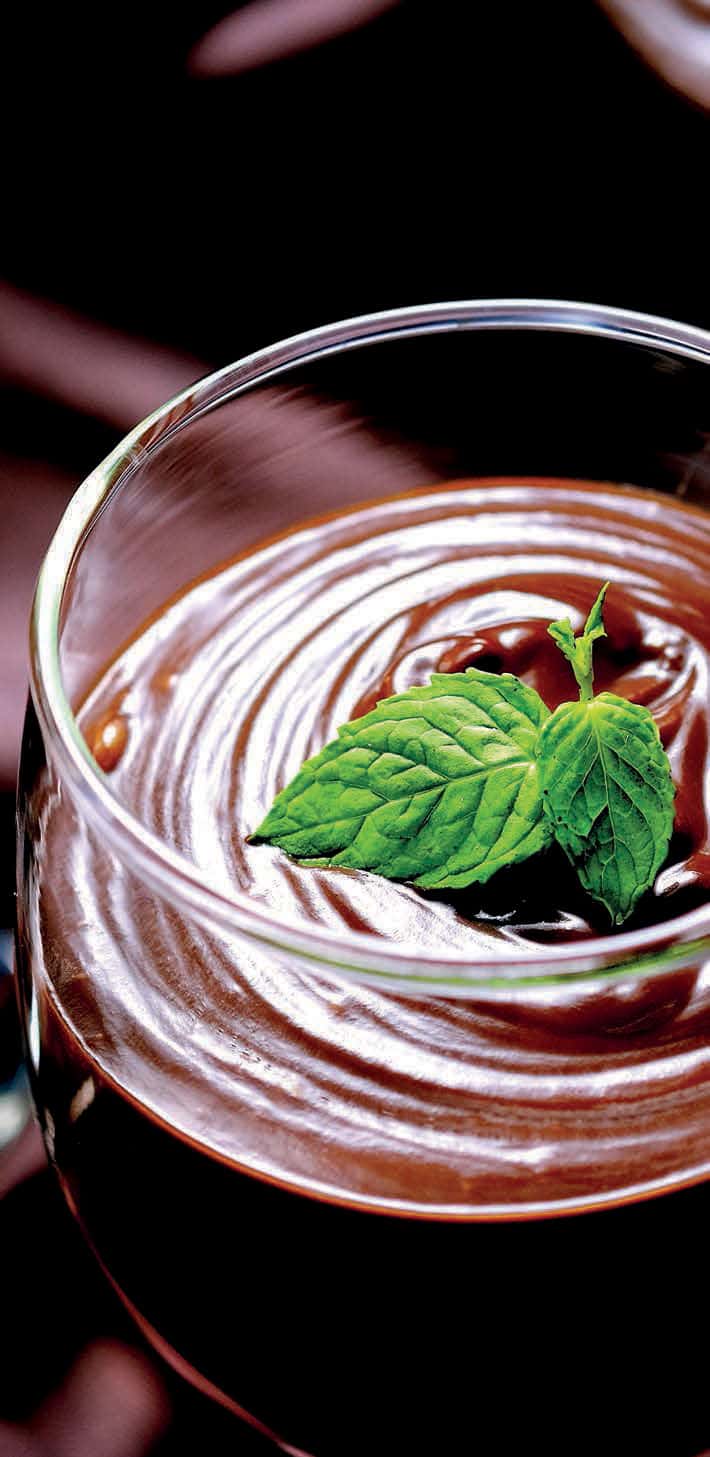 This recipe only takes five minutes to prepare and with these two fertility boosting foods, you should definitely make this dessert for your next romantic night in.

Serves 4
Prep: 10 mins
Cook: 0 mins
Total Time: 10 mins
Dietary: Gluten Free & Vegetarian
Ingredients:
150g/5.25oz semi-sweet chocolate (can use dairy-free)
250ml/8.5fl oz almond milk
2 avocados, peeled and pitted
30g/1oz cocoa powder
2 tsp vanilla extract
30ml/1fl oz maple syrup
Method:
Combine avocado, cocoa powder, almond milk, vanilla extract, and maple syrup in a food processor and puree until smooth.
Melt chocolate in a double boiler. Set aside to cool.
Combine pureed ingredients and melted chocolate.
Chill in the refrigerator.
MyNutriCounter is passionate about raising awareness of the positive effects nutrition can have in preventing common health problems.
Their attitude towards healthy eating is it should always be delicious and contain a variety of foods to provide a good balance of nutrients.
All their recipes have been lovingly created to maximise the nourishment from every bite.