- Advertisement -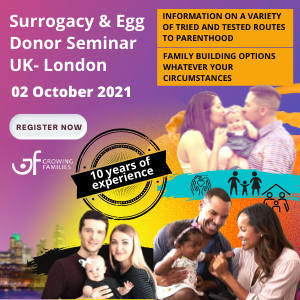 In the UK, It is estimated that 1 in 7 couples will have a problem conceiving. Whilst employees in the UK have statutory rights to time off work for pre and postnatal care (maternity or paternity leave) there is currently no legislation for fertility treatment.
The number of people using IVF or ICSI is on the increase rising 4 per cent annually.
A high proportion of these patients are in the workplace, and currently, two-thirds of companies do not have a treatment policy.
According to the Human Fertilisation and Embryology Authority there are 68,000 assisted fertility treatment cycles carried out each year, affecting 3.5 million people.
A lot of employees often go through fertility treatment alone, working full time, navigating a pathway of scans, blood tests and appointments without telling friends, family and their employer. It can be a physically and emotionally demanding process for both male and female partners and there is often no disclosure to employers for fear of recrimination.
In October 2016 Fertility Network UK published a research study, on the impact of fertility problems in the workplace. The research highlighted the lack of a fertility workplace policy was associated with even higher levels of distress.
Despite concerns about privacy, potential damage to career prospects and lack of employer understanding, 72% disclosed to their employer, mainly because they needed to ask for time off work. However, only 23% reported the existence of specific workplace policy relating to fertility treatment, only 42% reported really good support from their employer, and 60% felt their employer would benefit from education to help them understand the needs of someone having treatment.
These findings clearly indicate a need for a more widespread open-door policy in the workplace.
In 2018 Louise Brown the world's first "test-tube baby" celebrated her 40th birthday. It is estimated that since Louise Brown's birth in 1978 over 8 Million babies have been born from IVF around the world. Human reproductive medicine is continually evolving however, it can be a challenging journey, here are some holistic lifestyle tips to make life a little easier.
Holistic Tool kit for working during IVF treatment
Overwork
Overwork in Chinese Medicine is said to weaken both male and female fertility. Whilst there is little evidence to support this particular view, there is research to show the impact of stress on hormones, periods and the nervous system. Adequate rest is vital for optimal health and fertility and to maintain the body's internal equilibrium. Whilst preparing for and going through IVF make sure you are well rested to cope with the energetic demands of the cycle.
Plan Ahead
Take some time and speak with your clinic, to find out what your individual treatment plan involves, and how much time you may be required to take off work. Appointments can be time-consuming and everyone deals with stress differently, so it's important to know your schedule and manage time effectively. Being too busy with no downtime can increase stress hormones and reduces wellbeing.
Take some time out
When you have a clear idea of your treatment schedule, it can be a good idea to book some time off work. Each phase of an IVF cycle can present its own unique energetic demands both emotionally and physically. Reduce overwhelm, by planning ahead, scaling back commitments and taking time out.
Self Care
Self-care needs to be a priority, it can be helpful to formulate a holistic care plan to maximise chances and meet the demands of your cycle, nurturing both your emotional and physical health. Most importantly be kind and gentle with yourself, when feeling a lot of pressure this can often be something many people forget to do.
Manage stress
Make some time each day to step back from fertility talk and do something that makes you feel good. Take a yoga class, meditate, go for a walk in the park, whatever gives you a sense of wellbeing and serenity.
Consider Acupuncture
Acupuncture is one of the most popular and widely used complementary therapies practised in IVF clinics worldwide. In 2018 a research study demonstrated the effectiveness of acupuncture alongside IVF. A systematic review found acupuncture to have a significant treatment improving live birth rates of patients undergoing IVF and ICSI. The study also indicated that acupuncture can help reduce stress and anxiety during the IVF process. It is clear that research is conflicting and there are discrepancies between various studies. Reasons for this are that studies into acupuncture are underfunded and need to be improved. However, the overall conclusion is that Acupuncture is worth consideration should you wish to try and maximise your chances of IVF success.
Disclosure
The decision to discuss your IVF treatment with your employer is individual and dependent on your personal circumstances. Talking openly about your cycle and upcoming appointments will inevitably make the process a lot less stressful. Being emotionally guarded on a daily basis can be emotionally draining. A discussion with your boss could even be less specific, just related to stress outside of the workplace. The amount of information you give depends on your own comfort level. Perhaps you can work together to arrange appointments using the time off, flexi-time or working from home as an option to help alleviate stress.
Ask for help
Make it a priority to ask for help when feeling stressed or anxious. Whilst these emotions can be a normal part of the process if they become overwhelming try to reach out. Talk to a counsellor or seek out a local fertility support group.