Back for its third-year Fertility Fest has proven itself to be a total phenomenon with it's the biggest show ever taking place over the next four weeks at the Barbican in London.
As part of the Life Rewired season, they have a Programme of events exploring what it means to be human when science is required to start a family.
And no, it's not about telling women to just stop trying, it will happen when it happens or droning on about there being more to life than children. Fertility Fest is pushing the boundaries of fertility education, interactive entertainment and in fact everything we thought we knew about starting a traditional family, rainbow family or any type of family!
Partners in crime Jessica Hepburn and Gabby Vautier launched Fertility Fest to show the world that starting a family is no longer as quick and easy as some might think. And for some, that dream may never come true.
From sharing their very own personal journeys to starting a family, the rollercoaster of infectious excitement and sadness, what they share at a festival like this means to them is all too consuming… with one or both frequently laughing or crying.
Nothing can take away from what they have achieved over the last three years. From their humble beginnings in much smaller venues, showcasing enormous talent in the UK to bringing an international crowd of performers to the iconic Barbican Centre.
Fertility Fest really has come a long way.
But that's our waffle… So what was The Queer Family night all about?
Each event is produced in association with a different organisation and Queer Family night was supported by TwoDads.U.K and Pride Angel.
I have known Jessica for over 7 years and honoured to have been part of the previous two events. I kind of thought I knew what Queer Family night would be all about………….. people talking about same-sex couples starting a family right?
How wrong could I have been?
From Jessica and Gabby's introductory video we were already in tears only to be reduced to fits of laughter when they both appeared on stage to perform their double act introduction to officially launch Fertility Fest 2019.
They prepared us for the journey ahead, promising the next hour would bring us four amazing performances. So I sat back and was ready to be entertained.

Act 1
Up first Alturisic, a short film by Emma Edwards about the first gay male couple to become legal parents through surrogacy in the UK. For a film-maker the being given access to capture such a personal and intimate
story in such a short time shows amazing bravery and skill; Condensing someone's life down to 4 minutes is no mean feat.
The film recounts Stephen and his husband's journey of starting a family and how with the help of Stephens sister that dream became reality. What for some can be quite simple, for gay men the kindness of strangers or in this case, a family member means that we can have children. More importantly for gay men, it shows just how far the world and British law has evolved in the last decade to reflect our changing society.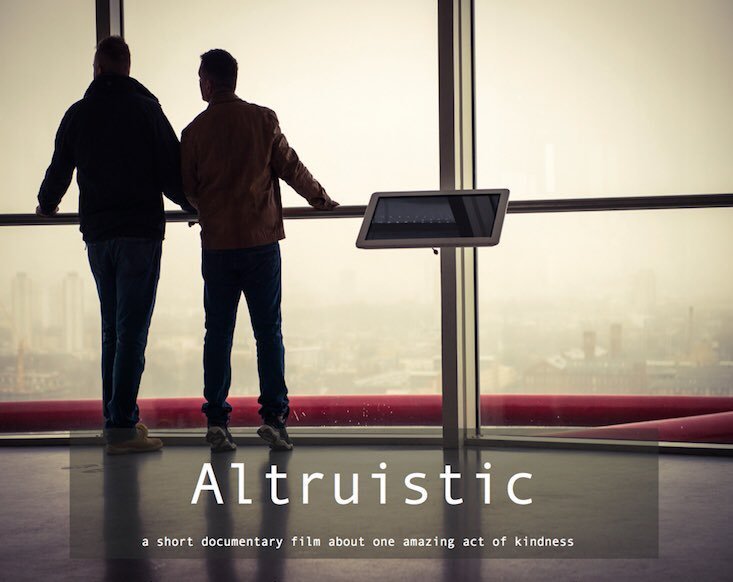 Act 2
If you really want to get people talking add a non-conforming lesbian Asian woman telling her personal story into the mix. A story of trying not to let down her very traditional parents by not becoming a doctor, not having an arranged marriage (to a man) and lastly having a child using a sperm donor.
Dimple Devasdas or Mummy D shared her powerful personal story and her journey to becoming a parent. Her "Human Book" of her rainbow family had us crying tears of joy.
By now we're emotionally exhausted but the emotional rollercoaster was just picking up speed.

Act 3
Enter stage right Stella Duffy OBE and Playwright Shelley Silas who over the last 28 years together have experienced every emotional high and low you could think of and probably some you might not. From trying to start a family with sooooo many embryos to fighting cancer through to caring for each other and for each other's families, this loving duo had a lot to share.
Unseen by each other and unrehearsed, their dialogue walked us deep inside their personal lives with something we had never seen or heard before. I don't think there was a dry eye or a wider smile on people's faces. Throughout their duologue and with every memory of the lives laid bare and told and retold we were left wanting more.
Is there more I hear you ask? But of course, Fertility Fest saved the best for last.

Act 4
It's possibly a musical act as the stagehands are setting up a keyboard and microphones. But this is Fertility Fest.
It's probably not wise to assume anything.
The theatre is pitch black. We can see the faint outline of the artists. There is two maybe three? We are greeted with an acapella intro of We Are Family; the lights are still out… What's going to happen?
Lights up and we're dazzled by Cabret Jamie. Dressed in MC Hammer pants, a sort of chain tassel top (well not really a top) more make up than anyone from Essex would dare to apply and of course Blue glittered hair.
Jamie and his band took us on a fun but extremely personal journey sharing his co-parenting story and even introducing us to his son Angus who was in the audience.
It was an act that you didn't want to end and Jamie never gave us time to breathe. He even managed to coerce audience members to join him on stage arming them with bubbles sticks, party poppers and streamers. Just think everything you would want to see from Morris Dancers but was afraid to ask for.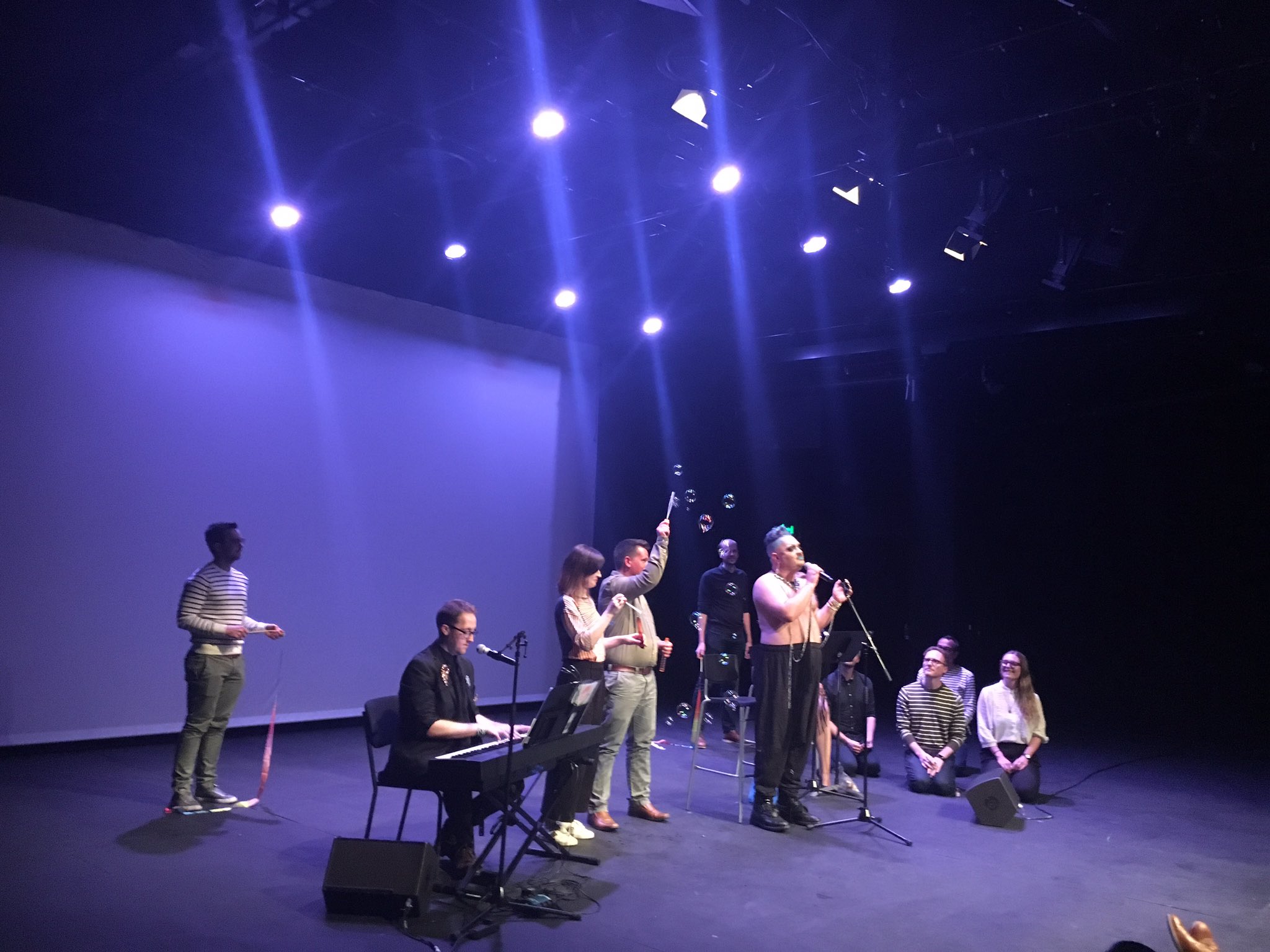 We missed the panel discussion that followed. As we're told we had to head home but really we were just exhausted from the pure entertainment we had to endure. That being said you won't want to miss a moment of this years line up.
The first night of Fertility Fest set the stage (no pun) for what to expect over the next four weeks and we know it's going to be amazing.
If you haven't booked tickets, why not?. Head over to their website www.barbican.org.uk check out the upcoming day and evening events they have.
Thursday 25th April is Fertility Road's very own night with The Invisible Man Unveiling the male experience of infertility
Doors open at 7pm.
Film-maker Thomas Webb presents an extract from his ground-breaking feature-length documentary in which six men talk candidly to the camera about how it really feels to go through fertility treatment as a man.
Theatre-maker Toby Peach performs an unforgettable (and possibly a little bit sticky) sample of his award-winning solo show The Eulogy of Toby Peach about the moment he was told he was going to be infertile, aged 22, after being diagnosed with Hodgkin's Lymphoma
Singer-songwriter Bob Strawbridge performs work from his latest EP Never Alone which has been inspired by his and his wife's long fertility struggle – bringing forth a deeply personal collection of songs which tells of six years of lost pregnancies and unsuccessful IVF.
Elis Matthews – the rapping reverend – will be (over)sharing about the lived experience of a man diagnosed with azoospermia and his unconventional route to parenthood. Passionate about Jesus, words that rhyme and big tub yoghurt pots. Once you've seen Elis perform the male experience of infertility will never be invisible again!