- Advertisement -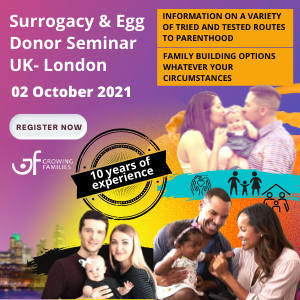 Researchers suggest that exercise can help increase blood flow to your reproductive organs, while also minimising stress, which can have a huge impact on your fertility
Women who are overweight experience a higher rate of infertility than those who have a lower BMI
The British Nutrition Foundation recommends a daily fat intake of 95g for men and 70g for women, with unsaturated fats making up 65g and 50g of those totals
Tea is also packed with antioxidants, which are essential for boosting sperm and egg quality
Can 2016 be your healthiest year yet? It sure can with our top tips for health, wellness and fertility. For many people, the New Year is the time to embrace new beginnings and focus on where you are and where you want to be.
So if you've been trying for a baby during 2015, now is the moment to make positive lifestyle changes to help you achieve a successful pregnancy.
Don't wait to start
"I'll start on Monday." It's a common saying, we all do it, but really there is no time like the present to start exercising to improve your fertility.
According to researchers, women who are overweight experience a higher rate of infertility than those who have a lower BMI – and every hour that you exercise each week is associated with a 5-7% lower risk of infertility related to ovulation! Men will also benefit from exercise – researchers have found that men with a BMI between 25 and 30 had a lower sperm count and overall poor semen quality.
Think dancing, yoga, walking, golf or tennis – studies show that low-intensity exercise three times a week can improve rates of implantation and pregnancy and reduce the risk of miscarriage.
You really don't need a gym to get your heart rate up.
Researchers suggest that exercise can help increase blood flow to your reproductive organs, while also minimising stress, which can have a huge impact on your fertility.
Choose your fat wisely
Whilst it's important to include some healthy fats in your diet such as cold pressed oils, oily fish, unsalted nuts and a variety of vegetables and pulses, new studies presented at the American Society for Reproductive Medicine conference in Baltimore suggest that high-fat food, particularly the processed variety can damage the ovaries, produce poor quality embryos and reduce sperm count. We're not talking about 'healthy fats' which your body needs from the likes of unprocessed foods like oily fish, avocados, coconuts and almonds (which help ovulation and help to stimulate healthy egg production), but the trans fats which are used to improve the shelf life in processed foods found in biscuits, cakes and pastries.
To back this up, a Harvard team found that men with the lowest trans fat intake had 83% chance of getting their partner pregnant, compared with 47% for those with the highest.
So the moral of the story is to always check the labels – and better still, eat fresh foods without labels!
How Much?
The British Nutrition Foundation recommends a daily fat intake of 95g for men and 70g for women, with unsaturated fats making up 65g and 50g of those totals.
For an easy boost to your diet, swap fatty meats for leaner cuts, cakes and pastries for nuts and butter for olive oil.
Let's stretch
According to researchers, one in three women going through fertility treatment suffers from severe anxiety, depression and stress, which can stop a woman ovulating, and also reduce the chance of a fertilised embryo implanting in the womb.
Taking time out to stretch or do a yoga class, even just once a week, will not only help you to connect with your mind and body, but also get your blood circulating to your reproductive organs, whilst reducing anxiety and depression. In fact, a team of researchers at the Fertility Centres of Illinois and St Joseph Hospital in Chicago found that across six weeks of yoga, 50 women undergoing fertility treatment saw stress levels drop by a fifth!
Can't get to a class? Download an app, like FitStar Yoga (free, iTunes) or buy a DVD like Elements of Yoga: The Collection with Tara Lee.
Child's Play
Even absolute beginners will be able to master a child's pose, one of yoga's basic stretches. Start with your knees and tops of your feet on the floor with the feet together and touching. With your knees apart, rest your belly and chest between the legs. Place your head on the floor, and stretch the arms out in front of you. And relax!
Drink more tea
Research has shown that making changes in your diet and lifestyle for both you and your partner can increase your chances of conceiving either naturally or with IVF. As well as eating a healthy diet, it is important to know that certain substances can lower fertility, especially caffeine. If you need a hot drink in the morning and throughout the day then swap your coffee for a flavoured tea.
Ginger and lemon teas, for example, are a great anti-inflammatory, which is particularly useful for women suffering from endometriosis and can improve circulation to the reproductive organs. Jasmine tea, meanwhile, has been used in China for its medicinal qualities for centuries and in some ancient Chinese manuscripts, jasmine was used as an aphrodisiac and fertility booster!
Tea is also packed with antioxidants, which are essential for boosting sperm and egg quality. Cuppa anyone?
Underrated Rooibos
Often overlooked for the extremely popular green tea, South Africa's rooibos (or redbush) tea has plenty of caffeine-free health benefits. It contains antioxidants, can aid digestion, benefits insomnia, can reduce symptoms of skin conditions and may even protect against cancer. It's also naturally sweet – a very worthy addition to your tea cupboard!
Stand more
You might want to stand up for this. More and more research suggests that just standing – even if you don't walk around – can have a huge impact on your health! For example, an Australian study found that participants who spent more time standing and moving in the course of a week, based on a sensitive monitor adhered to their thigh, had a lower BMI, waist circumference and lower levels of blood sugar – and the benefits of having stable blood sugar levels are better than you can imagine, especially for your hormones!
Stable blood sugar, for example, can reduce inflammation in the body, which is ideal for those suffering from endometriosis, as well as reduce insulin resistance, a common cause of PCOS. It will make you feel less hungry throughout the day too, and help stabilise your energy and mood.
Some easy ways to stand more throughout the day are to stand up during your tea (not coffee!) break, set a timer to remind you to stand up every 45 minutes or so, always stand up when you are talking on the phone or get a standing desk like the VARIDESK Pro Plus, which allows you to switch from a seated to standing position quickly and easily.
Good Company
If you are feeling sheepish about using a standing desk at work, just keep in mind that some of the greatest people in history stood to produce their best work, including;
Sir Winston Churchill
Leonardo Da Vinci
Ernest Hemingway
Thomas Wolfe
Donald Rumsfeld
Benjamin Franklin… and many more.
This will keep you fit!
It's common knowledge that regular sex can improve your fertility – but what would you say if we told you that having sex twice in an hour can make men three times more fertile! Researchers from the North Middlesex Hospital in London found that when a man provided a second sperm sample within an hour, the success rate for an infertility treatment called intrauterine insemination shot up to an incredible 20%! That should keep you fit – and busy!