- Advertisement -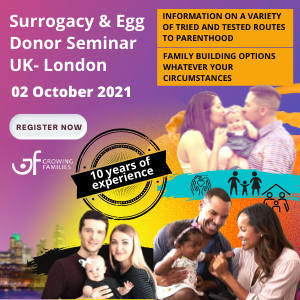 We are proud to present a groundbreaking and innovative fertility journeys feature in Fertility Road, giving five individuals or couples access to eminent fertility experts for the whole of 2014.
From egg donation to Chinese Fertility Medicine, mind to nutrition and detox, we're looking to follow the journeys of five selected readers. Could one of those be you?
What we love about fertility can also be one of its biggest frustrations – that getting to the point of conceiving can involve so many different influences, ideas, theories and actions. So complex is the human body, and so susceptible are we to some of life's conditions and demands, that there is no 'one size fits all' formula, no definite answer or solution.
What remains uplifting though is that every practitioner, expert, author and clinician, no matter how diverse their specialism, has only one goal in mind – to help people make babies.
Yet there has never been a project that celebrates and tracks these journeys through a respectful meeting of minds, where knowledge, time and experience have all been channelled into one showcase, even if those leading names specialise in very different parts of the fertility space.
That is, until now… because Fertility Road magazine is thrilled and excited to be launching a groundbreaking project for 2014.
It's made possible by the incredible gestures of help offered by a number of our trusted and valued experts in the industry. These are leading lights in egg donation, Chinese Fertility Medicine, nutrition, detox and mind, and each has agreed to give up their time across the next 12 months in order to guide an individual or couple through a bespoke and tailored fertility programme.
It is a project we will cover over the course of the next calendar year, following the journeys of selected Fertility Road readers and, at the end, we hope, giving us the opportunity to celebrate some incredible results that we can all take heart, positivity and encouragement from.
Whether you're just starting out on the road to parenthood or have been trying for some time without success, we'd love to hear from you if you want to be considered as one of the five selected readers/couples to work with our experts. But you must respond quickly – the closing date for applicants is February 7, 2014.
Do I have to pay for this?
No, there is no charge for the year-long treatments that are on offer. Our experts have kindly offered to give up their time for free for the entirety of 2014. But we should make clear, the time and knowledge our experts are investing is worth thousands of pounds, and we would request that you only apply if you are serious about working with a requested expert for the full duration of the year.
What happens if I'm chosen?
Our selected five individuals or couples will be introduced to their specific expert in February, and as part of the journey, Fertility Road magazine will follow your progress throughout the course of the year. That will mean speaking to you regularly and covering one face-to-face consultation with your expert, but we will of course protect any sensitive information, and nothing will be published without the full agreement of everyone involved.
What if I'm interested in more than one expert?
You may apply to one or all of our experts, but we are looking for one individual/couple per expert. And please make sure to give as much detail about who you are and why you feel a year's consultation would work. This could be the difference between you being selected and missing out.