- Advertisement -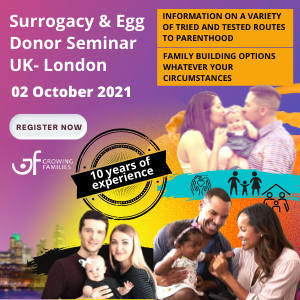 The Fertility Show 2015 returns for another show piece event at the start of November.
The London event will again educate and inform those looking to start of extend their families, with a host of exhibitors and experts.
Fertility Road readers will receive a 30% discount on ticket bookings. Click here and use the discount code ROAD
The success of the show in recent years means it requires little introduction, but with over 60 talks from the world's leading fertility specialists providing a backdrop to more than 100 exhibitors (including doctors, clinicians, practitioners and fertility experts), there is so much to explore across the weekend of November Saturday 7th and Sunday 8th 2015.
The Fertility Show 2015 is backed by Britain's leading fertility support group, Infertility Network UK. It is a dedicated and discreet environment where you can learn about your fertility, explore your options with experienced and sympathetic professionals and find out how to give yourself the best chance of conceiving.
Whether you're just thinking about starting a family or have been trying for ages, find out what you need to know at The Fertility Show.
For those finding it difficult to get pregnant, the show features the main approaches to treatment whilst detailing what can be a rollercoaster to conception. It includes male and female fertility, with experts versed in tackling particular problems and scenarios.
Where IVF is concerned, it will be revealed how to choose a clinic, why treatment abroad might be worth considering, what the NHS will pay for, improving the chances of success as well as unveiling the very latest IVF techniques.
Of course, Britain's leading specialists contribute a large part of the show, with information on subjects including reduced ovarian reserve, PCOS and unexplained fertility, recurrent miscarriage and endometriosis, complementary therapies, plus coping strategies and managing relationships. And for those considering extended options to starting or growing a family, there are of course a bevy of alternative parenting discussions, including donor treatment, surrogacy, adoption and options for LGBT individuals and couples.
And of course, the Fertility Road team will be at the event – find us at stand 43. It's your opportunity to meet those who make the world's leading fertility magazine what it is.