- Advertisement -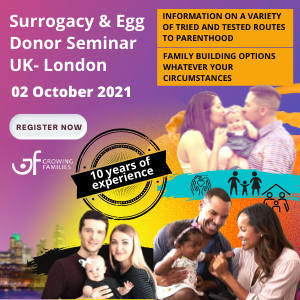 It is estimated that infertility in Africa affects one in six couples, which means that in Southern Africa alone there are eight million people who suffer from infertility; an astonishing number.
2020 will see the first dedicated fertility show in the African continent. The Fertility Show South African (FSA), will take place in Johannesburg in March next year and will bring together a range of experts who will share their experience and knowledge. Fertility Road, alongside partner, the International Fertility Company are pleased to have been asked to become exclusive media partners for the event and will be amongst an impressive list of expert speakers from across the world who will attend the event.
The show will aim to follow in the footsteps of similar events which provide participants with access to the best minds and products the fertility field can offer. A point made by FSA chief executive and organiser Heidi Warricker;
"Fertility Show Africa will host fertility patients in a discreet environment where they will be with a like-minded community to share their journey and obtain support while discovering and exploring the myriad options available to them.

Heidi Warricker Fertility Show South African Chief Executive
Fertility is certainly up there in the taboo areas, and although it is improving, many people still don't feel able or willing to share their fertility situation with family, friends, colleagues and employers. We want to break down this barrier while giving them access to all the latest knowledge."
The Show format has been designed to be interactive whilst creating an ambient environment which encourages and fosters learning and sharing. For many, this will be the first time they have been in a space where they can be open about an issue which was has historically been dogged by stigma. The unique event will feature a support zone and a live question and answer session, which will give attendees the opportunity to get all the fertility questions answered by leading specialists and a panel of experts, without any fear or judgement. In a bid to create an amiable atmosphere, each session will begin and conclude with relaxation techniques such as yoga, trauma releasing exercises, meditation and hypnotherapy.
The show is supported by IFAASA (Infertility Awareness Association of South Africa) and SASREG (South African Society for Reproductive Medicine and Gynaecological Endoscopy).
Warricker added that other important issues would also be tackled at FSA including infertility in the African culture, the legalities involved in surrogacy, egg freezing, adoption in South Africa, dealing with pregnancy or infant loss and healthy lifestyle, diet as well as targeted supplements to optimise fertility. Although there is just one event staged for millions of people affected by infertility challenges, Warricker said FSA was purposely staged in Johannesburg as it is considered a gateway to Africa;
"We are not only targeting all fertility patients or those on a parenting journey in South Africa, but also from Africa and internationally.
Johannesburg was named the most popular destination city in Africa for the fifth consecutive year, according to the annual Mastercard Global Destination Cities Index released at the end of last year, so it was a no brainer to debut Africa's first large scale fertility show here."
Fertility Show South Africa event highlights and key feature areas include:
IFAASA Expert Talks: A cutting-edge talks programme on current and pertinent topics that impact the journey to parenthood. The Expert Talks will be presented by leading fertility professionals, adoption specialists and medical professionals including:
Tertia Albertyn – Nurture
Dr Jack Biko – Femicare Fertility Clinic
Prof. Patrick Bouic – Synexa
Zoe Cohen – Adoption social worker in private practice
Greg Tinney-Crook – Aevitas
Dr Mohamed Cassim – BioArt/LifeArt
Dr Sulaiman Heylen – SASREG President
Robynne Friedman – Surrogacy attorney
Samala Kriedemann – Mama Nurture
Dr Goolam Mohamed – Sandton Fertility Clinic
Mandy Rodrigues – Clinical Psychologist
Dr Tony Rodrigues – MEDFEM Fertility Clinic
Beatrice Rabkin – Hormonal Harmony
Dr Yossi Unterslak – Vitalab
Talks include:
How to enhance your fertility naturally
Natural cycles and mild IVF
Female infertility: Endometriosis
Embryo selection
Female infertility: PCOS
Male Infertility
Lab procedures
Immunology: your best chance of success
Egg Freezing
Egg Donor Cycles – the process and role of an agency
Surrogacy: The legalities involved
Adoption in South Africa
DNA
Healthy lifestyle, diet and targeted supplements to optimise fertility
Recurring pregnancy loss
Baby loss support
Dealing with pregnancy/infant loss
A personal story of infertility, loss and adoption
Infertility in the African culture
Support Zone & Live Q&A: This intimate stage is the place where visitors can get their questions answered by the specialists and engage with a panel of experts on key topics with a programme supported and hosted by leading professionals in fertility. Each session starts or ends with a 15-minute relaxation technique such as yoga, trauma releasing exercises, meditation and hypnotherapy. The area will be supported by a professional counselling and support team of clinical psychologist, Mandy Rodrigues, qualified counsellor and registered social worker Tanya Rubin and homeopath Dr Leanne Scott.
Topics include:
How men and women cope differently to infertility
Considering egg donation
The grief cycle of infertility
Music therapy
Future research for infertility
Other subjects Fertility Show Africa will focus on include:
Adoption
Alternative therapies, including acupuncture, reiki, vitamins and supplements, as well as eating and lifestyle options to encourage fertility
Artificial insemination, IVF and ICSI
Eating and lifestyle for fertility
Egg, sperm and embryo donation
Surrogacy
The LGBT community and options available
Legal and ethical aspects
Treatment options and ways in which to optimise egg and sperm health
The role of complementary and alternative medicine
Cultural aspects of infertility
The role of yoga and meditation
More information can be found on fertilityshowsouthafrica.co.za
FSA will be held at the Gallagher Convention Centre in Johannesburg on 7th and 8th March 2020.