- Advertisement -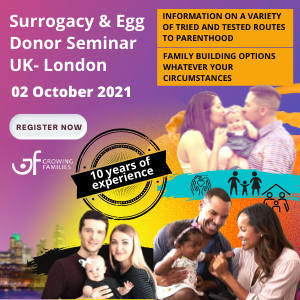 For anyone living with infertility and undertaking any form of fertility treatment, you will know first-hand what a daunting and stressful experience it can be. With many people reporting that they feel alone and isolated before, during and after treatment, the need for free and accessible fertility support throughout the fertility process is becoming even more vital.
In 2016, Fertility Network UK reported a "stark and distressing picture showing that the emotional, social and economic impact of fertility problems far greater than previously recognised". Nearly half of all respondents reporting feeling "depressed, fearful, out of control, helpless and worried nearly all of the time (FNUK, 2016). Most significantly, 42% reported having felt suicidal at some point during their fertility journey.
With this in mind, there is now a greater focus and emphasis from the HFEA who recognise that emotional support is just as important as clinical practice in fertility clinics and that patients are able to access 'Emotionally Safe Treatment'.
It is therefore essential that anyone undergoing fertility treatment knows exactly what support is available to them from their clinics, where and how they can access it – should they need it.
Support for those dealing with infertility can take place in many forms. Whilst in the past physical support groups and fertility counselling have been successful – more recently online support groups, forums and webinars have grown in popularity, with 24/7 accessibility it is an invaluable resource. But what else is available?
Fertility Support – CARE Fertility
CARE Fertility – The UK's top fertility clinic group for IVF Treatment, is leading the way in IVF Support Services available to those undergoing treatment. They recognise the importance of 'Emotionally Safe Treatment' and provide support throughout the fertility journey and beyond.
Available to anyone undertaking treatments at their clinics, CARE Fertility provide a range of FREE support services. As well as their 24/7 Bulletin Board and access to Free Counselling, CARE Fertility's Support Package also offers:
'CARE Buddy' Support System – providing the perfect opportunity for CARE patients to both receive and offer help to others who are also going through the IVF journey. This peer-to-peer support method is facilitated by CARE's Support Coordinator and their Counsellors who ensure patients are carefully matched with a buddy who is at a similar stage in the treatment process. Once matched, patients can then connect in any way this wish and share their experiences during, and following on from treatment.
"It's been a relief to be able to connect with someone else going through t he IVF process. I now realise t hat my feelings are normal and I'm not the only one going through this. This alone has made a huge difference to my mind-set and confidence t hrough our journey" (CARE Buddy, Patient)
'Walk N Talk' Events – Scheduled at least once per month, CARE offer a 5K Walk N Talk event, providing a unique method of support. Instead of a formal therapy approach, these sessions are relaxed and informal, walking in the countryside. This support is wonderful for those wanting to incorporate exercise and get outdoors whilst gaining support and connecting with others going through the IVF process.
"For me the best thing about the walk and talk session is knowing there is a forum to talk openly about the feelings t hat often weigh you down along the IVF journey and knowing that you are not alone, also hearing from ot hers about how to deal wit h situations that are so often daunting when you are surrounded by ot hers who cannot begin to understand how hard IVF can be." (CARE Patient)
Monthly Online Support Meetings (via Skype)
Each month the online support sessions have a theme and input from the facilitator or guest speaker. This is a wonderful opportunity to connect with other people going through the IVF journey in the comfort of your own home and learn some useful techniques for dealing with the emotional aspects of the IVF process.
Monthly Clinic Support Meetings
Facilitated by their CARE Support Coordinator, CARE Nottingham and Sheffield are the first CARE Fertility clinics to offer monthly 'in clinic' support meetings. Here you are able to meet Face-To-Face others in your local area going through the IVF journey and gain emotional support from people who understand the process.
What are the benefits of seeking out Fertility Support?
The opportunity to receive support and reassurance throughout your individual IVF journey and know that you're not alone.
A chance to offer your own invaluable advice to others based on your own experiences.
Alleviate any potential anxieties and worries by sharing your story and hearing other patients' IVF experiences.
It's important to remember…
Infertility is defined by the World Health Organisation as a disease and the emotional impact and distress can be significant. Whilst we all deal with and manage stress in different ways it can be helpful to be honest about how you are feeling so you don't feel alone. By speaking to others, via Fertility Support, it enables you to recognise that you're not the only one on this journey and your feelings are completely valid.
It's important that you put your needs first, honour your feelings and that they are part the infertility experience.
Be gentle with yourself – recognise that there may be difficult times but remember to honour your feelings and do what is right for you.
Know your limits and try not to set yourself up to fail by expecting too much of yourself.
"Speak to your clinic. Ask about what support they offer. Seek out support."
For more information about CARE Fertility's Support Events: carefertility.com/support/events/support-events