People are really private about having fertility problems, often they haven't told anyone else about the issue
For the first time ever, we were in a room full of people who all knew how it felt not to be able to get pregnant
"We'd driven for 45 minutes through rush-hour traffic, and were sitting outside a terraced house on the other side of town when I told my husband I thought maybe we should go back home again.
"I'm not sure I can go in," I said. "I don't think I'm the sort of person who goes to support groups."
What I didn't appreciate was that no-one ever thinks they are the sort of person who goes to support groups; the name conjures up a rather gloomy gathering of weeping people getting together to share their misery.
In fact, that couldn't be further from the truth, as I discovered when my husband persuaded me that having come so far we might as well give it a try – and I was so pleased we did.
For the first time ever, we were in a room full of people who all knew how it felt not to be able to get pregnant, who all understood the mixed emotions when a friend announced she was expecting a baby, who all dreaded those questions about when they were going to get round to starting a family. We were able to share our experiences, to discuss advice we'd been given and, most surprisingly of all, to laugh at some of the things that had happened to us along the way. It was the laughter I hadn't expected, and when we left a couple of hours later, I felt as if a weight had been lifted from my shoulders.
Today, more and more people are in touch with one another online through fertility websites and forums – often a great way to share experiences, but those platforms do have their limitations. Chatting online means that you are never entirely sure quite who you are sharing your experiences with, and there seems to be room for misinterpretation when you are typing a conversation with someone you've never actually met. Being able to meet face to face and talk can seem a more daunting prospect, but many people find it is hugely rewarding and often leads to lasting friendships.
What to expect from support groups?
Like me, Fertility Road reader Nicola was not sure quite what to expect when she went along to her first support group meeting at the Hewitt Fertility Centre in Liverpool.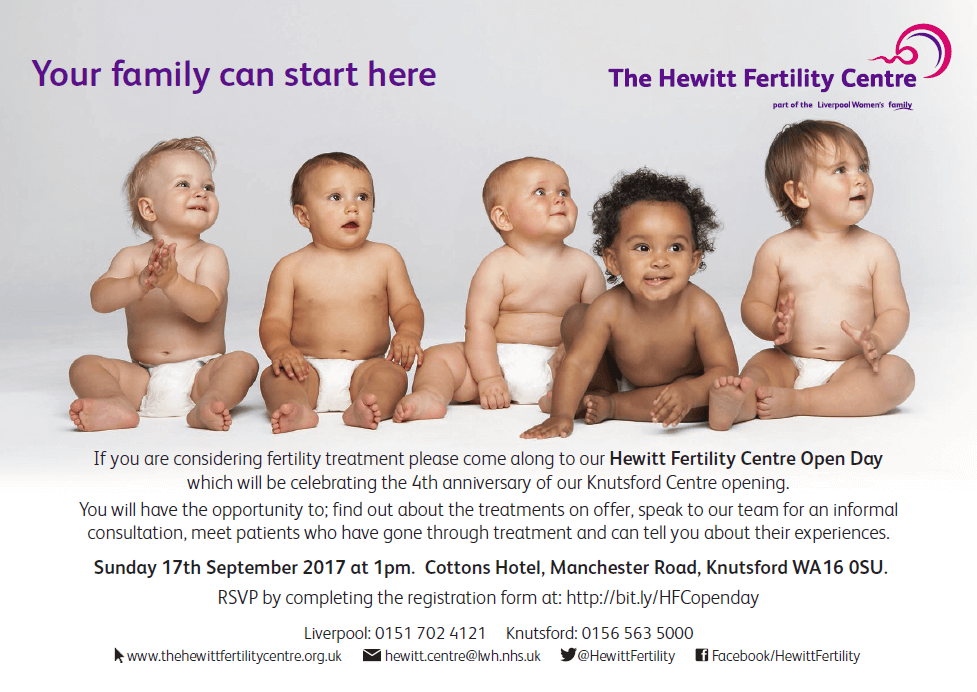 "The hardest bit is thinking that you need help or support in some way, and then walking through that door," she says.
"Everyone imagines they're going to have to go in, stand up and say 'I'm Nicola and I'm infertile,' or something – but it's not like that at all. The first time you enter, you are nervous. You think everyone will be crying and depressed, but actually they are laughing and they make you feel normal again."
Nicola feels helping you realise your feelings are normal is one of the most important things that joining a group can offer. "You think you are a horrible person if you feel jealous when your friend says she's pregnant, or if you hate Kate Middleton when she announces her pregnancy, but you realise it's normal to be upset," she explains. "You can all laugh about the things that yesterday you thought was just you being horrible.
People are really private about having fertility problems; often they haven't told anyone else about the issue, and it's only when they come to the group that they're really open, because everyone else is. Of course, people do come into the group crying sometimes, but nine times out of 10 they leave laughing."
Emma attended a peer-led group when she was going through treatment, and says it helped her to feel less isolated. "I'd been so lonely when all my friends were getting pregnant, and finding other people who understood how that felt meant I wasn't the only one," she says. "I didn't go to every meeting; I dipped in and out of it when I was doing IVF – but just knowing there were people who I could connect with who felt the same way made all the difference."
It is these shared experiences which can be particularly beneficial. Tracey Chester, chair of the British Infertility Counselling Association, the professional body for fertility counsellors, acknowledges that this is where groups can really make a difference.
"Meeting in a group where you all share similar stories can help at all stages of your fertility journey, whether you are just beginning in the process of treatment or if your own fertility journey has ended," she explains.
"Shared experiences can help you feel less isolated, and can normalise the thoughts and feelings you have but may be reluctant to talk about. The support groups can be a safe space to express your feelings and offer vital support.''
Anya Sizer first started running a support group after going through fertility problems and treatment herself, and she now runs the group at London Women's Clinic where she works. "I think support groups make a world of difference at so many levels," Anya says. "There is an amazing sense of community and support which people take with them well after the group itself has finished for the night."
There are fertility support groups meeting across the UK, from Scotland and Northern Ireland to the Channel Islands, and you can find the details of all these different groups on the Infertility Network UK website.
Susan Seenan, Chief Executive of the charity, says the groups have always been an important part of the support they provide. "We list groups across the country on our website, and we are always looking to expand our extensive support network," she says.
"We know how beneficial it can be to share problems with others who understand, and we receive a lot of positive feedback about the groups from people who have attended them. Although the internet is an increasingly popular way to link up, we know that the opportunity to meet face to face has huge benefits and is something many people find helpful."
Each support group has its own personality, and they can be very different. Some are organised by volunteers who run peer-led groups. The volunteers may be people who are still going through fertility tests and treatment themselves, or those who have had previous experience of fertility problems and want to give something back to support others.
These peer-led groups tend to be small and friendly, and offer a great opportunity to get together with others and share experiences. Members may meet up in a local café, bar or community centre and they may meet in the evenings, for lunch or at weekends.
Other groups are run by professionals, and these may be based at fertility clinics or health centres. Counsellors, complementary therapists or clinic staff may organise these as sometimes larger gatherings, and there may be the opportunity to invite speakers along to provide information on a range of fertility-related topics.
Suze Fisher facilitates one of the country's longest standing support groups, Woking WISH at the Woking Nuffield Hospital.
It has been running for 15 years, and Suze feels part of the group's success is that it has such strong support from the staff.
"The nurses talk to patients about it, we have flyers around the unit and they go out with information to new patients. Most of the people who come along are having treatment at the unit, but the group is open to all."
Suze books a speaker for each session, and believes this helps to encourage those who feel uncertain about attending a support group.
"I say to people they don't have to book to come along, and they don't have to participate. I present it as more of an information session and that gives people some space. You can choose to be a vocal part or not – some people are more chatty than others, but it's fine if people don't want to talk. Just being in a room full of people you don't know who are all having the same issues can be mutually supportive."
The group Nicola attends in Liverpool works the same way and she thinks this is helpful.
"The first half of the meeting is someone doing a talk, an acupuncturist or an embryologist or a consultant perhaps, so you're getting information about something," she explains. "Then the second half of the meeting is just chatting, which is informal and relaxed. Both parts are helpful in different ways so you get information and support."
As well as groups, there are some one-off workshops which offer another option for group support. Gill Tunstall runs healing workshops for women with fertility problems and she says this can help in a number of ways:
"The intention is to allow participants to explore their emotions, and to open up the possibility of moving on in their life," she says. "It often helps them feel calmer and more relaxed. Sharing feelings and emotions can provide clarity and help people to make sometimes difficult decisions about what their next step may be."
Of course, it's not just going along to a group that can be helpful, but also having one of your own. If you find there isn't a group anywhere near you, then opting to run one yourself doesn't have to be as challenging a task as it may seem.
You will get lots of support if you're doing it through Infertility Network UK, and it can help you on your own journey.
Nicola is now one of two patient representatives running her group in Liverpool but says she still finds that she gains a lot of support from the meetings. If you're not sure a group would be for you, Nicola would certainly suggest checking out your options locally:
"I have made friends in the group and I see them outside it too. I would recommend anyone going through this to attend a group and enlist the support of other women. I find it helps more than anything to speak to people who know what you are going through and can sympathise."
If, like me, you'd been thinking you aren't the sort of person who goes to a support group, perhaps it's worth thinking again; at least give it a try.
There's certainly nothing to lose… and there may be a lot to gain!