- Advertisement -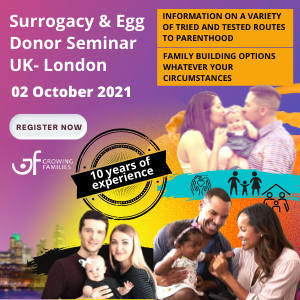 You get up in the morning quickly eating a piece of toast and maybe drinking a glass of orange juice before jumping in the shower and throwing on whatever clothes are smelling fresh and clean for the day.
You're tired so you stop off for a coffee on the way to work crumpling the receipt into your purse as you go.
A pretty typical morning, right?
But in the above scenario, there are six small changes you can make to your routine to improve your IVF success rates.  And that's not even including the whole 'is caffeine bad?' debate!
1.  Get a good night's sleep
It seems obvious but a good day really does start with a good night's sleep.  We are all different but a good place to start is to aim for approximately seven to eight hours a night.
One recent study has shown that those women that managed this had pregnancy rates up to 14% higher than those women got more or less than this amount of sleep when doing IVF1.
Sleep is also linked to your melatonin levels.  After all, it is melatonin that makes you get sleepy in the evening and wake up in the morning.  Not only is melatonin a powerful antioxidant but there is also a significant amount of evidence that says when your melatonin levels are in balance it increases the quality and quantity of your eggs when doing IVF2.
You can support your natural melatonin levels by getting adequate amounts of natural daylight as well as by listening to your body's internal clock and following a regular sleep routine (but don't take melatonin supplements without medical advice).
2.  Be mindful of the carbohydrates you eat
It was only a small study, but one fertility doctor noticed that some of his patients, who he was expecting to have higher IVF success rates, were getting poor quality eggs and embryos3.
On closer examination, he noticed that these women seemed to be having cereal or toast for breakfast, sandwich for lunch and perhaps pasta for dinner.  Although at first glance it appears there are worse foods to eat, this is a diet high in processed carbohydrates.  No one is saying to completely stop eating carbohydrates, but there may be some benefit to making sure you prioritise eating whole grain carbohydrates and protein when you can.
The women in this study had proper dietary assistance, but it was found that when they started eating a diet high in protein and lower in carbohydrates, IVF success rates went up a massive 67%3!  This is an extraordinary number and this result is not typical but does highlight the importance of ensuring you are eating an IVF optimised diet.
3.  Limit the amount of juice (and other sugars) you drink
Orange juice is high in sugar which means your body will produce more insulin to try and lower your blood sugar levels. Over time if you experience prolonged exposure to high amounts of insulin it can lead to insulin resistance.   Not only does this possibly increase your risk of health problems such as diabetes, but it can also impact on how other hormones vital to the IVF process are produced.
Not only this but orange juice contains none of the fibre that eating an orange does which is necessary to support your digestive system.
So if you love the taste of oranges in the morning bypass the juice and go straight for the natural source.
4.  Reduce your exposure to chemicals
Many shampoos are filled with chemicals such as phthalates and parabens.  They are what makes the shampoo smell nice and foamy in the shower.  These chemicals though are also known 'endocrine disruptors' which means that they can possibly interfere with the way your body handles estrogen and high levels of these in the body has been linked to lower IVF success rates4.  Look for shampoos that are 'fragrance free' or 'paraben free' to take one little step towards reducing your exposure to harmful chemicals and helping increase your chances of IVF success.
5.  Check your laundry powders
Virtually any substance that has a fragrance to it is likely to have the potential to be an endocrine disruptor.  The washing powders and fabric softeners you use are no different.  For an easy win, stop using fabric softener.  Not only will you save money (and also put less soapy waste into the environment) but you will also reduce your exposure to those endocrine disruptors.
6.  Say no to receipts
When you bought your morning coffee, chances are you were given a receipt that has bisphenol A (BPA) on it that when you touched the receipt some of the BPA transferred onto your skin and into your bloodstream.  It sounds extreme, but evidence has shown that BPA on cash register receipts can transfer into your bloodstream when you touch them5 and there is also evidence that shows that increased amounts of BPA in your bloodstream is related to decreased IVF success rates6.  So for now, try to avoid touching that cash register receipt and any others that may cross your path throughout the day.
These are just a few super small and easy changes you can make to your morning routine to try and increase your chances of IVF success.  Each on their own seems very small but when combined sets you well on your way to making the lifestyle changes that will hopefully increase your chances of IVF success.
Sources:
1.  Park, I., Sun, H., Jeon, G., Jo, J., Kim, S. & Lee, K. (2013).  The more the better? The impact of sleep on IVF outcomes.  Fertility and Sterility. ASRM Abstracts 100 (3) Supplement S466
2. Fernando, S. & Rombauts, L. (2014)  Melatonin: shedding light on infertility? – a review of the recent literature. Journal of Ovarian Research 7 98
3. Russell, J., Abboud, C., Williams, A., Gibbs, M., Pritchard, S. & Chalfant, D. (2012) Does changing a patents dietary consumption of proteins and carbohydrates impact blastocyst and clinical pregnancy rates from one cycle to the next? Fertility and Sterility Sup 47 O-153.
4. Hauser, R., Gaskins, A., Souter, I., Smith, K., Dodge, L., Ehrlich, S., Meeker, J., Calafat, A. & Williams, P. for the EARTH Study Team (2016). Urinary phthalate metabolite concentrations and reproductive outcomes among women undergoing in vitro fertilization: results from the EARTH study. Environmental Health Perspectives 124:831–839
5. Ehrlich, S., Calafat, A., Humblet, O., Smith, T., Hauser, R. (2014). Handling of Thermal Receipts as a Source of Exposure to Bisphenol A. Journal of the American Medical Association. Research Letter. 311(8).
6. Ehrlich, S., Williams, P., Missmer, S., Flaws, J., Ye, X., Calafat, A., Petrozza, J., Wright, D. & Hauser, R. (2012). Urinary bisphenol A concentrations and early reproductive health outcomes among women undergoing IVF. Human Reproduction, 27 (12) 3583–3592.