FIVE EXPERTS, FIVE SOLUTIONS
Fertility Road's impeccable contacts book sees us line up five of the industry's most respected voices in matters of fertility, each using a career's worth of experience in their chosen field.
Our Five Experts
Sarah is a leading UK general practitioner who regularly appears as an expert on terrestrial television and radio shows. She graduated from Oxford University in 1986 and also works as a Clinical Consultant for health website patient.co.uk
Hilary is one of the UK's best recognised TV doctors having initially appeared on screens in the late 1980s. He is a prolific writer on health, wellbeing and happiness.
Robert is a professor, medical doctor, scientist, television presenter and politician, whose medical research has led to him being regarded as one of the leading pioneers in reproductive and sexual health.
Richard is an international surrogacy expert, whose book Our Journey One Couple's Guide to US Surrogacy is an Amazon bestseller in category. His website guidetosurrogacy.com provides guidance for anyone at any point along the ladder.
Martin is the king of moneysaving in the UK, a financial journalist and consumer campaigner. He is Governor at the London School of Economics and recently received an OBE from the Queen as recognition of services to consumer rights.
The brief for each was simple

If they could give one piece of fertility advice to an individual or couple, what would it be
DR SARAH JARVIS on understanding Fertility
Sarah is a leading UK general practitioner who regularly appears as an expert on terrestrial television and radio shows. She graduated from Oxford University in 1986 and also works as a Clinical Consultant for health website patient.co.uk
"The thing that often strikes me is that people don't know what fertility is; they don't know how normal it is to take time to conceive. So, for me, my advice would be for people to really have a think and work out what infertility is.
Put in simple terms, the average couple should never expect to get pregnant straight away. Most people who don't get pregnant within the first six months will get pregnant within the second six months. And of the people who don't get pregnant within a year, about half will conceive the following year. We need to give our bodies a chance.
A lot of this comes back to the fact we all work very hard these days, and with that comes the expectation of being in full control of our lives. Yet where fertility is concerned, most people find that this is the first time in their lives when they're not in control, when it's in the lap of the Gods, if you like. Consider it, if you work hard enough at school, you will succeed, you'll get the job, you'll be able to afford a home and you'll be able to afford to live. So, until now you've been dependent on you, whereas when it comes to getting pregnant, very often you feel a sense of being powerless.
'But I want to get pregnant now', you say. Yet that goes against the logic we've taken previously, because up until then we've spent so much of our lives thinking about not getting pregnant and practising not getting pregnant. We've pretty much controlled that, so I think the expectation is that you can control getting pregnant too, but it just doesn't work like that.
So for goodness sake be realistic to yourself. If you haven't got pregnant within three months then, you know, it doesn't mean you're not going to get pregnant at all. Just focus on all the things that can aid the process, like stopping smoking, cutting down on alcohol, taking folic acid and vitamin D, because if you go to a GP after three months he or she will tell you to come back after a year.
Of course, on the flipside, know when you should go. So if you've been trying for a year then go and see a GP. Or if you've had other medical problems – perhaps pelvic inflammatory disease, or surgery on your tubes or on your testes – then go forward sooner. But be absolutely certain you're in a good place and a realistic place before worrying, before feeling as if you have to go to the next point. Know when you should and know when you shouldn't, and relax!"
"The thing that often strikes me is that people don't know what fertility is"
[row]
[column md="6″]Click To tweet This Advice[/column]
[column md="6″]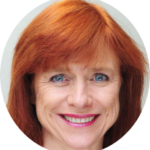 Dr Sarah Jarvis – UK General Practitioner
DR HILARY JONES on Supplements
Hilary is one of the UK's best recognised TV doctors having initially appeared on screens in the late 1980s. He is a prolific writer on health, wellbeing and happiness.
"I've been researching a lot into diets and supplements recently, and while I'm not aware of any fertility boosting effects of Omega 3, I would always encourage any woman who's thinking of conceiving to think about preconceptual care – it's really important.
It's a reality that the majority of women don't initially know when they become pregnant. Omega 3, because it's an essential part of the foetus's brain and nervous system, is pretty essential for the mother in the very early stages of pregnancy. It's important there is enough Omega 3 in the body because it's about development in the baby – its eyes, its brain, its nerves as well as the heart.
There is growing evidence that Omega 3 is an essential part of the growing foetus and the infant. There's evidence it helps, for example, in the treatment of ADHD, of behavioural disorders, or dyslexia, because it is helping with the function of nerves in the brain and the development of brain tissue.
In evolutionary terms we all ate more oily fish and less of the processed food we eat today, so any way we can help our bodies regain some of those key nutrients from days gone by, we should be embracing."
"There is growing evidence that Omega 3 is an essential part of the growing foetus and the infant"
[row]
[column md="6″]Click To tweet This Advice[/column]
[column md="6″]

Dr Hilary Jones – Doctor
LORD ROBERT WINSTON on Stress
Robert is a professor, medical doctor, scientist, television presenter and politician, whose medical research has led to him being regarded as one of the leading pioneers in reproductive and sexual health.
"The pain of infertility prevents people from having a normal life. It prevents them from enjoying and embracing the aspirations which most of us expect as part of normal activity. It causes severe depression and great anxiety; it invades the most private parts of a couple's life and it is very corrosive.
However, if you flip it on its head, the evidence for stress causing infertility simply isn't there, and this is an interesting angle to explore.
I see out there so many treatments, courses and initiatives designed to reduce stress and, from that, boost a person's chances of falling pregnant. Well, stress relief may make people feel better about themselves, and that is fine, but there is no good data – archived or current – which shows that stress treatments really help.
This is important because it means self-blame is wrong. Put another way, I think to argue that people have caused their own infertility is really a very shocking thing because the evidence is just not there.
But when stress does confront an individual or couple, it can affect emotional wellbeing and the ability to feel one can find a path forward towards parenthood. Of course, some people cope better than others. A lucky proportion can be very supportive of each other – they see doctors they trust and they don't clutch at straws. And with a lot of stress management it is about making life easier on yourself. So make sure you end up in the hands of a doctor who you really trust. If you don't trust him or her, find another. Try to go to a centre which is comprehensive and can offer a range of treatments, not just IVF, and be aware of the fact that millions of couples have had successful treatment after very lengthy times of failure.
So while stress may not be a perfect bedfellow in a time period when you're trying to conceive, don't consider it as the main factor in not falling pregnant, because that assumption simply isn't backed up by any research. Instead, I would recommend finding a way of working alongside stress (which is usually a necessary byproduct of us looking to maintain our daily commitments), whilst channeling energy into the things that have been proven to increase the chances of fertility, such as diet and exercise, and having a set plan for timing intercourse to the most fertile times of the month."
"Infertility prevents people from having a normal life embracing the aspirations"
[row]
[column md="6″]Click To tweet This Advice[/column]
[column md="6″]

Lord Robert Winston – Medical Doctor
RICHARD WESTOBY on International Surrogacy
Richard is an international surrogacy expert, whose book Our Journey One Couple's Guide to US Surrogacy is an Amazon bestseller in category. His website guidetosurrogacy.com provides guidance for anyone at any point along the ladder.
"International surrogacy seems to be one of the most controversial topics of the day, and sure enough I receive multiple enquiries every week from intended parents who are totally confused by the amount of information they can find on the internet. Commercial surrogacy is in fact a minefield of opacity and to wade your way through it takes time and effort.
The primary thing I explain to intended parents is that they need to understand the legal framework for the country in which they are looking for surrogacy. In the UK, surrogacy is legal, it just cannot be done for commercial gain. In other countries the structure is different, and it's important to understand individual jurisdictions. For example, in 2014 Thailand changed its law around surrogacy overnight and Nepal has just done the same thing pending a Supreme Court decision.
But how do you know what is right? If you are going to be going down the international surrogacy route then my best advice would be to follow eight simple rules, without exception:
Talk to as many people as possible who have been through surrogacy
Do as much due diligence on the jurisdiction and the legal situation around surrogacy
Understand the immigration implications of undertaking surrogacy and bringing your child back home
Talk to a local lawyer about what legal steps you need to do in your home country to make sure you are recognised as the parent(s) of the child(ren)
Picture how you see your family and always have this picture in your mind when you are talking with the professionals
Talk to IVF clinics to see their success rates and how they operate with regards fresh or frozen embryos
Talk to surrogacy agencies to understand how they work, how they select their surrogates and what support they provide throughout the process
Finally, make sure that the people you end up choosing to help create your family understand you and your dream and that they are all aligned to make your dream a reality."
"In the UK, surrogacy is legal, it just cannot be done for commercial gain"
[row]
[column md="6″]Click To tweet This Advice[/column]
[column md="6″]

Richard Westoby – International Surrogacy Expert

[/column]
[/row]
MARTIN LEWIS on Finance
Martin is the king of moneysaving in the UK, a financial journalist and consumer campaigner. He is Governor at the London School of Economics and recently received an OBE from the Queen as recognition of services to consumer rights.
"Many people ask me about the finances behind fertility, be that whether they can realistically afford IVF treatment, or whether having children is even realistic compared to their income.
In an ideal world, kicking off fertility treatment, for instance, would be funded by savings. With something like IVF those savings may only take you so far, and there will always be instances in life where we spend more than we have because the need is so great.
But let's put that to one side and think most specifically about budgeting, either in terms of being able to gather those savings together in advance of a project, or when, we hope, there is another mouth to feed (and to finance).
The truth is most of us are appalling budgeters and that comes from quite an interesting place – we all know what we earn, but we don't know what we spend and we struggle to balance a see-sawing budget without making inaccurate and unrealistic assumptions.
So when we look at our spending across the month we judge it on what we'd typically pay for something. But there's a huge chunk left out. Why? Because the average family in the UK spends £600 on Christmas, or £50 a month; they buy a new sofa every three or four years for maybe £1,000; they buy a television that is £500; they go on holiday in the summer etcetera. And none of this is factored into the monthly spend, but it should be.
So, the real deficit that people have in their spending comes about as a result of failing to factor in the irregular bits every now and again. My advice therefore would be to factor in £50 a month for Christmas, £50 a month for big one-offs, £50 a month for a holiday. Only after doing that will your budget truly balance.
But most people don't do that and all those additional expenditures are the stuff we never count, which is why far too many people spend more than they earn. And it's easy to see if that's happening to you. If you've got savings and they're disappearing, you're spending more than you earn. If you've not got savings and you're building up debt, you're spending more than you earn – in which case, go and do a budget.
Well, that's great and now we have the knowledge; but the question then becomes what you then do and how you manage it? Now, the way I suggest people manage their money is a system which I call 'piggybanking'. It's literally this – once you know what you're going to spend your money on, you then have to accept you're going to live within your means by using little pots or little accounts. So, let's say you have your 'standard bills' account, which is all the regular stuff you need to pay each month. You have you 'family account', your 'holidays account'. Each month, when you get paid, you siphon the right amount of money into the each account.
So for each of those piggybanks, when it comes to going on holiday what most people say is, "Oh, I don't want to spend too much…" They'll only want to save £500 and then they see an £800 holiday and then say: "I'll have the £800 one! I'm sure I'll manage somehow." But this way, you look at that holidays account, or the family account, and it'll say you have £422 in it. If you're spending more than £422, you cannot afford it. So you have to cut your cloth accordingly. Many people swear by this technique because, honestly, it works."
"In an ideal world, kicking off fertility treatment would be funded by savings"
[row]
[column md="6″]Click To tweet This Advice[/column]
[column md="6″]

Martin Lewis – Money Saving Expert