Keeping Up With The Kardashians Star Kim Kardashian Reveals Fertility Struggle
After giving birth to daughter North in 2013, Kim Kardashian has allowed the millions of viewers of her family's reality show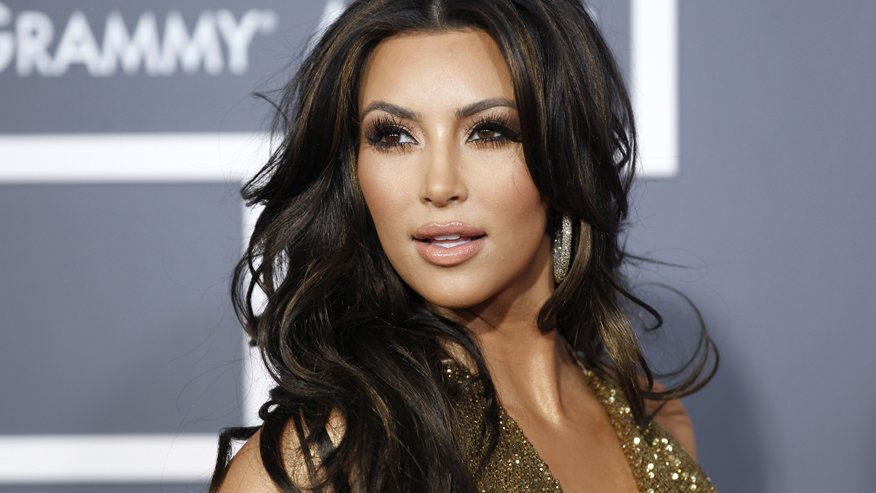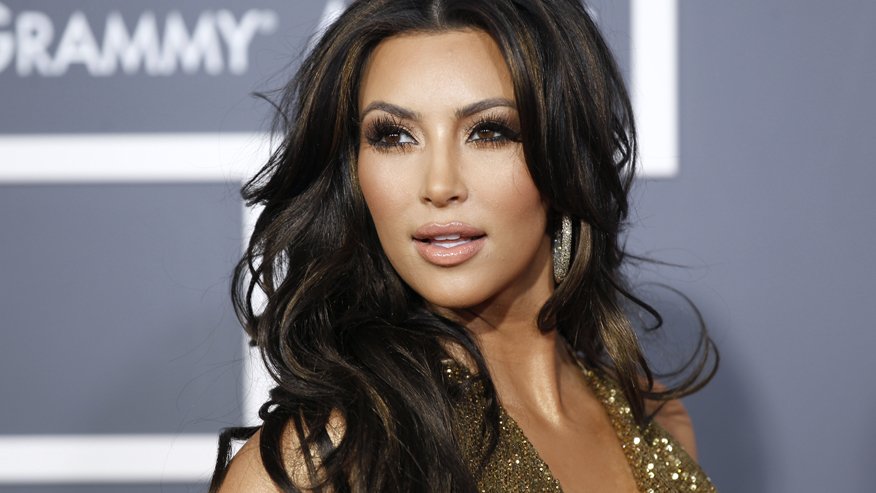 After giving birth to daughter North in 2013, Kim Kardashian has allowed the millions of viewers of her family's reality show, Keeping Up With The Kardashians, to witness her fertility struggle as she and husband Kanye West try for a second child. She has also discussed her fear of using a surrogate, should it transpire that she is unable to carry another baby.
During episodes of the most recent series, viewers watched as 34-year-old Kim prepared for an operation to remove pieces of placenta that had remained attached to her uterus after the birth of North. Doctors at the Beverley Hills clinic advised Kim that if she manages to conceive, this could be the last baby she will be able to carry naturally. The reality star's fertility consultant Dr Huang explained: "When you have your baby, this will be your last one, because the problem is your placenta grew on your uterus. So when you have another baby, your placenta will go right into that hole and then we'll have a team of doctors waiting right there, to remove your uterus and put you into emergency surgery, because you can't bleed too much."
He went on to tell the star: "You can still get pregnant but it does expose you to risks during the pregnancy, I can't guarantee that.
Surrogacy is the only way to give you a nice, healthy pregnancy and a nice healthy baby. I'm going to do everything I can to clean your uterus out and keep it as healthy as possible, but do what's safe for you."
Fighting back tears, Kim was clearly experiencing the same troubling desperation so many would-be mothers experience. "There is nothing more on this earth that I want more than to be pregnant again and to go through that experience, I would pay any amount of money to have that," she said.
Told that even after this surgery to remove the leftover placenta fragments, it would still be the safest option for Kim and Kanye to use a surrogate, she insisted that she didn't want to even consider that route. Speaking from the doctor's clinic, she said: "Surrogacy is really scary for me, I don't want that to be my reality. It's my last resort. As much as I hated being pregnant, and I complained every step of the way and joked that I didn't want one, I really don't want a surrogate. I wouldn't dare ask anyone to do this for me. It freaks me out, what if they're a lunatic, what if they run off with my baby? I can't do it, I just can't."
Kim's mother, Kris Jenner, tried to placate her daughter with the thought that her older sister Kourtney might be able to act as a surrogate, but she has only just given birth to her third child, son Reign.
Kim's decision to share her fertility issues on the TV show have sparked huge online debate. On one side, the fact that an international superstar has revealed her struggle so publicly could be seen as encouragement for couples experiencing similar problems and a step towards breaking down the 'secret' stigma of infertility. On the other hand, Keeping up with the Kardashians is a scripted reality show, well known for 'creating' storylines for the famous family to play out, and critics believe that Kim may have shown this interaction at the clinic in order to make a future decision to use a surrogate seem justified (if she chooses to do so to protect her famous figure).
Share your thoughts on Kim's fertility saga with us on Twitter @FertilityRoad or via Fertility Road website fertilityroad.com
TV Host Alexis DelChario Opens Up About Her Fertility Frustrations
When you're going through infertility you want to curl up in a ball and hide from the world and I decided to do the opposite… shout "I can't have a baby" from the rooftop!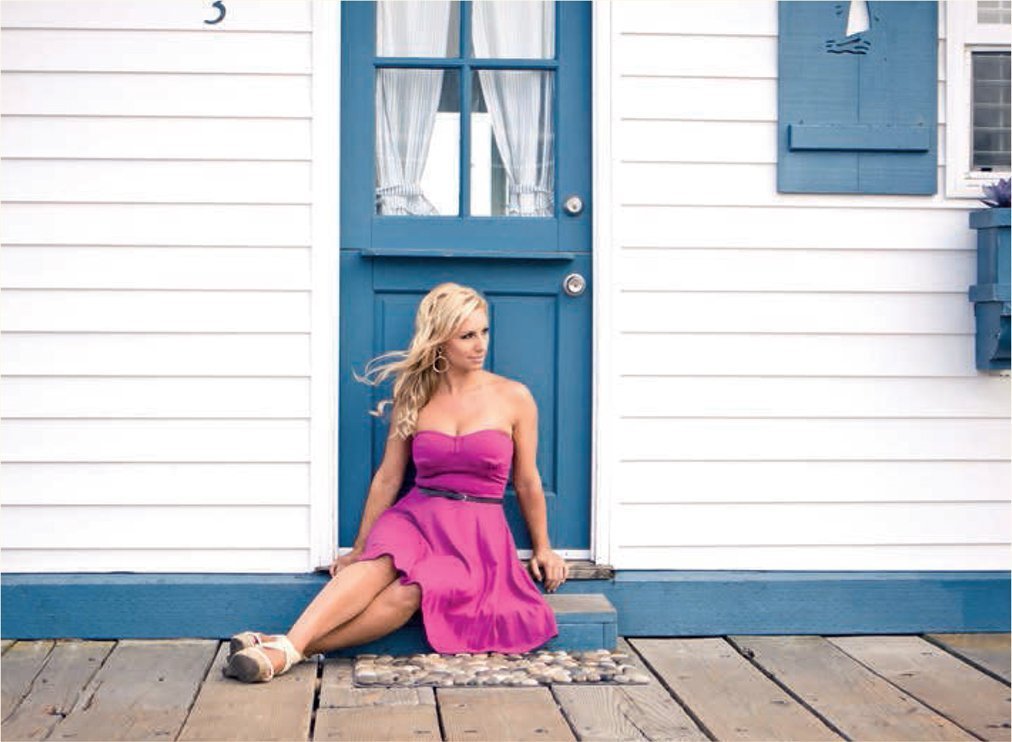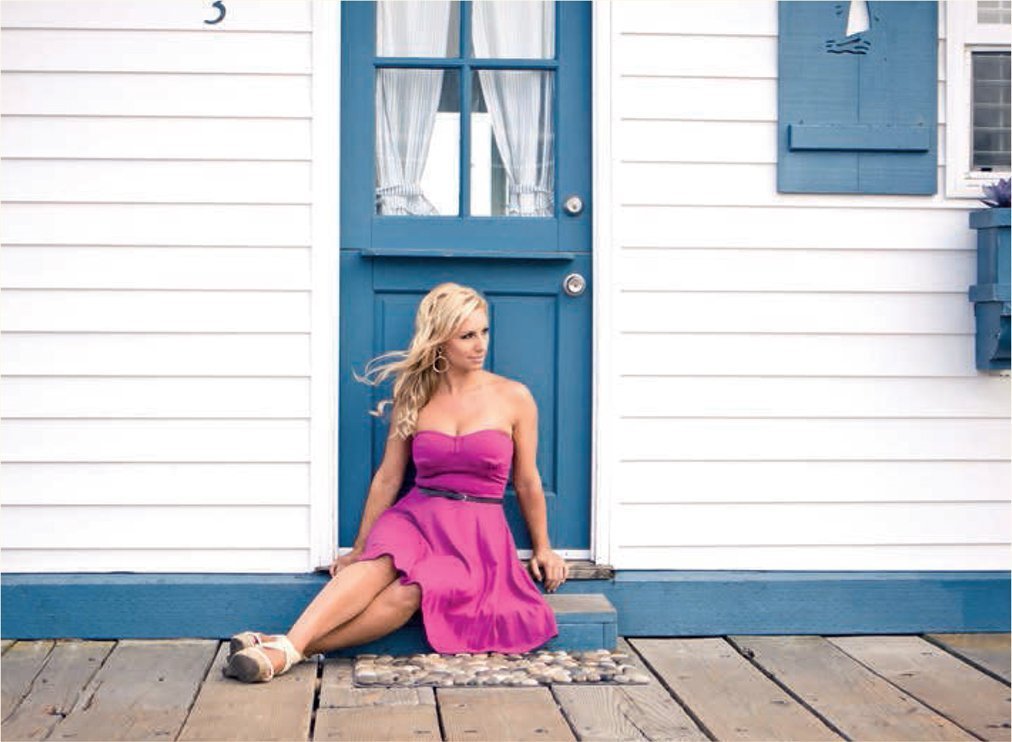 When your job is talking about the lives as others – as a presenter, host and anchor across various American news network channels – it can feel unusually awkward when the camera is turned on yourself. But Alexis DelChario did exactly that last year when opening up about the fertility frustrations that have been such an unwelcome part of her recent years.
The effortlessly charismatic and warm TV host is now not only a happy face to wake up to, but an inspiration to women and couples trying to search through the complexities of unexplained fertility.
In an exclusive Fertility Road interview, we caught up with Alexis…
Q. You've talked about your career, and that opening up about fertility is such a brave decision. Do you still feel it was a risk, given attitudes that are out there?
Yes, I was quite nervous to share my secret with the world for several reasons. First off, I knew it would be difficult to share such a private and emotional journey with so many people. When you're going through infertility you want to curl up in a ball and hide from the world and I decided to do the opposite… shout "I can't have a baby" from the rooftop! So yes, that was extremely scary.
I was also concerned that sharing this information would have a negative impact on my career. I was worried that a potential employer may not want to hire me because I would (hopefully) eventually be getting pregnant or at the very least need time off for the millions of doctor appointments I have. Although sharing my story makes me extremely vulnerable, I don't regret it for a second.
Q. Are you the type of person who realises the positive influence they have, and can appreciate just how much your words can mean to others going through similar problems?
I sort of had a 'come to Jesus' moment about a year-and-a-half into my infertility battle, and I realised perhaps I'm going through this so I can help others. I mean, isn't my job all about storytelling, empathising with others, connecting to people and trying to make the world a better place?
My voice has always been my strongest weapon and I truly hope my story can help others who are having trouble creating a family. If I can play even the smallest part in shedding some light on this 'dirty little secret' that plagues millions of couples around the world, then maybe my struggle will feel 'worth it'.
Q. What sort of feedback have you had?
The feedback has been incredible. I am constantly overwhelmed by the numbers of people who reach out to me and say they've been there too. I've received hundreds of messages of solidarity from all sorts of people – strangers, friends I didn't even know were battling infertility, men, women, mothers, fathers, people who were once adopted themselves. It blows me away every time I read one of the emails, or hear someone's heartbreaking story face-to-face. Thankfully I often hear from women who were 'exactly like me' struggling for years to start a family, but now they are moms. Somehow, some way it all worked. Those stories give me hope that I will too get my happy ending someday.
Q. So where are you at on the journey right now?
Almost three years in and we're actually just waiting. We're waiting to see if Gabe's varicocele surgery in December could make it possible for us to conceive naturally. Sperm regenerates every four months so in March we'll know what's what. The tricky thing is, we're not even sure where the problem really lies. Gabe's surgery may not have any impact on improving our chances, but we just don't know. So we wait.
In the meantime, we've decided that it's time to adopt. After our almost-adoption experience back in September we were extremely hurt and kind of turned off by the whole process. We had such a bad taste in our mouths after a birthmother played games with us and that precious baby, so we needed to step back for a moment. Well the timing seems right now and with our home study being approved in October, we're good to go!
Q. How much energy do you feel you have left right now?
To be totally honest, my energy in this fight is extremely low. When you focus on something every day, almost every moment for three years, it is exhausting. I feel like my life revolves around trying to have kids, which is so annoying because I'd rather my life revolve around the actual kids themselves. Infertility isn't for the faint of heart. It will rock you to your core and make you question everything you believe to be good and true. With that being said, we will never stop trying to have kids.
Q. It's all very easy waking up each day supposing that you're going to take only the positives out of it, but really, how do you do it?
My 'go to' place of comfort is in Jeremiah 29:11, which basically says God has a plan. Trust it. It can be so diffi cult to see the bigger picture on some days, but then I look around and see just how blessed I am. I have the world's best husband by my side who loves me unconditionally, a strong core of family and friends who support me, a fun career that I've always loved, I'm totally healthy (besides this infertility thing that is) and mostly life is good. Once I finally have my babies, will life be perfect? I'd sure like to think so, but the reality is that life will always be full of ups and downs, joy and sadness. One cannot exist without the other, so instead I choose to enjoy where I am while I'm there, because nothing lasts forever.
I believe that we are all given a lesson or test that is designed to teach us something important. Do I sometimes get down when I compare myself to others? Absolutely. But I also know everyone is suffering through something, we all deal with difficulties. For whatever reason, this just happens to be mine.
Q. Do you actually feel more in touch with yourself because of everything you've been through?
Yes and no. I am more aware of my physical being than ever before. I know more about my reproductive organs than is probably necessary, but I also think there is something a woman can't truly understand about herself until she becomes a mother.
Q. What's the best piece of advice you would give to a couple going through similar issues?
Be kind to yourself and each other. Infertility is heartbreaking and painful – it will break you down, make you question your faith and even test your marriage. It will rock the foundation of all that you believe to be good and true. Thankfully, my husband and I have used our unfortunate situation to make our marriage stronger which in turn will only make us better parents someday. Above all, never give up hope. Even in the darkest of moments I have always believed I would be a mom. My desire to have children is so much stronger than anything infertility can throw my way.
Q. What makes you smile, regardless?
A beautiful sunset, a glass of champagne, cuddles from my pup, laughing with friends, travelling with my husband, doing crazy yoga moves and the thought of actually holding my baby someday. Whoa, it gives me chills just thinking about it. No matter what you're going through, it's important to look past the darkness and find the light.
Latest Issue of Fertility Road Magazine With Charlize Theron OUT NOW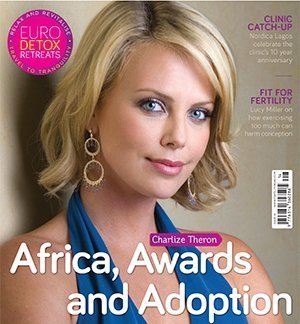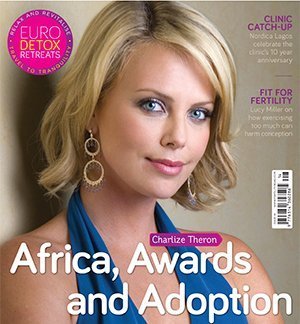 Welcome to Fertility Road, The No. 1 Fertility Magazine aimed at helping women and men on their path to parenthood. The Magazine provides useful information from healthy eating habits to lifestyle choices and answers to your questions written by doctors and fertility experts. Our goal is to make your journey down Fertility Road easier by offering the latest dos and dont's on conception.
Fertility Road Magazine Issue 13 With Hugh Jackman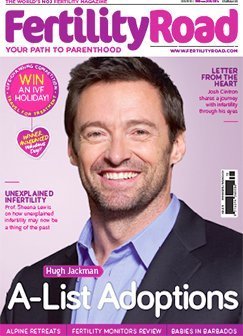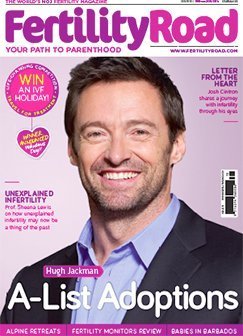 For some 13 can be thought of as an unlucky number, but we at Fertility Road think otherwise, as we have bagged an exclusive interview with Hollywood hunk, Hugh Jackman, who chats with us about the love for his wife, how he coped with infertility, and what being a dad means to him. Also in this issue we hear from the Barbados Fertility Centre who explains how treatment abroad could be right f or you, and Professor Sheena Lewis of Lewis Fertility discusses how unexplained infertility in both men and women may now be a thing of the past.
Nutritional expert, Annabel Karmel, once again lends us some of her own delicious recipes full of fertility super-foods aimed at helping  you on your path to parenthood, and we hear Josh's story of his rocky road to fatherhood, failed IVF cycles and ultimately becoming  a proud dad to twins. And finally, be sure to enter Embryolab's fantastic competition for a chance to fly to Thessaloniki, Greece for free IVF treatment combined with a relaxing holiday. It's free to enter and the winning couple will be announced on Valentine's Day 2013.
Good luck!!
To purchase for yourself or a loved one: CLICK HERE!
For more great information like this please visit Fertility Road, Your Path to Parenthood! www.FertilityRoad.com