- Advertisement -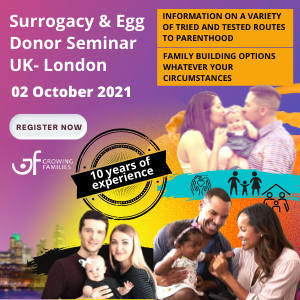 My husband and I are blessed to have two beautiful children, Henry aged 6 and Theodore who is 9 months. It has us taken 10 years to get here and, on reflection, I don't quite know how we've managed to get through what we have. But we have. And here is our story.
Our journey started around 10 years ago when, like all couples who have trouble conceiving, the barrage of endless tests/drugs/scans etc. began. We were both around 31 at the time. We could find no obvious answer as to why we couldn't conceive, which in many ways I think is very hard. The pain and grief of being unable to conceive is devastating and it grows day by day. Hearing pregnancy news from my friends and family would leave me in spells of deep desperation and depression. It's a heavy cloud that constantly hovers above you.
After numerous failed clomid cycles and a failed IUI, we were elated and very lucky that our first IVF cycle in London was successful. It started as a twin pregnancy, but at around 10 weeks one we lost one. My pregnancy went smoothly and we couldn't wait to meet our baby boy.
What should have been one the happiest days of our lives turned into one of the most devastating and frightening ones. After an emergency c-section, we were given the news as soon as our baby was born that there was something wrong with him. His head was very enlarged due to hydrocephalus, which is a build-up of fluid around the brain. We were told he may not survive. It was just devastating. I knew as soon as I saw him that our precious baby was very much in trouble.
We named him Henry. Henry has brain abnormalities, cysts inside his brain and hydrocephalus. As a result of his brain damage, he has cerebral palsy, epilepsy, a vision impairment, profound learning difficulties and severe sensory difficulties. By time he was just 5 months old he had endured 7 brain operations.
Although we love Henry with all our hearts, our grief process started again and having to 'work' the system and juggle so many hospital visits/appointments/therapies was unbearably hard. Nothing in this world can prepare you for it. When you have a disabled child, you experience a grief process that is complex in so many ways. I think having a child with complex needs following a IVF cycle makes it much harder also.
Despite all of the problems we were facing with Henry, when he was about a year old we tried again for another child. We had 4 frozen embryos. I totally took it for granted that we would be successful again, and when our first cycle failed I was devastated. We then had 2 subsequent frozen cycles which failed.
We then had the elation of a natural pregnancy. I couldn't believe it. We were so very happy and told quite a few people. It was so very unexpected. Unfortunately at around 6 weeks I miscarried.
We then had another fresh cycle at the same clinic which failed, and so did a subsequent frozen cycle.
As Henry got older, the extent of his disabilities became clearer and the pain of seeing other children do things that we knew will would never do was so hard. Our life with Henry was a world apart from all our friends, especially as his behaviour was so very challenging. Although we gained dear friends of children with special needs, we lost of many others. Henry was also put under the care of Shooting Star Hospice when he was about a year old, as his condition is life threatening/life limiting. The thought of losing our brave boy and potentially not being a mummy to anyone was extremely hard to accept.
We then decided to change clinics in London. We started a fresh cycle, and I became pregnant again. Unfortunately, after an awfully painful course of events we learned our baby boy had a life threatening heart defect that only affects 1 in 100,000 babies. He may not have survived the pregnancy and would have needed palliative care from birth. My husband and I had to make the devastating decision to terminate the pregnancy. I was 16 weeks at the time. The hospital were amazing and I got to pass our little boy, who we called Sebastian. I should only have been in for a day but it took 6 long days for him to come. The hospital organised a funeral for him. I was overwhelmed how respectful the process was. The team at the hospital were outstanding.
Only a few months later I suffered extreme pains and sickness and learned I had an ectopic pregnancy through an emergency scan. My doctor initially turned me away saying I had IBS! It was such a shock and it was so hard seeing a little heart beat on the scan. I was about 7 weeks along and apparently it is quite rare to see the embryo in this way in an ectopic pregnancy. I was rushed to hospital and had my left fallopian tube removed.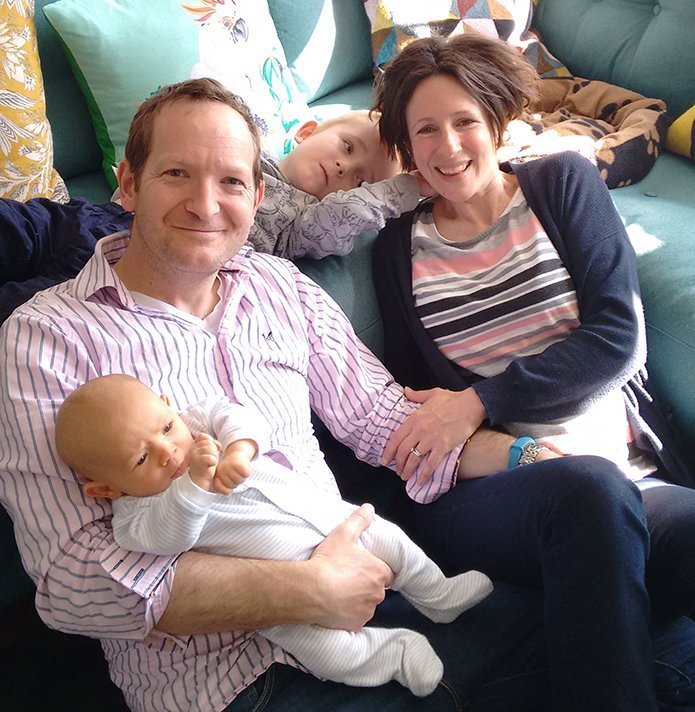 Having to have the surgery to remove a seemingly perfect embryo was so hard for me. I felt I was being punished. It was at this time we learned I had endometriosis.
After a subsequent failed frozen cycle, Gareth and I carefully made a decision to use donor eggs for our next cycle. We were both 40 and agreed to have one more go. We used donor eggs to give us the best chance of success. We also decided to have our cycle in Greece. There were a few reasons for this, including financial ones and the fact that the donor would donate all her eggs to me. I had read so many good things about going abroad. It seemed the right thing to do.
We choose a clinic called Newlife in Thessaloniki. My husband went before me to give him sperm sample, and I headed out for the transfer. After being very nervous about how it would go, I can honestly say that the whole process was smooth and easier than I could have ever expected. We were so well looked after at every stage of the process. The clinic was so modern and spacious also, and the rooms were so tranquil and carefully thought out.
I became pregnant with our fresh cycle but miscarried at around 6 weeks after learning the embryo had stopped developing. This was so difficult to accept as I really believed by using a donor the pregnancy would be OK. I thought of it as our 'golden ticket'. It was at this stage that I truly believed we would never have another child. We would use our frozen embryos and then our journey would end.
However, after our first frozen cycle, our little bean stuck and in February our healthy, beautiful baby boy Theodore was born. Theodore is a Greek name and it means 'Gift of the Gods'. He really is our miracle and I am so grateful to our donor. She has changed our lives more than she can ever know. The pregnancy was an incredibly scary time for us, but we were so well monitored and scanned numerous times.
Going to Newlife was the best thing we could ever have done and we are so very glad we decided to do it. Chrysa, who supports patients from overseas, looked after us so well and was so supportive. She always had faith that we would have another baby, even though I truly believed we wouldn't. I have the fondest memories of both my trips out there. The second time around I drank wine the night before my transfer and ate mussels looking onto the sea! It was so stress free and having some headspace away from home I think did me the world of good. The team there are amazing! I am so grateful to them all. Dr Dovas carried out the two most smooth embryo transfers ever!
We are truly blessed to have our two boys and I will never take for granted how lucky we are. Henry will be seven soon and although he will need full time care forever and his life is fragile, we have come a long way in accepting what has happened. He loves Theodore is his own special way. We are so lucky our journey has ended happily and our family is now complete. We love our boys more than anything in this world, and are forever grateful to our donor who has enabled us to live our dream. After a long and painful 10 years, inner peace at last.
Click here for more information on Caroline's journey can  be found on the New Life Greece website