- Advertisement -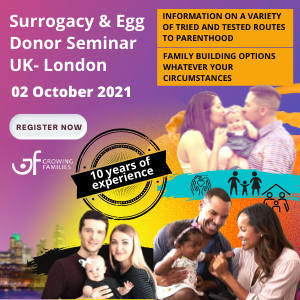 June 2015 saw the happiest day of my life. It was my first Father's Day and I cannot tell you how proud that made me!
My son, Jacob, is 11 months old and to see his face light up when I walk in to the room and hear him squeal "Dada", is just, well, the most amazing thing that has ever happened to me!
I'm sure every father is very proud of their offspring, but the fact that my wife and I had so much trouble conceiving him, makes him extra special to us.
I am Jason. I suffered with infertility. There, I have said it. Yes, I am a man and I am talking about something that was incredibly painful to deal with on so many levels. Gentlemen, you may not like what I am about to say, but I think it needs saying, so please read on…
As a young man, the last thing in the world I thought about was having a baby; in fact I did everything to avoid it! But, all that changed when I met Alisha, my beautiful wife. I knew from the moment I met her that she was THE ONE. I wanted to marry her, I saw a house full of children and saw myself growing old surrounded by OUR family.
Thankfully, this beautiful young woman felt the same way about me and, over the coming years, my love for her only grew as she patiently waited for me to give her the child that she wanted.
But I couldn't deliver. We tried for over two years and I felt a complete failure. This situation challenged my masculinity and at times I went off the rails. I couldn't talk about it, even with Alisha.
Alisha arranged a doctor's appointment. I didn't want to go. I was scared and, most of all, embarrassed. What would the doctor say? But I knew, deep down, that something was wrong and I had to face my fears in order to get to the bottom of the problem.
It was much worse than I could have imagined – all the tests showed that Alisha was fine and there was no reason why she wasn't conceiving. The problem was with me.
My sperm weren't good swimmers and not strong enough to do the job. I felt completely crushed. We were advised that our best option to conceive was through IVF, and that there was a long waiting list for treatment on the NHS here in the UK. Now that I had admitted the problem, I was keen to address the issue and started to look at our options for private treatment. This search led me to an interesting option – first class treatment at a much lower cost, with a much better chance of success, at Barbados Fertility Centre.
At that point I had to get over my very dented ego and realise this was the most important thing in our lives and I had to go through this process.
We had a telephone consultation with Dr. Juliet Skinner, Head Clinician at Barbados Fertility Centre, and I knew we were making the right decision. I don't know whether it was because we were on the phone, but I had the courage to ask questions and to talk openly about my sperm situation!
We took the flight to Barbados and received a warm welcome at the clinic. The medical team are just fantastic. They deal with men like me every day – I wasn't the first to walk in there with my head down and I won't be the last. I wanted to write this story because I am sure there are many other men going through this situation and I want to reassure them that there is help and hope. But, most importantly, suffering with infertility is NOTHING to be ashamed of; in fact, I have since learnt the sooner a problem is realised the better your chance of conceiving through IVF.
So, the procedure was quite straightforward. I had to provide a sample of my semen, and Alisha underwent a procedure to retrieve her eggs with a mild sedative. The specialist team then took the best sperm and the best egg and injected my sperm directly in to the egg. This is called ICSI.
The team then monitored the fertilised embryos in their laboratory and kept us posted on a daily basis. After three days we went back to the clinic to have the embryo placed in Alisha's womb. We fl ew home and then had to wait two weeks to take a pregnancy test. This was an incredibly difficult time for both of us – had it worked or hadn't it?
Finally, our two-week wait was over and at 6am in the morning we both nervously waited to see if the test was positive. IT WAS!
We were so incredibly happy – at long last we could start to get the nursery ready and prepare our home for a much-wanted child.
I cannot tell you how grateful I am every single day to watch our son grow, and I just want to encourage any couple living through infertility to get help sooner rather than later. You won't ever regret feeling this happy!
Lastly to the wonderful team at Barbados Fertility Centre, thank you for making today a reality and making me the happiest man on God's earth. Keep up the amazing work that you do.
For more information on infertility or call for a confidential chat on 001 246 435 7467.