- Advertisement -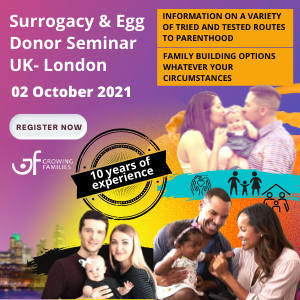 The Alternative Parenting Show is the original and biggest show of its kind. It provides a one-stop shop, which gives valuable information to same-sex couples, heterosexual couples and individuals on how to make the dream of having a family a reality.
The show takes place on the 15th September at the Grand Connaught Rooms in Covent Garden, and runs from 09.30 to 17.30.
With over 50 exhibitors, including London Women's Clinic (headline sponsor), Dawson Cornwell (legal partner), the British Surrogacy Centre (surrogacy partner), and New Family Social, attendees can learn how to navigate through the alternative parenting minefield, including advice on surrogacy, fertility, co-parenting, adoption and legal information.
The show costs just £8 to attend with seminars are running throughout the day at just £3 each, these include:
Using surrogacy to achieve your baby dreams
Fertility treatment using donor sperm
International Surrogacy: Passports and Parenting
Identifying a surrogate and egg donor
Domestic and International Adoption, Co-parenting and other means of acquiring Parental Responsibility
What are my options? How age, lifestyle, funding and the law will  affect your fertility treatment choices
Celebrating different families in our schools seminar by Stonewall, with keynote from Charlie Condou
The event is partnered by the UK's largest LGB charity Stonewall, who will be on hand to discuss how to help eradicate bullying for children of same-sex parents and how to ensure your child's education gets off to the best start. They have invited Coronation Street's Charlie Condou to give his experiences of being a gay parent, and to talk about how important education is in eradicating homophobia in schools.
To get your tickets book on-line at www.alternativeparenting.co.uk
For more great info like this please Fertility Road (www.fertilityroad.co.uk) Your Path to Parenthood!