The Right To Try is more than just a campaign. It is the opportunity to allow our voices to be heard and the chance for all to have fair and consistent access to fertility treatment – should they need it.
Kelly Da Silva Fertility network patient representative explains…
The Fertility Network has long been recognised for representing the patients voice in the increasingly difficult, upsetting and often lonely journey through fertility issues. It is something that sits at the heart of all we do as a charity and the work we carry out in many areas.
It was such a drive that took us to parliament recently to be key players in a debate hosted by MP Steve McCabe and to represent the 1 in 6 couples currently struggling to conceive as well as countless others who have stopped their journey or are looking at other options.
The debate focused specifically on the current inequalities faced throughout the UK when accessing medical intervention for Infertility. As we at Fertility Network have summarised before:
Fertility guidelines from the National Institute of Health and Clinical Excellence (NICE) state that if you are unable to have children without medical help, you should be able to access 3 full cycles of NHS IVF treatment (if clinically eligible).
An overwhelming 98 per cent of England's 209 local clinical commissioning groups (CCGS) do not follow this guidance fully and have either cut the number of IVF cycles they offer from 3 to 2, 1 or zero, and/or ration services by introducing additional non-medical access criteria, such as denying IVF to individuals if their partner has a child from a previous relationship.
The Parliamentary Debate was a positive event with all MPs present speaking passionately and in full agreement that access to medical help should be available to all not just to those who could afford it.
It was also acknowledged that people facing fertility issues are already under severe pressure. Indeed, a recent survey by the Fertility Network and Middlesex University found that 90% of respondents actually found themselves facing feelings of depression and anxiety.
Perhaps even more alarmingly the statistics of those feeling suicidal due to infertility has risen steeply with 42% of people reporting that their situation had left them feeling such extreme emotions.
At such a time to be holding patients up to the inequality of what amounts to a postcode lottery was stated as deeply unfair and unacceptable.
Nicola Blackwood the undersecretary of state for public health summarised the day by stating:
"Infertility is a serious medical condition and those suffering from Infertility who meet NICE criteria should be able to access NHS treatment".
After the debate we met with Mr McCabe who suggested that one of the most effective ways to keep momentum going would be to encourage those affected to contact their MPs.
He also encouraged all affected to call for the NICE guidelines to be implemented by local commissioning groups (CCG) rather than continue with the current inequality experienced by so many.
It was as a result of the debate and subsequent discussions that we decided on a co-ordinated and focused day of action. Richard Clothier another of our patient representatives present on the day summarised why the campaign is so important.
"Learning your entitlement to IVF treatment could be, or has been cut when you are already at one of the lowest points in your life is a devastating blow to anyone suffering at the hands of infertility.
This is why it is crucial that everyone who has suffered with infertility takes action. We can only effect a full reversal by coming together in force to make our collective voice louder, and heard".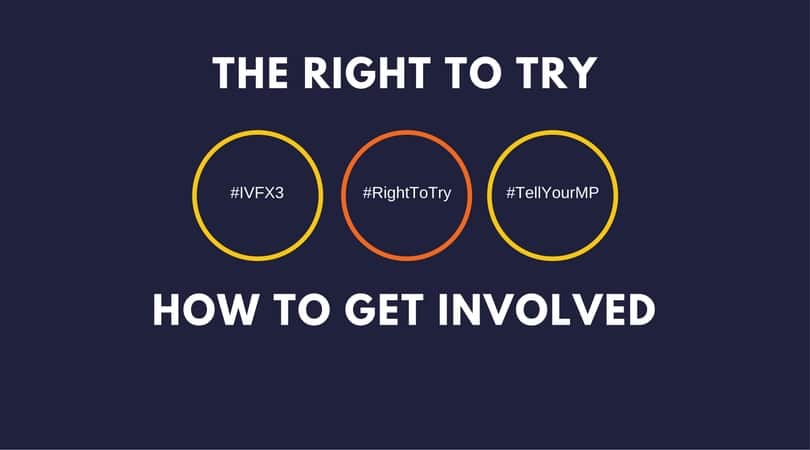 Right To Tru Campaign
Our first ever "Right to try" campaign takes place on March 25th and we have purposefully chosen the date for two main reasons.
Firstly, it will be one of the days of the Fertility show in Manchester and therefore at a time when we can reach a good number of people affected by these issues.
We will be asking people to write to their MPs, tweet and get involved via a thunderclap (a mass co-ordinated tweet) that day on Twitter.
Secondly and perhaps even more importantly the 25th is the day before Mother's Day which is so often one of the toughest days in the calendar for those affected. We wanted the day to be about doing something positive as a wider community and letting people know we are here. So many of us have been and are affected by infertility issues and yet too often the issues go unheard or are misunderstood.
Indeed, there are those who have argued that people do not automatically have the right to a child. Although this argument may be one for debate it would surely be true to say that this aside everyone, regardless of income should at least have the right to try.
To this end we are calling on as many of you as possible to get involved, to spread the word and let our voice be heard in three ways:
Firstly, to tell your MP, inform them of your situation and what is happening in your area. A template letter can be found on the Fertility network website and MPs contact details found at theyworkforyou.com
Secondly to Tweet your support and a picture using one of three hashtags.
Tell your MP about the Right To Try Campaign
Lastly to help us create a Thunderclap, a social media message sent collectively on the day at 3pm. Details found again on our website.
As I write the Thunderclap has been active for just under 48 hours and already we have exceeded 100% of our target on social media.
To me this speaks such a lot about the strength of feeling surrounding Infertility. It's the same determination to see change that saw an unprecedented number of responses to the Facebook page pre the Parliamentary debate. A fact that was picked up by Mr McCabe in parliament on the day itself.
It is also the same strength of feeling that caused such a huge response to the Bedfordshire CCG open consultation regarding reducing IVF funding in the area.
Amazingly the public response in this situation was one of the key reasons cited in the CCGs final decision not to cut funding of IVF services.
All too often Infertility is a lonely and isolating experience and the path to treatment difficult and at times far from equal.
Our hope in the campaign is to raise our voices together and to shout for change, to call for at least the right to try for all.