- Advertisement -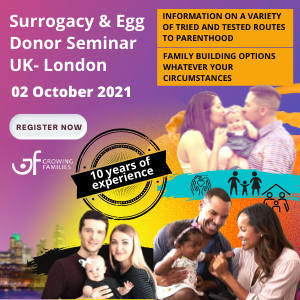 1. Buying organic
This is not just a fad. Organic means that the product has been produced without using chemical fertilisers, pesticides or any other chemicals. By buying organic, it promotes more organic farming and reduces the chemicals in your body.
2. Wash your produce
When you have completed your food shop, give your fruit and vegetables a 10-minute soak in a clean sink that is 3 parts water and 1 part vinegar and rinse thoroughly. This will remove a lot of the wax and any bacteria that is present. Washing your produce in plain water also removes 98% of the bacteria so if you are busy, at least wash it with plain water before eating. This includes organic produce.
3. Grow your own
Maybe you don't have the time or space to look after a fully-fledged vegetable patch, but don't let that stop you. Begin small with your favourite herbs and work your way up. If your first batch doesn't work out, don't let that discourage you from trying again, as gardening is all about trial and error. Not only would you know how it is grown, you would also have some bragging rights to your friends when you cook something from your garden. Now that you have a few tips to get you started, why don't you try our snack recipes that are perfect for those Summer days? These delicious recipes have been lovingly created with fertility boosting ingredients to kick start your pregnancy.
Aubergine Teriyaki Sushi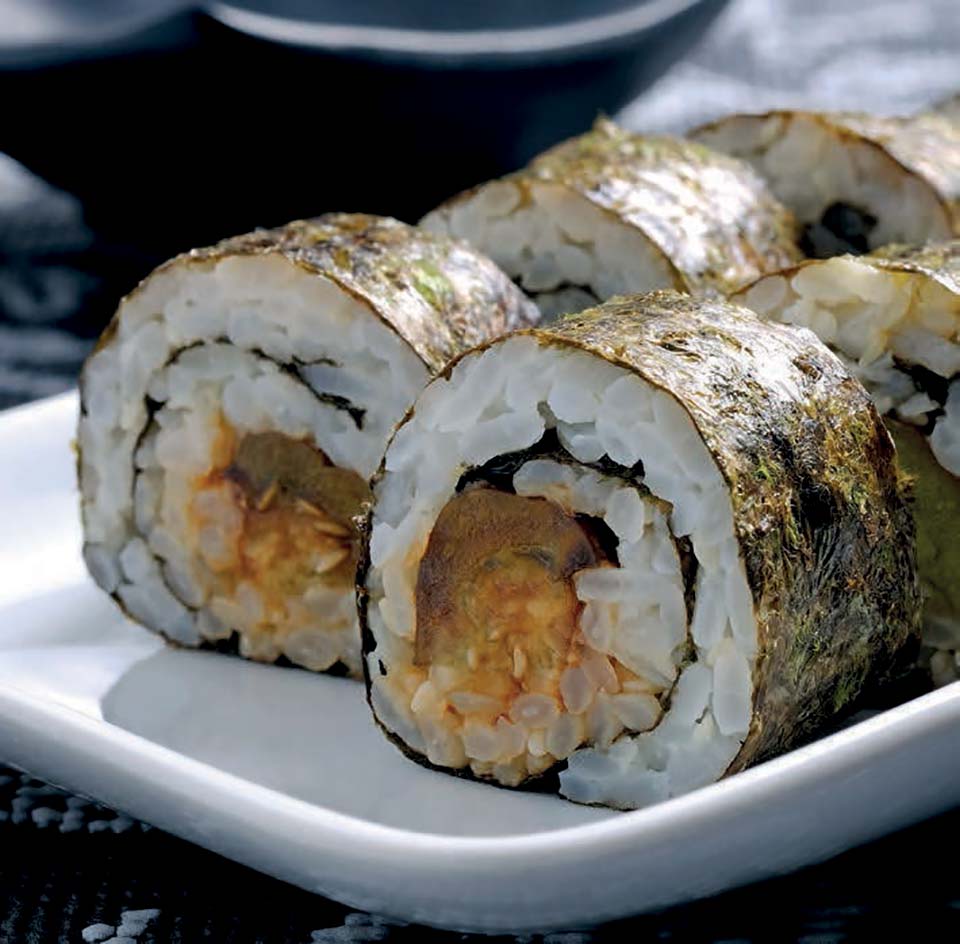 Nothing beats making your own sushi and this vegan-friendly option will definitely hit the spot. We used aubergine in this Japanese classic which creates a plump and juicy texture when marinated in soy sauce. Look out for these big purple beauties when you are doing your next grocery shop, but make sure you leave the skin on when it comes to preparing it.
The skin is filled with an antioxidant called nasunin that assists in supporting fertility. The aubergine
The skin is filled with an antioxidant called nasunin that assists in supporting fertility. The aubergine also contains manganese which is a vital component involved in the development of bone structure. This saucy squash has also been known to have natural aphrodisiac qualities, although it is not scientifically proven, the housewives of Turkey swear by it. With all these fertility-boosting nutrients, it's no wonder that some countries call it an Eggplant.
Serves 20 pieces
Prep: 1 hour
Cook: 30 mins
Total Time: 1 hour 30 mins
Dietary: Dairy Free, Vegan
Dietary: Dairy Free, Vegan
Ingredients: Aubergine
250g/9oz aubergine/eggplant
4 tbsp. low-sodium soy sauce
4 tbsp. maple syrup
1 tbsp. grated ginger
1 tsp. grated garlic
2 tbsp. sesame oil
1/2 tsp. ground black pepper Sushi
680g/24oz sushi rice
720ml/12fl oz water
60ml/2fl oz rice vinegar
2 tbsp. maple syrup
1/2 tbsp. sesame oil
6 sheets Japanese Nori
1 tbsp. sesame seeds, toasted
Method:
Combine soy sauce, maple syrup, ginger, garlic, sesame oil, and pepper in a bowl.
Cut each aubergine into thirds length-wise. Poke all over on the cut surface with a fork. Allow to marinate for an hour in the soy mixture.
Rinse the rice.
Combine rice and water in a stockpot and bring to a boil.
Cover, reduce heat to low and cook for 20 minutes.
Grill aubergine slices until fully cooked. About 4-5 minutes per side.
Slice grilled aubergine into long strips.
In a bowl, combine rice vinegar, maple syrup, sesame oil, and sesame seeds.
When rice is fully cooked, fluff and toss in the rice vinegar mixture.
Assemble the sushi. Lay a sheet of nori on a bamboo mat. Spread cooked sushi rice evenly on top of Nori. Lay strips of cooked eggplant near one edge. Roll and cut into 8 even slices.
Split Pea Hummus with Coconut Naan Bread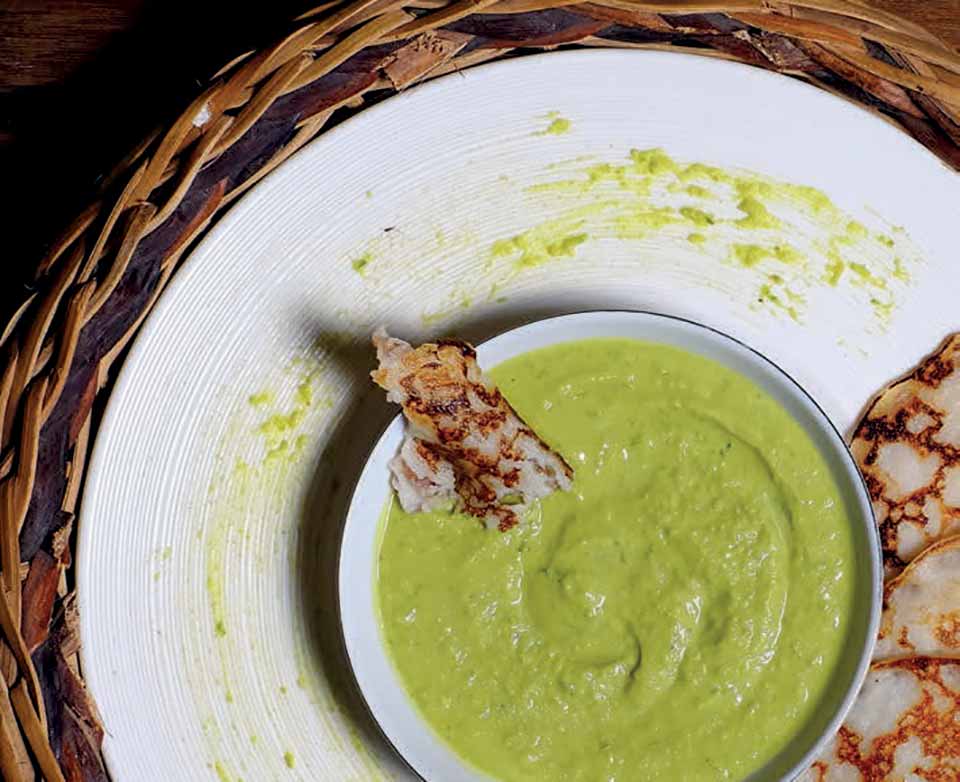 You already know that fibre helps with your digestion but did you know that it's also a great way to get rid of excess hormones? Although oestrogen is an important female reproductive hormone, too much of it can have a negative impact on the female body. Excess oestrogen can cause headaches, anxiety and depression to name just a few.
Exercising regularly and eating a diet that's low in fat and high in fibre is an effective way to reduce oestrogen levels. This is because oestrogen can be removed from the body naturally as waste. Try using legumes instead of wheat to up your fibre intake in our delicious split pea hummus. Serve this at your next dinner party with our gluten-free coconut naan bread for a simple appetizer.
Serves 3
Prep: 30 mins
Cook: 30 mins
Total Time: 1 hour
Dietary: Dairy Free, Gluten Free, Vegetarian
Ingredients: Split Pea Hummus
200g/7oz dried green split peas, boiled until tender
60ml/2fl oz olive oil
1 tsp. cumin powder
1 tbsp. lemon juice
2 cloves garlic
10g/2 tbsp coriander/cilantro leaves
2 pieces. jalapeno peppers
1/2 tsp. salt
Coconut Naan Bread
250ml/9fl oz coconut milk
250ml/9fl oz water
60ml/2fl oz coconut oil
30g/1oz coconut flour
120g/4.25oz cassava flour
1/2 tsp. salt
30ml/1fl oz ghee
Method:
Combine all ingredients for the hummus in a food processor and pulse until smooth.
Combine coconut milk, water, cassava flour, coconut flour, coconut oil, and salt in a bowl. Mix into a smooth batter.
Melt ghee in a non-stick pan over high heat.
Pour in 1/6 of the batter and cook over medium heat until bubbles appear on the surface. About 2 minutes per side.
Flip and continue cooking for about another minute.
Carrot Cardamom Walnut Muffins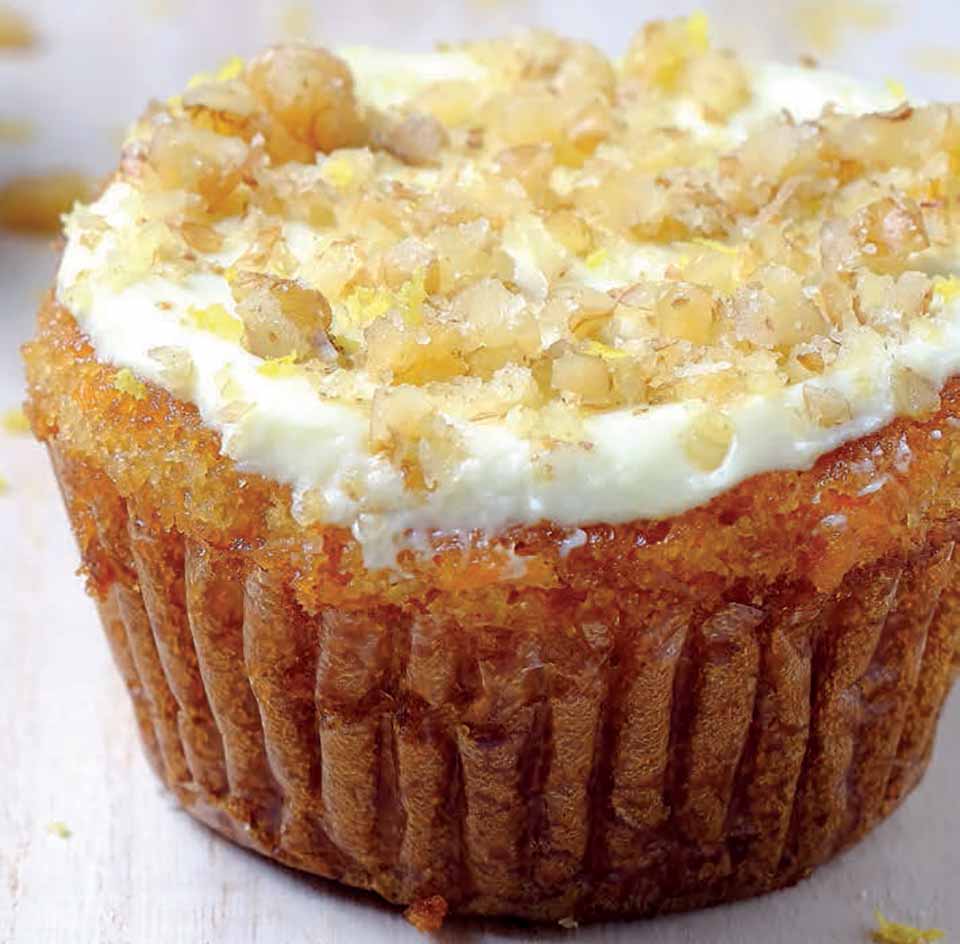 If you love carrot cake, you will definitely love these muffins. There is not a single processed or refined sugar in sight as the sweetness comes from natural honey. Did you know that the simple carrot is a super food during pregnancy and fertility? They contain beta-carotene that the liver converts into vitamin A, this helps the female body produce more cervical fluid for the sperm. Not only is there more fluid, the fluid is also more nourishing for the sperm which allows them to live longer, which in turn creates more time for egg fertilisation. The spice cardamom is also shown to increase libido in males so remember to treat him to some of these muffins for afternoon tea.
Serves 9 muffins
Prep: 30 mins
Cook: 20 mins
Total Time: 50 mins
Dietary: Gluten Free, Vegetarian
Ingredients: Muffins
125g/4.5oz almond flour
15g/0.5oz coconut flour
1 tbsp baking soda
1/2 tsp salt
1 tbsp ground cinnamon
1 tsp ginger powder
1/2 tsp ground nutmeg
10g/2 tsp crushed cardamom seeds
2 eggs
75ml/2.5fl oz melted coconut oil
80ml/2.75fl oz honey
10ml/2 tsp vanilla extract
50g/2oz grated carrots
50g/2oz chopped walnuts
Coconut Frosting
400ml/13.5fl oz can of coconut cream
60g/2oz natural yoghurt
60g/2oz coconut oil
5ml/1 tsp vanilla extract
1/2 tsp salt
50ml/1.75fl oz honey
Method: For the Frosting
Refrigerate can of coconut cream overnight.
Carefully take chilled coconut cream out of the refrigerator the following day, and open it without disturbing the solidified layer. Scoop this layer out leaving the clear liquid behind.
In a mixer, beat this cream to soft-peaks.
Add in yoghurt, coconut oil, vanilla, salt, and honey.
Chill for about 4 hours.
For the Muffins
Prepare a muffin pan with liners.
In a bowl, sift together all dry ingredients (almond flour, coconut flour, baking soda, salt, cinnamon, ginger powder, and nutmeg).
In a separate bowl, mix the wet ingredients (eggs, cardamom seeds, coconut oil, honey, vanilla).
Fold in the dry ingredients into the wet.
Add in grated carrots and half of the chopped walnuts.
Pour the batter into the individually lined muffin tin.
Bake in a 175C/350F oven for about 20 minutes.
Allow to cool completely before frosting.
Top with chopped walnuts for garnish.
Coconut & Pineapple Sorbet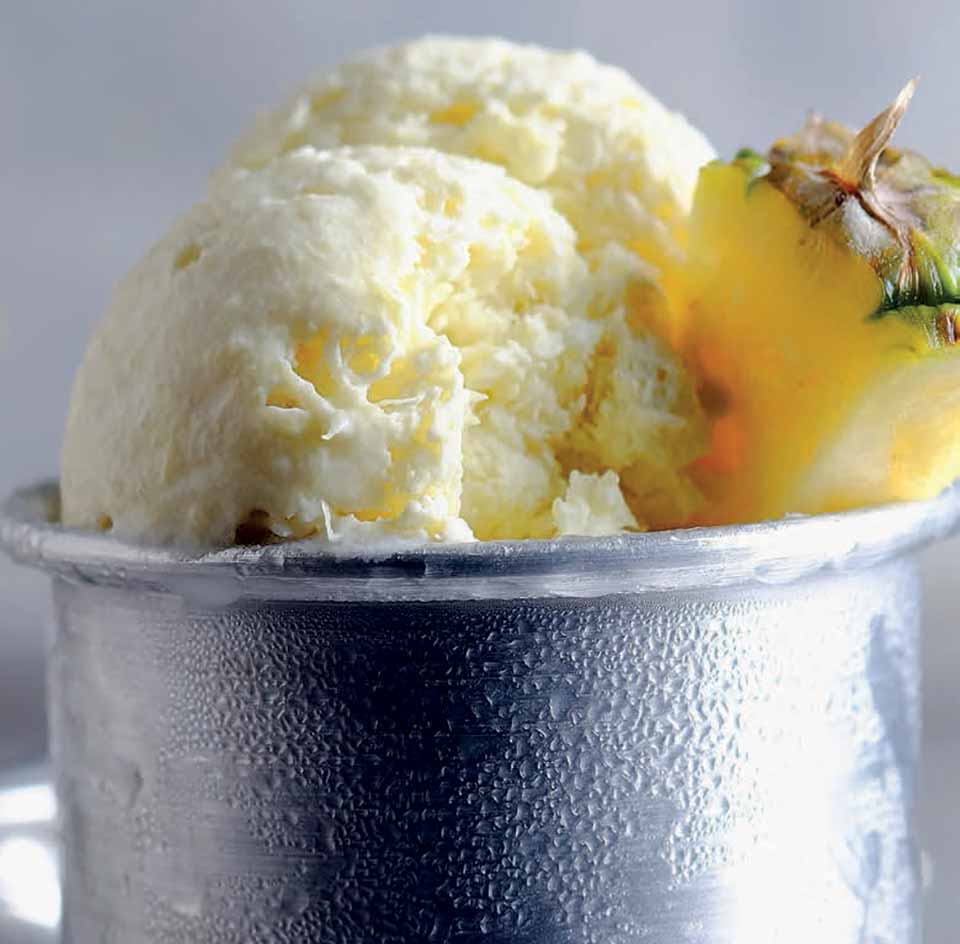 This sorbet is so simple and refreshing for those warm Summer afternoons. Use only fresh pineapple as the canned type loses a lot of the nutrition due to the heat used in the canning process. Pineapple contains an enzyme called bromelain, which is known for its anti-inflammatory properties and can be very important during conception. Chronic uterine inflammation can prevent a fertilised egg from sticking itself to the wall of the uterus, reducing the chance of implantation. Just so you know, the anti-inflammatory enzymes only work if the pineapple is eaten on an empty stomach, but eaten after a meal it works to help your digestion.
Definitely a win-win!
Serves 8
Prep: 8 hours
Cook: 0 mins
Total Time: 8 hours
Dietary: Gluten Free, Dairy Free, Vegetarian
Ingredients:
400ml/13.5fl oz coconut cream
1 medium-sized pineapple
2-3 tbsp honey
Method:
Peel, core, and chop pineapple into inch chunks.
Transfer to a blender, add in coconut cream, and honey.
Process until smooth.
Pour into a deep tray, cover and put in the freezer for 4 hours or until slushy but not totally frozen.
Take it out of the freezer, whisk, and return to the freezer for another 4 hours or until fully set.
Serve with additional fruit and mint leaves.
MyNutriCounter is passionate about raising awareness of the positive effects nutrition can have in preventing common health problems. Their attitude towards healthy eating is it should always be delicious and contain a variety of foods to provide a good balance of nutrients. All their recipes have been lovingly created to maximise the nourishment from every bite.