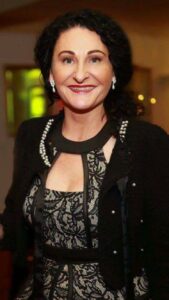 Maureen O'Halloran is best known as a celebrity fashion stylist with over 30 years of experience in image & style consultancy for Irish celebrities and female politicians, including clients around Europe. Maureen is also. Qualified Breast care specialist in advising post-mastectomy clients.
Now resident in London, in 2011 an Irish medical specialist removed Maureen's womb and left one ovary telling her she likely had ovarian cancer. Eighteen months later Maureen discovered her doctor knew she was cancer-free prior to surgery but removed her uterus anyway. The hysterectomy meant surrogacy was Maureen's only hope of a child.
However, Maureen was now fifty – too old to qualify for UK surrogacy. She refused to be deterred and soon discovered that different countries have different rules around eligibility. (Greece is increasingly attracting UK citizens for surrogacy, but it too has an age limit of fifty for the intended mother).
Maureen ultimately turned to the Ukraine, one of just six countries globally with a protective legal framework for foreigners. A double embryo transfer led to a twin pregnancy and in January last year, Maureen and her partner found their lives transformed as they rushed to Kiev to welcome twins.
On 29 June, Maureen will share her experiences at Families Through Surrogacy's first summertime Surrogacy & Egg Donor Seminar in London.
Gay dad & educator Mike Johnston-Ellis, (who featured on the cover of last month's Fertility Road) will also be on the panel, talking about UK surrogacy. The seminar will include talks from lawyers, doctors and surrogacy professionals from the UK, Greece and the US. The seminar will visit Dublin on 30 June,. This is an unmissable event for those wanting to learn more & provides opportunities to talk to people like Maureen about their journeys.