We are plunged into darkness and the sound of an unborn baby's heartbeat pulsates around the theatre. I am transported back to two separate moments in time: the first when we so desperately wanted to hear that sound and were confronted with only silence, the second the divine sound of our son's heartbeat over a year later.
I had expected the evening to be emotional and the opening line feels like it has been plucked from my own mind.
'Where did the perfect mother go?' asks Anna Furse in her play 'To the Moon and Back' with Nina Klaff. The work is an intricate and intense account of a mother-daughter relationship following Klaff's conception via IVF.
I was at the Barbican London and the play was part of this years Fertility Fest, the world's first arts festival that explores and educates us in the makings of modern families.
The truth is will any of us ever live up to expectations of the mothers we thought we would be – IVF or not? What about the promises and pleas whilst trying to conceive? That if only we could get and stay pregnant we would be the perfect mothers. 
Furse talks about the irrationality you may feel as a mother following infertility. What is most striking is her relationship with pre-embryos. 'I knew rationally they were not persons yet; I was aware of my fixations of them as potential children. I still feel it now, that image [of the pre-embryos] on the fridge of you and your would-be twin, the relationship I had with those cells.'
This emotional intensity is also borne by the children of IVF.
Furse and her partner chose to share Klaff's conception story with the child and explained that while most babies are created in bed she was created in a petri dish. (Side note: there are no "test tube" babies; the action all happens in a two-inch plastic dish.)
Does this knowledge liberate or inhibit the child? 'I was never in doubt that I was loved.' says Klaff 'My cells were enough. However I can feel that I don't have the right to be unhappy as my life was so wanted by others. There was such investment both by my parents and by the doctors. There was money involved and the whole history of IVF.'
She adds, 'And I can't be strong right politically or subscribe to certain religions as I would negate my own existence.'
The play explores the contradictions of motherhood, the deep desire to bring a child into this world and the everyday realities of the constant conflict between child, career and self. Jo Ind, chair of the discussion that followed the play, asks the pertinent question, 'These wished-for children are they enough? Is motherhood completely fulfilling or do we need to go to the North Pole?'
Her question is aimed at Ann Daniels who broke the world record and became one of the first women to reach the North Pole just three years after giving birth to triplets following IVF.
'I couldn't breathe.' says Daniels. She was raising these three babies and didn't allow the pain to come until they were in bed. Then she would sob and be completely at a loss as to how she would get up the next day and start again.
Daniels describes the moment she saw the advert looking for women to go on the expedition, the realisation that she needed to find herself again in order to cope with the magnitude of raising her children.
Ind asks Daniels, 'How did you negotiate your inner voice with the cries of your children? Yours is an archetypal journey, the joy of your story is the extremity but we can all relate.'
Daniels replies 'I'm not just a mother with no other thoughts, no other needs; I'm a human.'
Victoria McDonald, the Health and Social Care Correspondent at Channel 4 News, agrees. 'It was never a question in my mind that I wouldn't work. I became a mother at 47 and I was so defined by my career; it was very fulfilling. One did not negate the other. A child is never going to fill the gaps in your emotional, spiritual or career holes.'
The conversation continues and Ind's statement touches me deeply. 'I came to understand that tension of 'You are my life; you are my everything. Oh I can't breathe. Can you just back off a little bit?' That the tension is what enables us to love and let go, love and let go, which is what motherhood is all about. This ambivalence is at its very heart.'
The play addresses this point. Fulse voices the guilt she felt when her daughter burnt her hand after asking repeatedly to bake with her while Fulse was working. Paradoxically Fulse was writing about working mothers' guilt.
While it was acknowledged that many mothers experience guilt and some are prone to irrational thinking around their children, when it comes to IVF mothers, the thoughts that circle can be far more brutal.
Says Daniels of the triplet that is not as strong as the others, 'Is she the B grade embryo? Is this why? Is this my fault?' (Embryos are graded to decide which have the best potential.)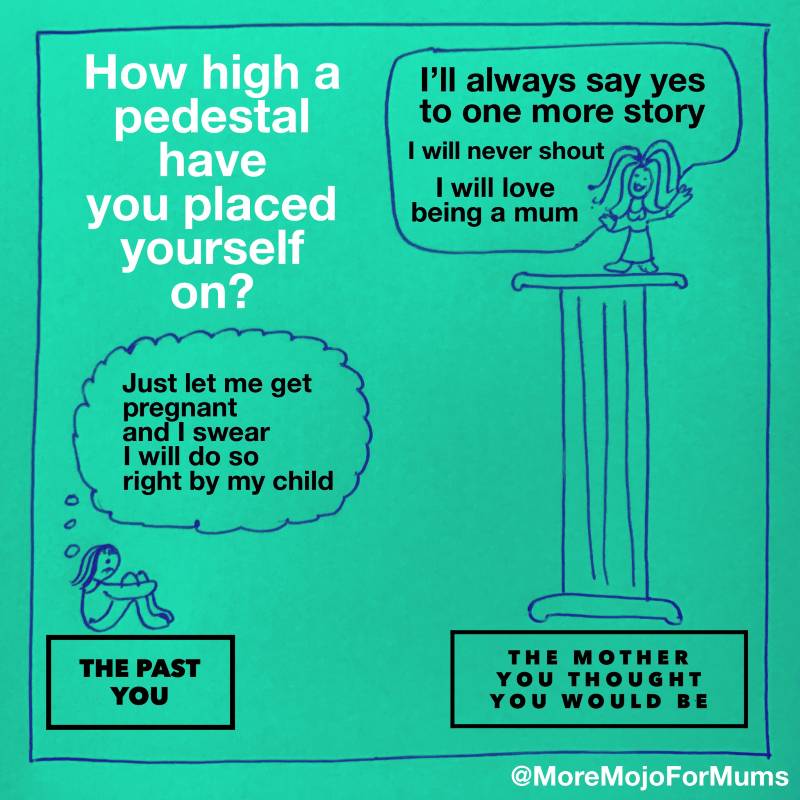 McDonald, who became a mother at 47 following IVF, says that she has irrational thoughts every day linked to the way in which her child was conceived. Whilst arguing with her daughter, the thought 'Maybe I was never meant to be a mother; maybe I should have let nature take its course.' reverberates in her head.
The challenges of parenting can be in vivid contrast to the lives envisaged during the dark days of infertility.
Acknowledging our idealistic expectations and the normality of our feelings can give us reprieve and allow us to embrace the kaleidoscope of parenting more fully.
And what about our miracle children? Do they carry the burden of being a talisman to our unhappiness and discontent?
'I knew that you were unhappy before, but that's because I wasn't here,' says Klaff of her mother. 'I was born to heal you.'
Before leaving for the play Ind had asked her 12-year-old son, 'You know how you say that I am so into you because of the way in which we had you? Is it okay to have a mother that is so into you?' to which he replied, 'It's fine.'
McDonald, in contrast consciously chooses not to call her daughter special because of the way in which she was conceived, not wanting to put that pressure on her as she is already an only child.
Our children will never fully comprehend the depth and intensity of our desire to create them until they are faced with their own fertility, or lack thereof.
In the meantime, we must recognise that no one person or thing outside of ourselves can complete us and allow ourselves to be more than just the mother of a much longed for child.
Epilogue: 'Make a train with me mummy,' my son implores, and that pang of intense mum guilt hits me with force. I want to write, need to write, to share, to educate, to contribute to the conversation around parenting after infertility.
'I have been your mother since before you existed, and I love you to the moon and back, but I need more.' Then I leave the room.
Naomi is a therapist specialising in fertility, birth and parenting and is also freelance writer. https://www.embracefertility.co.uk
Her 'More Mojo for Mums' podcast is an honest insight into parenting following infertility and the accompanying support group is open to all.