- Advertisement -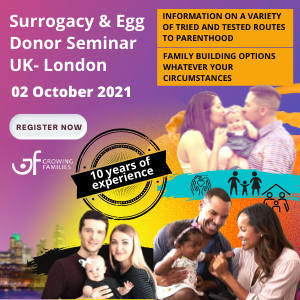 If you're reading this, then chances are that you know first hand just what an emotional rollercoaster ride facing a challenging fertility journey can be. You are constantly moving through cycles of hopefulness, anxiety, grief and disappointment. It's so easy to become completely overwhelmed by the emotional distress that often surfaces as a consequence.
One key lesson that my personal experience of this has taught me is that tending to your inner self is just as important as nurturing your body's health and wellbeing when it comes your fertility journey. I would therefore like to share three ways in which you can work on taking care of your inner world and supporting your emotional wellbeing when the going gets tough:
1. Check in with Yourself and Honour Your Feelings
Slow down and make space for stillness daily. Make it a priority to check in with yourself to understand exactly what you are feeling and give yourself permission to feel those emotions without judgement.
There is healing power in naming and looking deeper into your emotions. When you allow yourself to fully feel and process what is going on inside of you, then you are better able to understand how to nurture and support yourself through the hard moments. You become more aware of and begin to transform beliefs or thought patterns that are not serving your wellbeing.
If you can, try keeping a fertility journal or find someone understanding who you trust to talk to. Expressing yourself helps to shift the sense of being stuck, frustrated and alone. It opens the door to guidance and invites in new ideas on how to move through heavy emotions towards a calmer state of mind.
As you get to grips with what you are feeling, explore the following questions:
'What steps can I take to empower myself in processing my emotions so that I am able to feel more grounded and supported?'
'How do I want to feel?'
'And what will help me to cultivate the kinds of feelings or experiences that I want more of?' 
2. Focus Your Energy on Your Inner Strength and Resilience
Another healing way to tend to your emotional wellbeing is to acknowledge the resilience you've shown on this trying journey. Even when you didn't feel strong or brave, you've managed to keep breathing and take one step after the next to keep yourself moving forward. Facing fertility challenges is an enduring life experience. When the low moments hit and you're feeling deeply wounded and vulnerable then you can rebuild a more positive and affirming outlook by shifting your attention to what makes you feel strong, self-assured and what feels expansive or empowering.
An insightful article by fertility and birth hypnotist, Ginger Lily (Zoetic Birth & Fertility), says that when you focus your mental energy on identifying with your strengths then "you essentially rewire your brain to see yourself as strong." Ginger Lily adds that "what you think about and focus on becomes firmly planted into your life." She says that therefore, when you identify your strength and praise yourself for your resilience, your resilience grows as a result.
Think of a time in your life or a challenging situation where you've had to draw on your inner strength to overcome something that felt extremely difficult at the time.
'How did you find the courage to do that?'
'What did it feel like to come through something you thought you may not survive in one piece when you got to the other side of it?'
'How can you connect with your inner strength and draw those qualities into your current situation?'
Acknowledge and honour your inner power and your ability both to survive and thrive in spite of your challenges. Affirm your own strength.
3. Cultivate Your Sense of Self Worth
One of the most difficult things to grapple with when trying to conceive a baby hasn't worked out the way you'd hoped yet, is the deep sense of failure and worthlessness. You chastise and berate yourself for not being able to do something that society tells you most women should be able to achieve effortlessly. This in itself compounds the heartache you already feel in the midst of your longing for motherhood.
Here's the thing – Your worth should not be defined by someone else or by preconceived societal expectations. It's important that you create your own definition of self-worth. Remind yourself that you are entitled to the space that you take up in the world by virtue of the fact that you a living and breathing being.
It's also helpful to learn to separate your sense of worth from your fertility and to keep in mind that you are not defined by the challenges you may be facing.