Some people say you should be relaxing and putting your body under as little stress as possible, while others will profess that exercise is great for boosting blood flow, reducing stress and actually enhancing fertility. But who should you believe?
Fertility Expert Lucy Miller investigates…
Well, the truth lies with the experts, who strongly argue that exercise can help increase blood flow to your reproductive organs, while also minimising stress, which can have a hugely positive impact on your fertility. Plus, if you make physical activity a habit now, it'll be easier to stick with when you're pregnant and carrying around the extra weight of a growing baby.
The key to fertility fitness is not to go too crazy. Excessive exercise and infertility go hand in hand, mainly because it causes a stress response in the body, which triggers the adrenal glands to produce cortisol. A high level of this stress hormone also stops the pituitary gland producing a luteinising hormone, which is essential for ovulation. Researchers also add that extreme exercise could affect implantation, (a fertilised egg's ability to attach to the inside of the uterus.)
To help you get the intensity of your workout just right, we have designed a fertility-boosting circuit that can be done either in the gym or in the comfort of your own home. All the exercises offer incredible benefits, without putting too much stress on your body; perfect for maintaining that balance while you are trying to conceive.
The Workout
Warm-up, walk round the block
How long? 5-10 minutes
Why? Walking is not only a great way to warm up your body and get you 'in the zone' for your workout, but it can also get the blood flowing around your body, which is essential for reproductive health and increasing circulation to the pelvis and the reproductive organs.
If it's raining and you don't fancy venturing outside, then walk up and down your stairs 10 times to get the same effect – or if you are doing this workout at the gym, then why not walk there instead of driving?
Glue Bridge
How long? Hold for 30 seconds
Why? Not only is this glute bridge great for strengthening your lower back and core, but by lifting the pelvic area towards the ceiling, you'll circulate more energy and blood flow to the uterus and ovaries.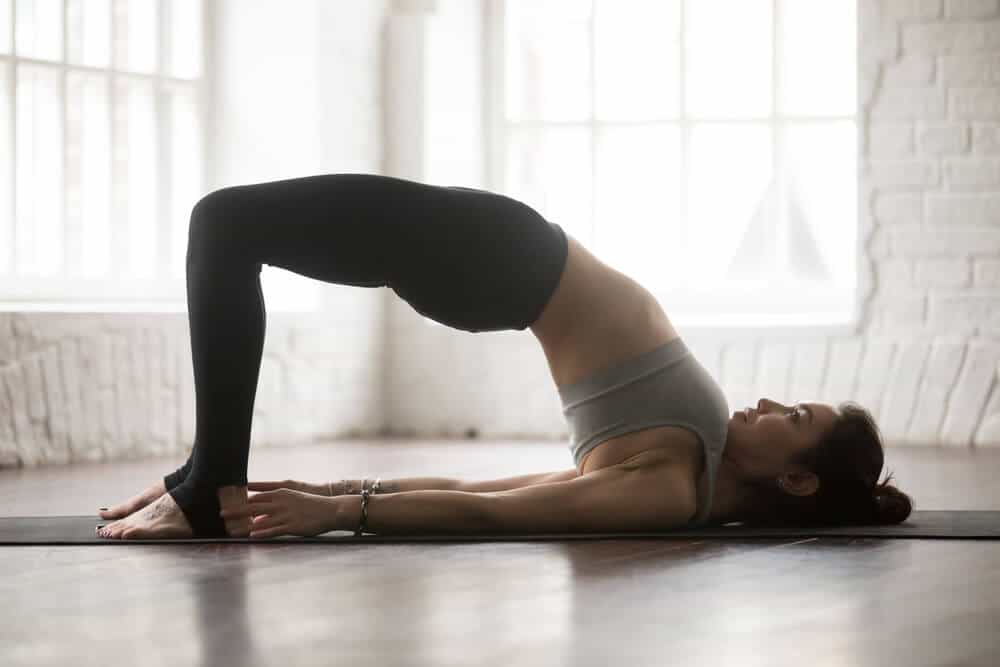 How? Lie on your back with knees bent and feet flat on the floor, slightly wider than hip distance apart; place your arms relaxed at your sides, palms up.
Exhale and press your lower back to the floor. Curl your tailbone under, peeling your spine away from the floor, lifting your buttocks until you come to rest on your upper back. Keep your pelvis curled under and your lower back long.
Stay in the pose for 30 seconds, then release gradually, curling your spine down to the floor from your upper back to your lower back.
Shadow Boxing
How long? 20 seconds
Why? Researchers from Oxford University and the US National Institute of Health found that women who are anxious are 12% less likely to conceive during their fertile time than those who stay calm. The same goes for men – high stress levels can lower their levels of gonadotrophin-releasing hormone (GnRH), which is needed for sperm production.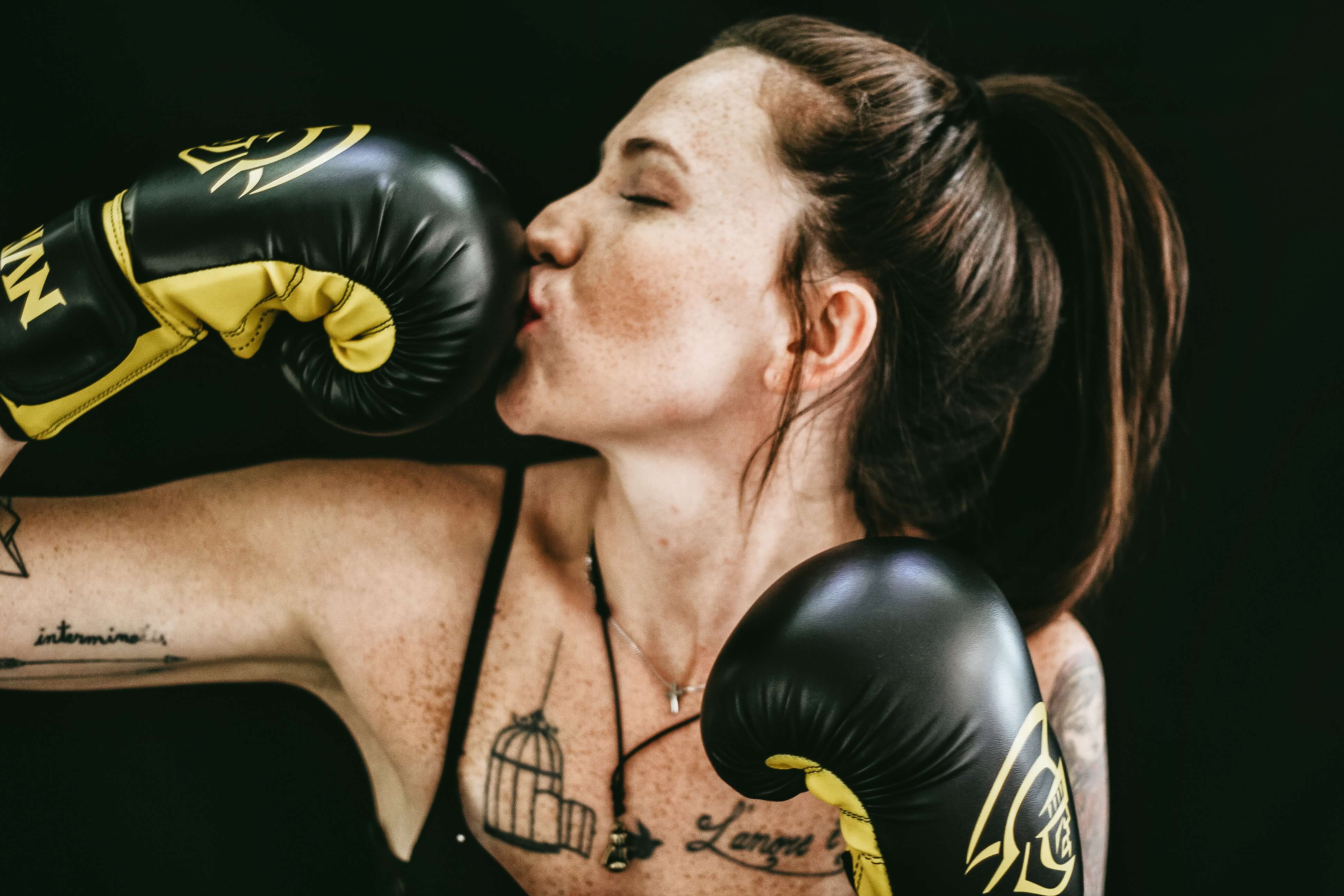 The good news is that boxing helps your brain produce endorphins, the neurotransmitters that create feel-good thoughts. Punching also helps to relieve muscle tension, as well as physical and mental stress.
How? If you don't have a punch bag or boxing partner, then shadow boxing is still a great way to let off steam.
Start in your fighting stance – for right-handers, this means left leg out in front, right leg behind, bent knees, with hips and feet shoulder-width apart. Then punch the air, starting with your left fist, then follow with your right. Keep alternating your hands as you punch the air with all your might.
Squats
How many? 10
Why? Squats are great for strengthening your pelvic floor muscles, which is essential for carrying a growing baby. Strong pelvic floor muscles can also give your sex life a boost.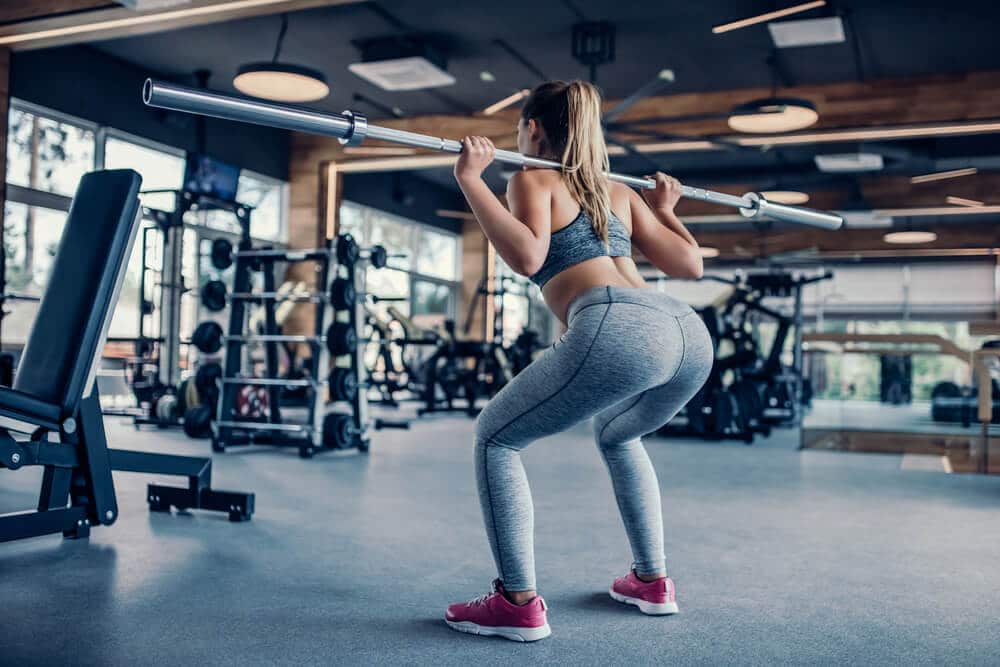 How? Stand with your feet a little wider than shoulder-width apart, roll your shoulders back and down away from the ears, then extend your arms out straight so they are parallel with the ground. Sit back into your heels, then send your hips backward and bend your knees as though you were sitting back in a chair. Pause in your squat position for a second, then straighten your legs and come back into the standing position.
The Plank
How long? 20 seconds
Why? The plank is a great exercise for improving concentration as well as strengthening your core without putting pressure on your lower back. A strong and stable core can prevent back problems and help towards an easier labour and quicker postpartum recovery.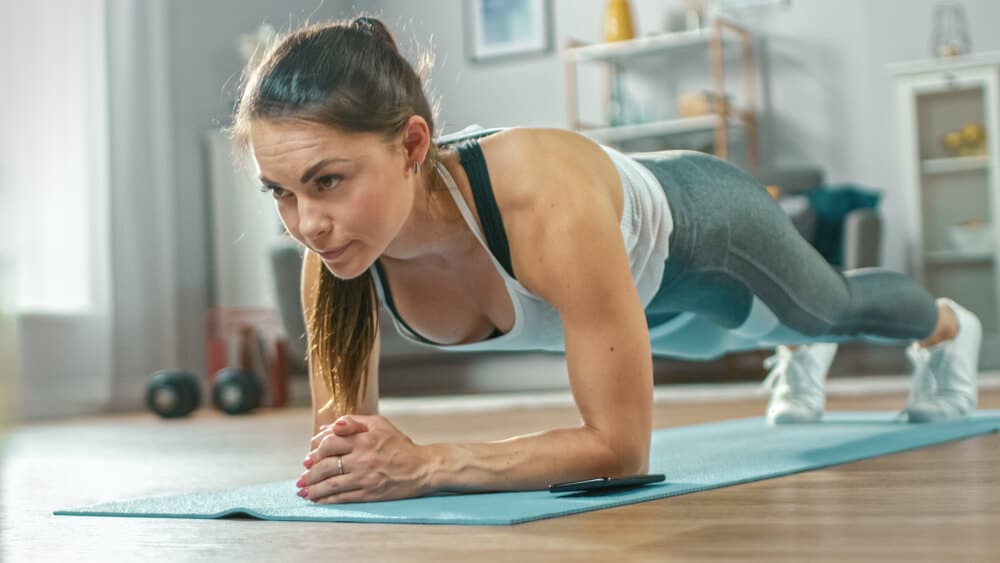 How? Starting at the top of a push-up position, bend your elbows and lower yourself down until you can shift your weight from your hands to your forearms. Your body should form a straight line. Brace your abs and hold for 20 seconds. Focus on form: don't drop your hips or raise your bottom, and concentrate on your breathing (without holding your breath!)
Squat Jumps
How many? 5
Why? Jumping exercises are great for getting your heart rate pumping, which will help get you fitter and burn calories. The high intensity will also cause a testosterone surge, which will ramp up sex drive, and boost a woman's ovarian follicle growth – structures that are essential for female reproduction.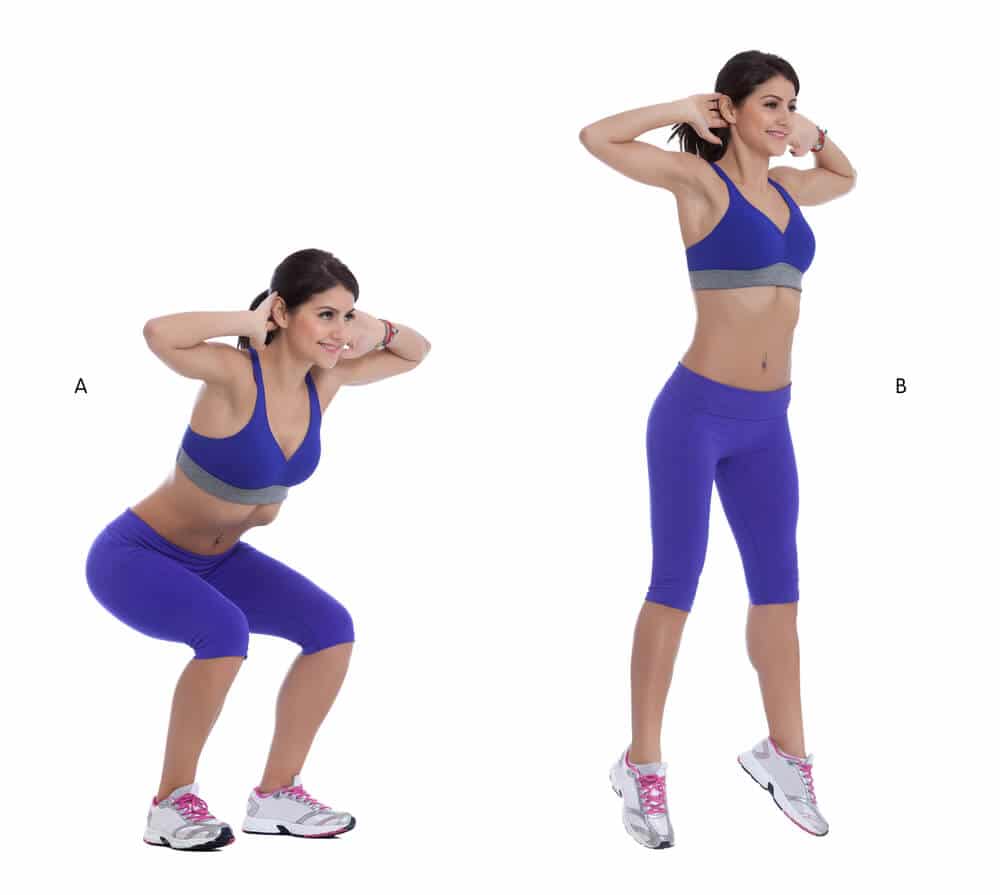 How? Stand with your feet shoulder-width apart, arms hanging at your sides. Squat down until your knees are bent about 90 degrees, then immediately swing your arms overhead and jump upward as high as you can. As you land, gently bend your knees and sink back down into the squat position.
Cat Cow
How many? 5
Why? This restorative and relaxing yoga move is a great way to help relieve tension in your neck and shoulders. The gentle tilting of the pelvis also improves blood flow to the pelvis, which allows more energy to move to the reproductive areas of the body.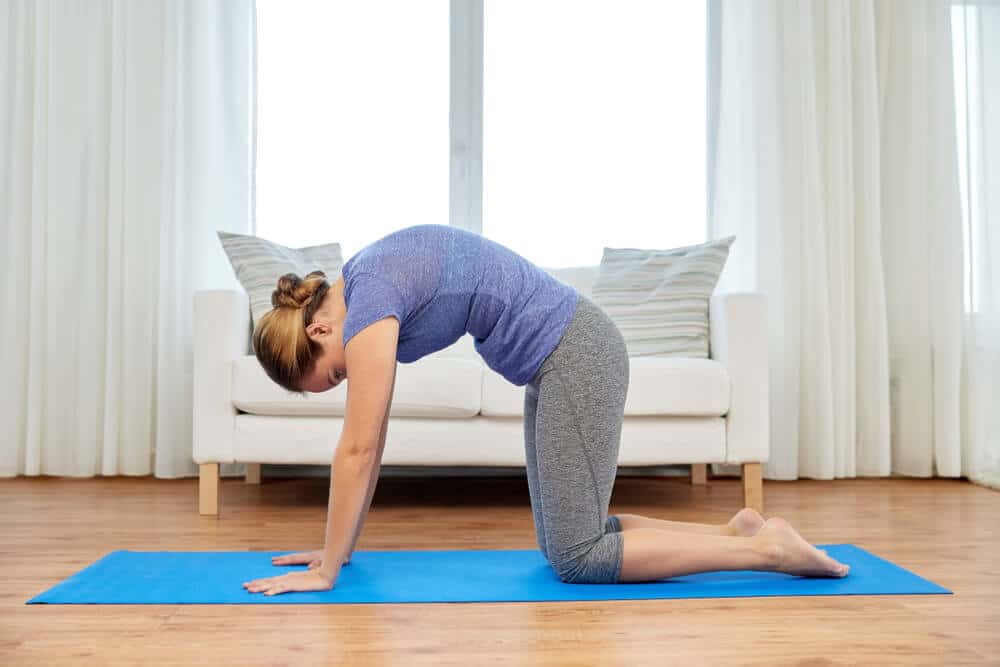 How? Come onto your hands and knees with your wrists underneath your shoulders and knees directly below the hips. Inhale, then tilt your tailbone up and arch your back. To reverse the movement, exhale, then tilt your tailbone down towards the floor and round your spine.
And Stretch
Stretching is a great way to bring your body back into balance after a workout. It will also lower your stress levels and help balance your hormones.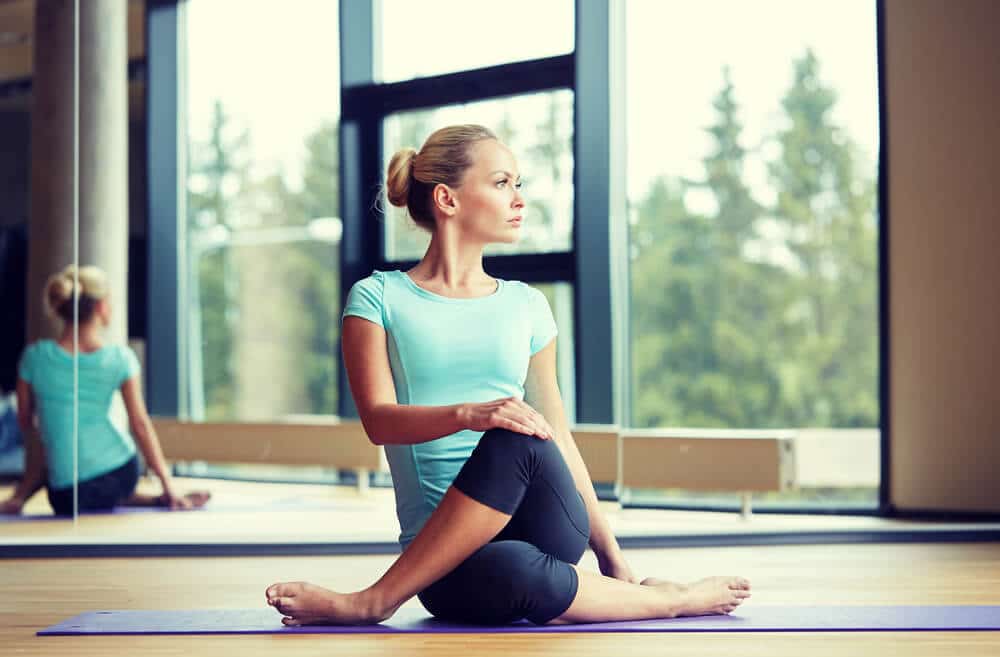 Hastapadasana
How long? 30 seconds
Why? This yoga stretch is brilliant for all the important muscles of the back, while helping to improve the blood supply to the pelvic region and nervous system. It will also help relieve stress in the abdominal region and make your spine more flexible.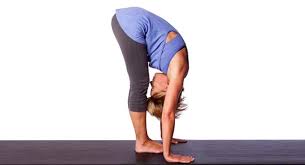 How? Stand with your feet together. Inhale, while lifting your arms straight above your head. Exhale as you bend forward and down towards your toes. Breathe normally while you are in the pose.
Baddha Konasana
How long? 60 seconds
Why? This stretch is great for opening the hips, as it stretches the inner thighs, genital region and knees. It will also help release any toxins and negative energy in the areas of hip and groin.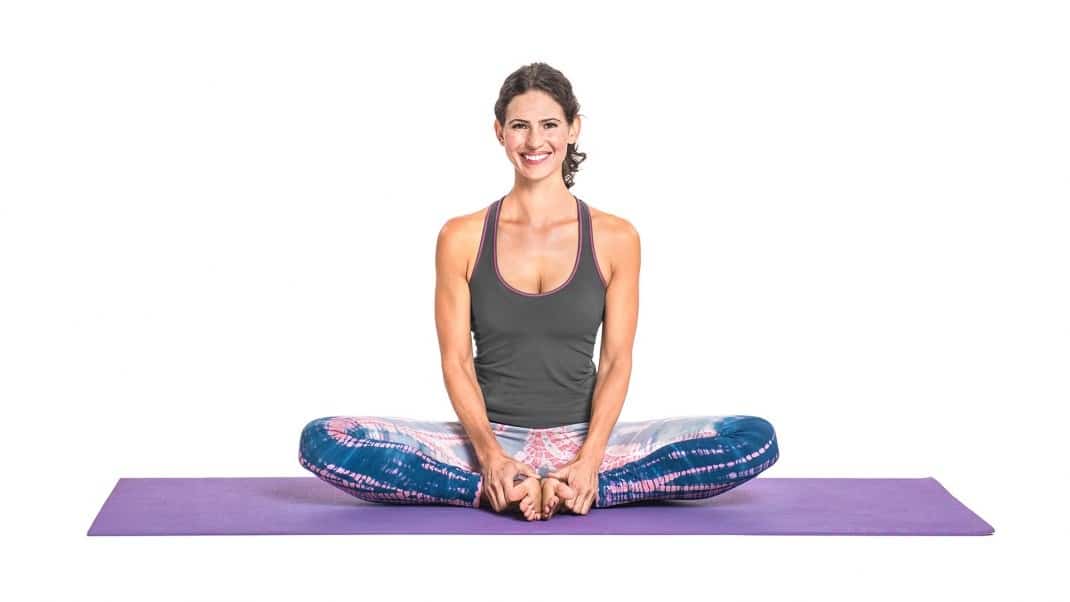 How? Start by sitting on your bottom, then bend your knees and bring the soles of your feet together, letting the knees fall out to either side.
Draw your feet in as close to your body as is comfortable and press the outer edges of the feet together strongly. Sit up straight, wrap your hands around your feet or ankles, then close your eyes and breathe deeply through the pose.