If You're Thinking About Becoming A Mother Using Donated Eggs, Here Are Eight Questions And Answers For You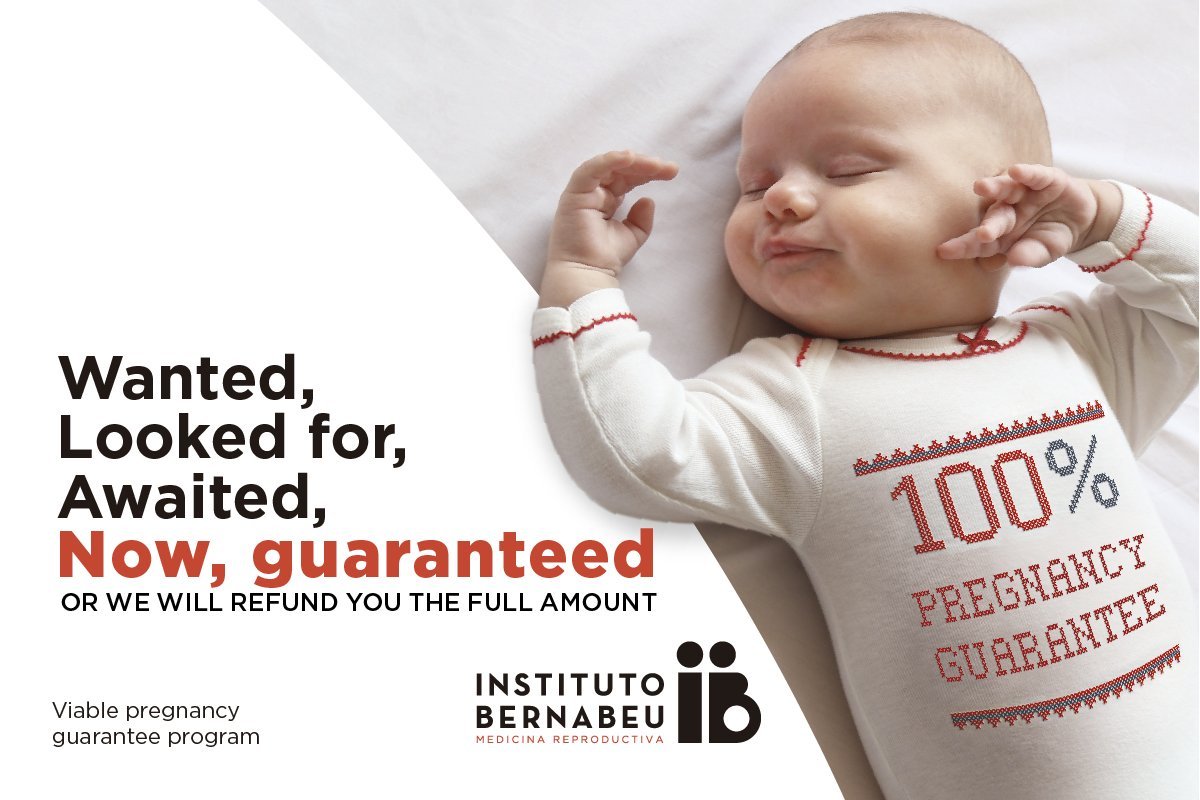 As is only to be expected, women have a number of doubts when they first take the important decision to become a mother using an egg donated by another women. The first reaction is one of shock when a woman finds out that she will need to rely on egg donation. Once they have had time to come to terms with the situation, many women take it on board naturally and accept the option that will allow them to give birth to their child. For others, however, the process takes longer and it needs to be thought through before it can be accepted or, in some cases, rejected.
Women go through what is known as genetic mourning during the process when they become aware of the fact that the baby will not have their genes. According to the experts at Instituto Bernabeu, accepting this situation from the outset is the best way forward if patients are to avoid turning the doubts and questions that come up along the way into a concern or even an obsession for the future mother.
1. Can I be told who the donor is?
One of the main questions that future parents at Instituto Bernabeu ask is with reference to who the donor is. They want to find out as much as possible but Spanish law is clear and protects donor privacy. The future parents will not be told who she is, where she works and what her academic background is. Spanish Law 14/2006 on Assisted Human Reproduction Techniques regulates egg donation and protects the anonymity of the donor.
2. What can I be told about the donor?
Recipients may be told about the donor's phenotype. They are told about the donor's physical characteristics and blood group (which must be compatible with the partner's blood group) as well as her age (an important piece of information in terms of the possible tests needed during the pregnancy such as the amniocentesis test or triple screen test). In compliance with Spanish law, donors must be between 18 and 35 years of age. However, at Instituto Bernabeu, in order to ensure optimum donation conditions, we prefer them not have reached 32 years of age, being the average age of their ovodonas 25 years. Donors must also be in good health both physically and psychologically and they are given a number of specific tests in this sense. The Law allows to know general information about the donor. The staff in the egg donation department carry out a meticulous selection of physical characteristics: the donor must be medically and physically compatible with the recipient and the clinic complies rigorously with this requirement, keeping in mind how important this is to the patient as her child grows.
3. How can I know that the donor is completely healthy and that my child will not have an hereditary disease?
At Instituto Bernabeu, donor candidates have to pass medical analyses in order to confirm that they have no genetic, hereditary or infectious diseases. They also have to pass a personalised psychological analysis. In fact, the department excludes over 30% of candidates as a result of not passing one or more of these tests. Furthermore, since 2016 and with no added cost for the recipient patient, Instituto Bernabeu has carried out a Genetic Compatibility Test (GCT) on all donors. This is a ground-breaking test that identifies mutations in the genes responsible for over 600 recessive disorders. If it is the desire of the receiving couple, to the patient expense, it can also be done the GCT in the father to contrast both results and ensure that the future baby is not bearer of these diseases.
4. Can we have the same racial background? I want her to be

from

my part of the world.
In the consultation, one of the recurring requests from women of non-Caucasian ethnicity who are going to have a child with donated eggs is to know the ethnicity of the donor. The doctors at Instituto Bernabeu explain that the law stipulates that the donor must be compatible with the recipient's racial background (Caucasian, Asian, black-skinned). However, some people wish to go a step further and ask the doctor at the clinic to ensure that the donor is of a specific ethnic background. The egg donor bank at Instituto Bernabeu includes foreign hundred donors and donors of different races but the percentage of donors of this kind is smaller than the percentage of European donors. From a cultural point of view, donation – whether this be organ or gamete donation – is more accepted in the Western world. In other cultures, such as Asian, there is a greater reluctance to donate and donors do not readily come forward. The clinic's aim is clear: To guarantee the maximum physical and phenotypic similarities with the patient.
5. Can you tell me if the donor has higher education qualifications? Can I choose her based on her hobbies?
Some couples show a keen interest in the donor's academic qualifications. Natalia Romera, the psychologist specialising in assisted reproduction at Instituto Bernabeu, explains that the child's intellect is an external factor and that his or her social and family environment will shape this and guide him or her towards a particular academic preference. The same applies when some people ask to be told what the donor's hobbies are or indicate that they wish to choose her based on external factors such as her degree of interest in a given sport or if she enjoys reading. A large number of our donors are incredibly well-rounded people with higher education qualifications. During the interview with the psychologist, her intellect is evaluated and is an exclusion factor.
6. How many donated eggs will I be given?
Instituto Bernabeu guarantees an average of 11 and a minimum of 8 donated oocytes for all its patients. Should the number retrieved be less than this, that donor's cycle is cancelled and a new donation is assigned at no additional cost.
7. Once I've decided to go ahead with egg donation, how long will I have to wait?
Instituto Bernabeu has over two decades' experience in egg donation and, since it manages its own donation bank with over 600 egg donors, it does not have a waiting list. In fact, some patients, in particular those from foreign countries, are surprised by the immediate nature with which treatment can begin and the high success rate we have.
8. What are the chances of success with egg donation?
Egg donation is currently the technique with the best pregnancy success rate. At Instituto Bernabeu, the rate of positive pregnancies using donated eggs is 81.5% when all embryos are taken into account. In other words, the total number of fresh transfers and frozen embryo transfers.
IVF Spain Update Us on Claire & David and Laura & Ian Progress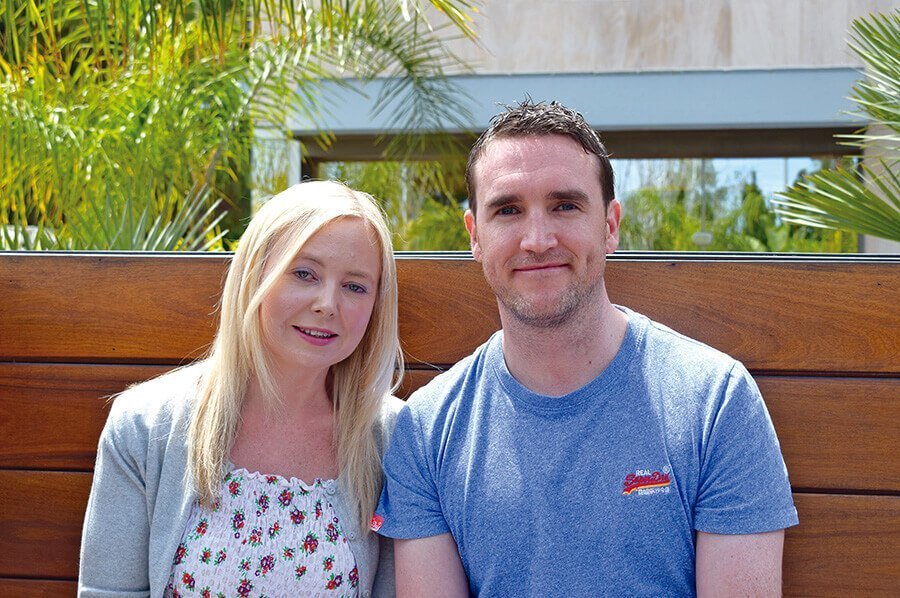 During the first week of August, Claire (42) and David (35), the winners of this year's Fertility Journey, visited our clinic for their first embryo transfer.
They were pleased to share with us the emotion and joy created by their short stay in Spain.
"We have spent some time in Alicante ahead of the transfer, relaxing in the area and preparing for our next visit to IVF Spain. Our experience with previous treatments with UK clinics has been very stressful but in Alicante, we have spent most of our time preparing for treatment by relaxing on the beach!"
Claire and David arrive at IVF Spain after having been trying to get pregnant for 7 long years and experienced 3 failed ICSI treatments with their own eggs. IVF Spain discovered that the quality of the embryos was poor and that they had always been transferred on day 3 of their development with a bad morphology. In order to increase their chances of getting pregnant, the clinic recommended an egg donation treatment – a fertility treatment which that greatly depends on matching the perfect donor to the patient.
To protect both patients and donors Spanish law requires that the donation process must be completely anonymous.  In addition, donors must be in good condition and younger than 35. Moreover, both donor and patient must share a phenotypical resemblance: hair colour, BMI, eye colour, and so on.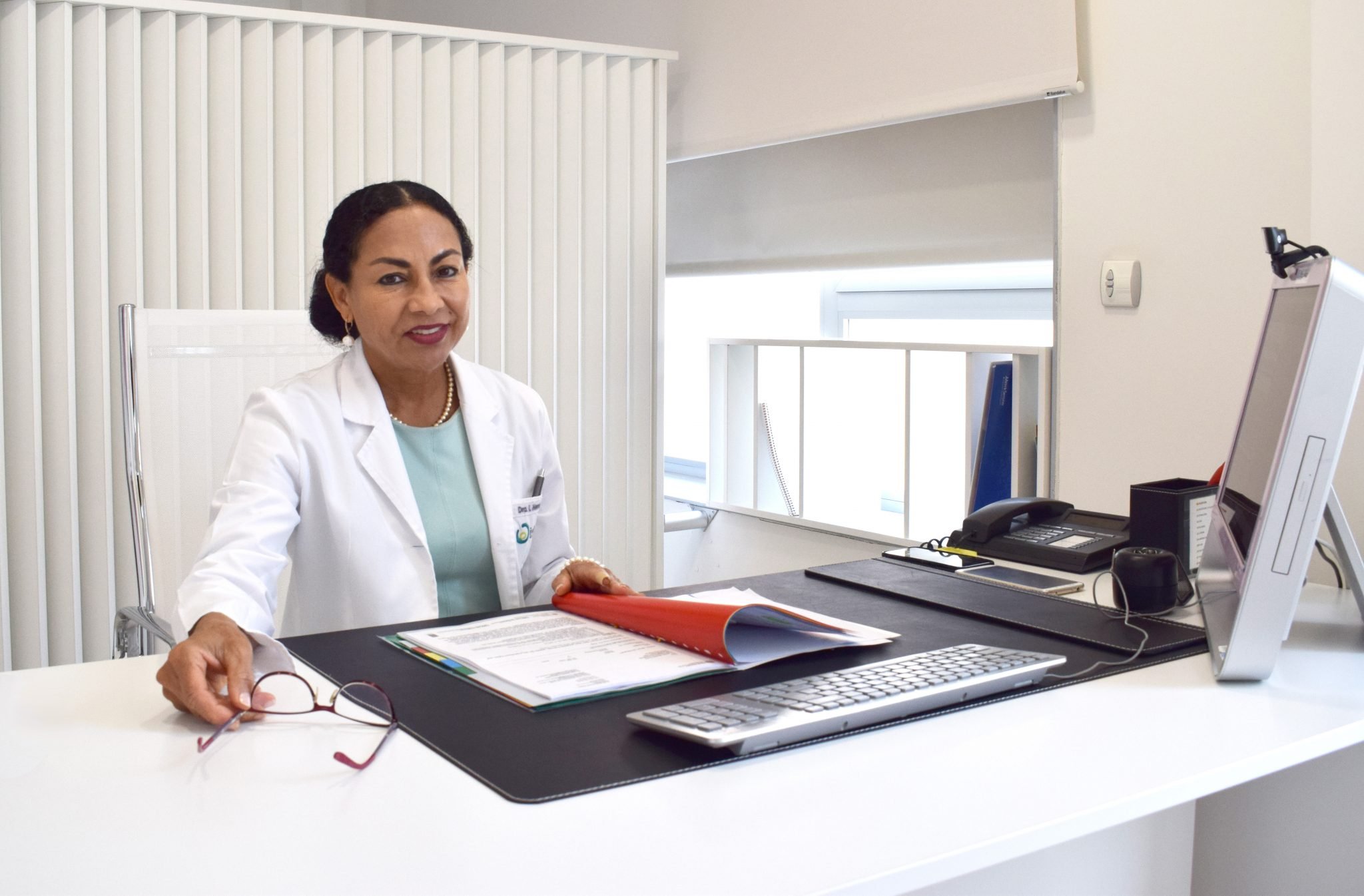 Claire and David were grateful that so many women in Spain were willing to donate their own eggs, enabling others less fortunate, the chance of forming a family.
"We are really grateful that there are people willing to donate eggs. If we are being honest, it has taken a while for us to understand the Spanish anonymity rules for egg donors, but we have taken the time to consider this. It's hard not having control or letting another person being in charge for something related to your baby. However, we even think now it is better that way, because the more you know, the more you want to know and we do prefer knowing nothing and leaving it in the clinic's hands."
There are other factors, however, that are crucial to achieving a successful pregnancy: the quality of the embryo and the microenvironment of the endometrial lining. This means that a successful pregnancy also depends on the successful communication between the embryo and the endometrial lining.
When we discovered that Claire didn't have a single positive pregnancy test, we suggested to perform an endometrial biopsy to analyse the retrieved sample by means of the ER Map® test (Endometrial Receptivity Map) and accurately determine the receptivity of Claire's endometrium during the window of implantation (the moment when the endometrial lining is receptive).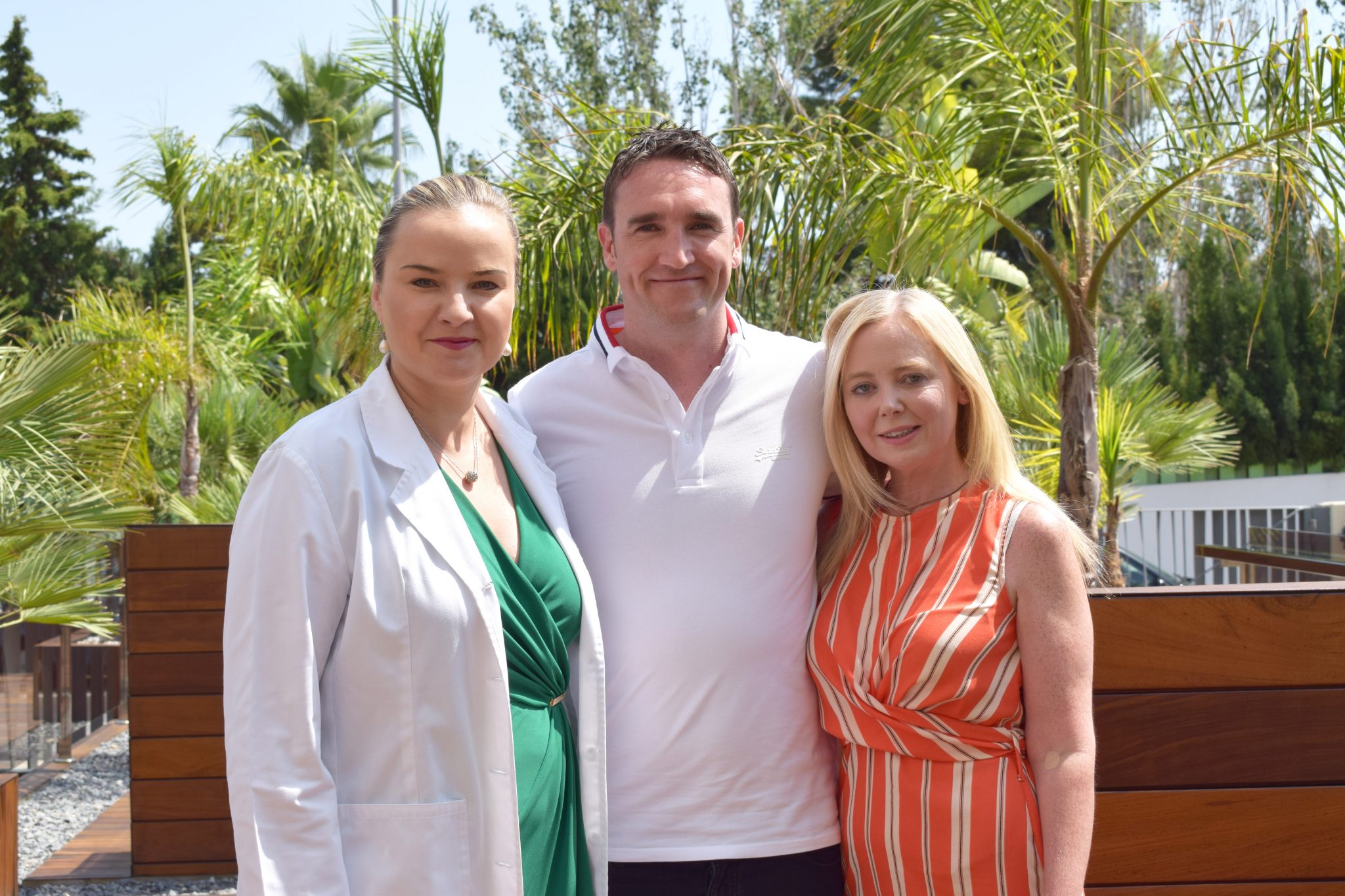 "The test results showed that Claire's endometrium was post-receptive, meaning that a transfer performed on day 5.5 of progesterone (like in 70% of cases) would not end up in a successful pregnancy" explains Dr Natalia Szlarb.
"Before coming to IVF Spain, we had never heard of an endometrial study or ER Map. The fact that the endometrial study analyses the best time to transfer the embryo could make a big difference to our treatment. We were really impressed with the accuracy of the test. Our ER Map test result was post-receptive and although this was initially a concern, we later came around to the view that knowing the best time to transfer the embryo would increase the chances of success, and this might have been the reason our other treatments in the UK had failed" – Claire and David.
There are other key factors, however, to achieve a pregnancy such as the male factor. David suffers from teratospermia which implies that 96% of the ejaculate sperm cells have an abnormal morphology. Luckily, we were able to improve David's sperm quality and fertilize the retrieved eggs.
We now wish them the best of luck!
Although it will not be until mid-September when Laura (41) and Ian (44), the 2018 runners-up visit us in Alicante for their embryo transfer, they already talked about the differences between IVF Spain and former clinics. They were impressed at how extensively their case had been studied by our fertility specialists.
"I think the longer you have treatment the more difficult it becomes. When you begin there's a naivety along the lines of, 'we'll have one, maybe two goes at IVF and have a baby in our arms'. After 7 treatments (and lots of add-ons) the feelings completely change. You feel terrified that it won't work, and you'll never become parents. You're scared it will work and you'll lose the baby again (Laura and Ian have experienced 5 losses). You're scared of physically going through the treatment as you've had so much. Each test and treatment creates fear – fear that it will hurt, be traumatizing, that it will give you more bad news. Then there's the impact on your own mental health and emotional well-being. Can I handle this? What if the results say something's wrong with me? Will I blame myself? It starts to really damage your mental health and well-being. Financially you start to feel that you're risking everything, and it may not pay off.
For us we have renewed hope with IVF Spain. We have undergone tests that we've never had before (ERA, NK biopsy and KIR). We have paid for lots of very expensive blood tests and drugs but never received this kind of analysis. So, we feel as though the treatment is now specifically for us.
This creates more positivity, a feeling of being cared for and that maybe, just maybe, we'll get to be parents.
Plus, we're now using donor eggs. The hope starts to soar and with that comes excitement. Hope is the only thing that keeps you going and overcoming the fears I mentioned. This opportunity with IVF Spain has given us hope that we thought we'd lost."
Laura is 41 years old and has already been through traumatic losses including an ectopic pregnancy. Due to this and to the fact that Laura suffers from recurrent miscarriage, our medical team at IVF Spain recommended an egg donation treatment to increase their chances.
The couple is thankful for the egg donation process being anonymous, as otherwise it would be really difficult to find a donor:
"For us, it's taken some of the pressure away. I can't imagine how difficult it would be to choose a donor ourselves. But putting your complete trust into someone else's hands is hard.
We've explored whether it would be better for our future child to know the donor. I think that's something we'll never know. But we hope that he/she will understand our decision to choose an anonymous donor. It would be good to know a little more about the heritage of the donor but then we also know that we often don't even know our own heritage. We'll make sure Spain is a key part of their story.
It's also really odd to not know who this person is. What they look like and personality. What's motivating them to help us. One of the things I've been really consumed with is the gratitude you have for this person. I'd like to thank them but can't.
Anonymity means we have a chance to become parents. Without it there'd be a shortage of donors like there is in the UK. For us, this makes it a wonderful gift – a chance to hopefully find a donor that is perfectly matched to us genetically (due to the KIR tests) as well as in physical looks.
I can't stop thinking about what our future child will look like – but I think that's quite normal" says Laura.
Immunologically speaking, finding a matching donor for Laura is certainly a challenging task, which is why IVF Spain suggested that we find out her KIR via a blood test. Ian was also tested for his HLA-C in order to determine whether the maternal – foetal interaction will be optimal or not.
Thanks to the KIR-HLA-C genotyping test it is possible to determine if the uterine KIR and the embryonic HLA-C will both be compatible. If so, the pregnancy will carry on successfully; if not, then the most probable outcome will be an unviable pregnancy and subsequent miscarriage.
"We carried out the KIR-HLA-C genotyping and concluded that the patient had a KIR AA. It is known that KIR expressed by the natural killer cells present in the maternal part and the HLA presented by the trophoblastic cells together will influence the outcome of the pregnancy. With Laura's KIR AA variant, the sperm would have to be HLA C1 C1 and the HLA of the donor should be as well HLA C1 C1; as her husband has a HLA C1 C2 variant, we will treat her with a medication that reduces her immune-genetic reaction. We believe that not paying attention to this issue in the past is what may have caused the implantation to fail" suspects fertility specialist Dr Isabel Herrera.
We tend to recommend a single embryo transfer, as it has been proven that on patients with an immunological profile such as Laura's, double embryo transfers would increase the immunogenetic reaction, hindering the achievement of a pregnancy" says Dr. Herrera.
It is also known that these cases tend to have a higher risk of pre-eclampsia, late spontaneous abortion or miscarriage.
Until their transfer day the couple will try to enjoy summer just as any other couple would;
"I've tried to just carry on as normal. Remain healthy, take pre-conception vitamins. Reach out and get support through the Donor Conception Network in the UK and connect with other people going down the DE route via online forums. It's quite isolating and scary so it's important to reach out and not feel so alone.
I'm trying to relax a little – not so easy with work but it's a work in progress. I need to get that bit sorted now treatment is on the horizon."
Egg donation abroad – best IVF clinics ratings are here!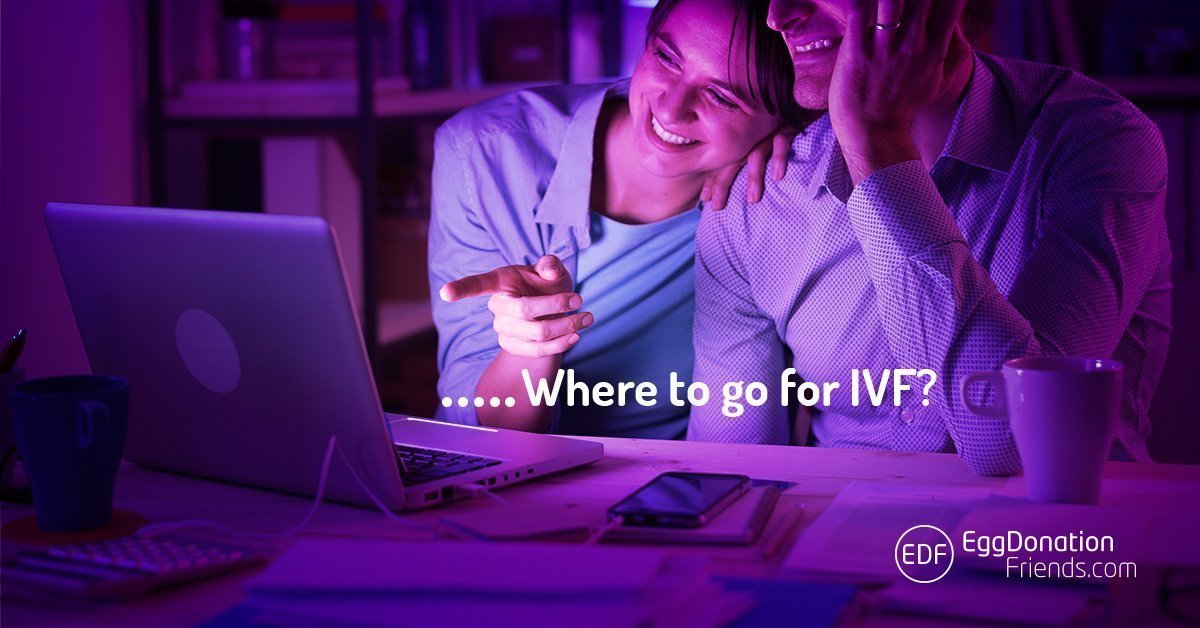 IVF with donor eggs can be eye-wateringly expensive in some countries that is why so many fertility patients rely on best IVF clinics ratings to be able to get the best value treatment for their hard-earned money. However, with the modern advances in medical science, and the ever-increasing number of clinics offering IVF, it is also becoming increasingly difficult for potential patients to choose the right clinic for their needs. You do not have to do the math to realize that there are not enough hours in the day to be able to sit down and compare all the best fertility clinics in Europe.
You are right to feel slightly confused, not knowing where to look. Even if you try, you need to know that different clinics use different methods of presenting their IVF statistics and all those neat little graphs on clinics' websites may be hard to understand. Also, the best IVF clinics for the over 40s will not necessarily be the best match for a 50-year-old patient.
The experts at EggDonationFriends.com know that knowledge is power and that you have the right to know, compare and choose. Certainly, you do not wish to end up like Kelly and Rick* who picked the nearest IVF clinic instead of researching the market first and checking the best IVF clinics rating. They spent nearly £55,000 on 6 cycles of IVF with donor eggs over the course of three years, without success.
How can you be sure that you do not wind up in the same boat as Kelly and Rick? You can benefit from free patient assistance offered by EggDonationFriends.com. Every year Egg Donation Friends publish best IVF clinics online ratings dedicated to patients embarking on their fertility journey. The website has already published a second edition of fertility clinics ratings and so far they have been downloaded 7,000 times.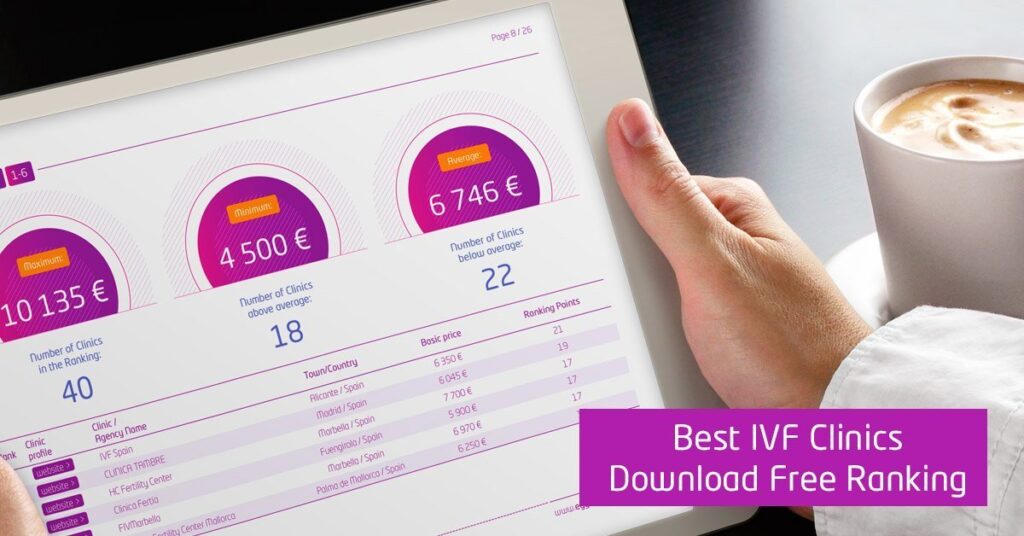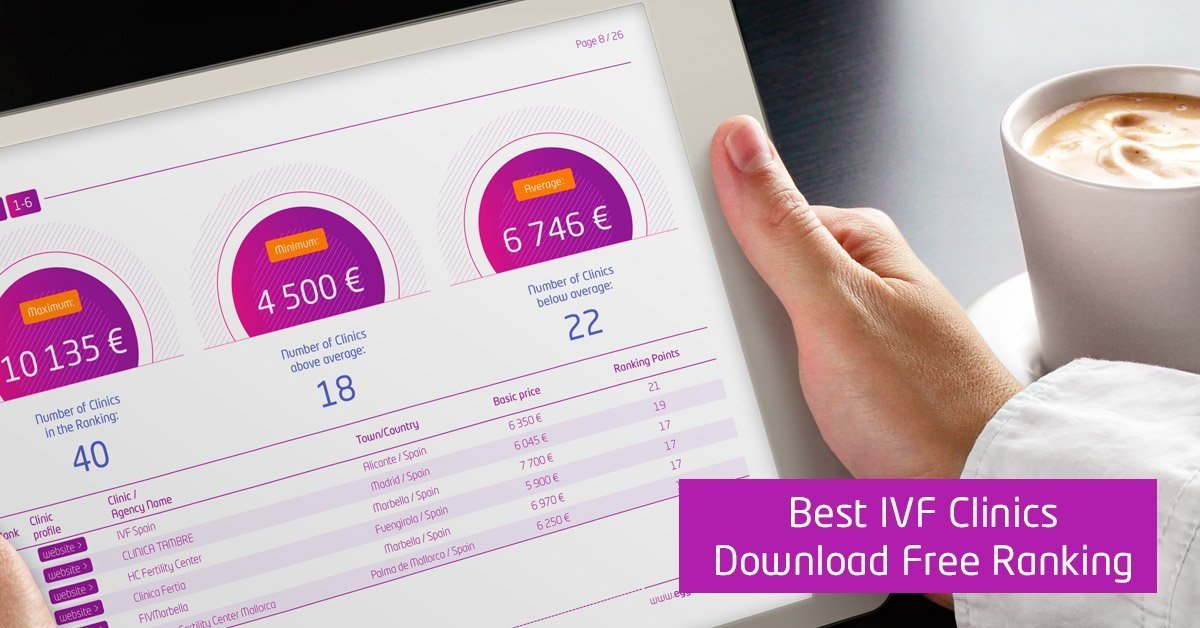 What's in the IVF Egg Donation Clinics Ranking?
Fertility clinics ratings are available for the most popular IVF destinations, including Spain, Portugal, the Czech Republic, Slovakia, Cyprus, Greece, Poland, Latvia, Estonia, Lithuania, Ukraine, Georgia, Russia and India; and other destinations such as Mexico, Australia, Belgium, Malaysia, the UK and the USA to name just a few. All fertility clinics ratings come in the user-friendly .pdf format.
Every report contains 6 ranking categories: best clinic, best prices, best success rates, best guarantees, best procedures and best treatment times. EggDonationFriends have carefully screened the clinics' offers and gathered all the essential information for your easy reference. Clinics are awarded points in each category: a maximum of 25 points for price, 25 points for IVF success rates, 15 points for procedures, 20 points for guarantees (the number of guaranteed eggs) and 15 points for treatment time at the clinic (the maximum stay at the clinic and waiting time for fresh donor eggs).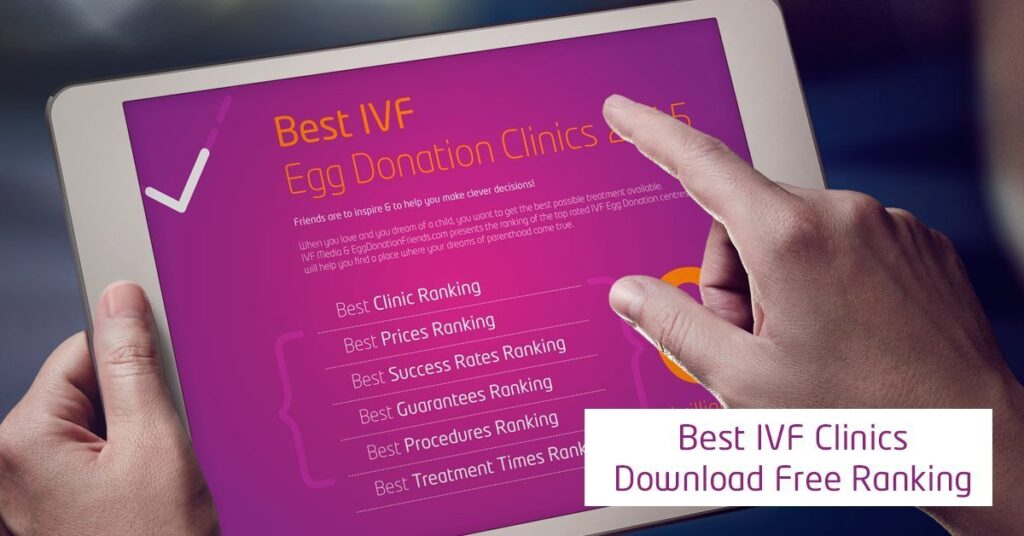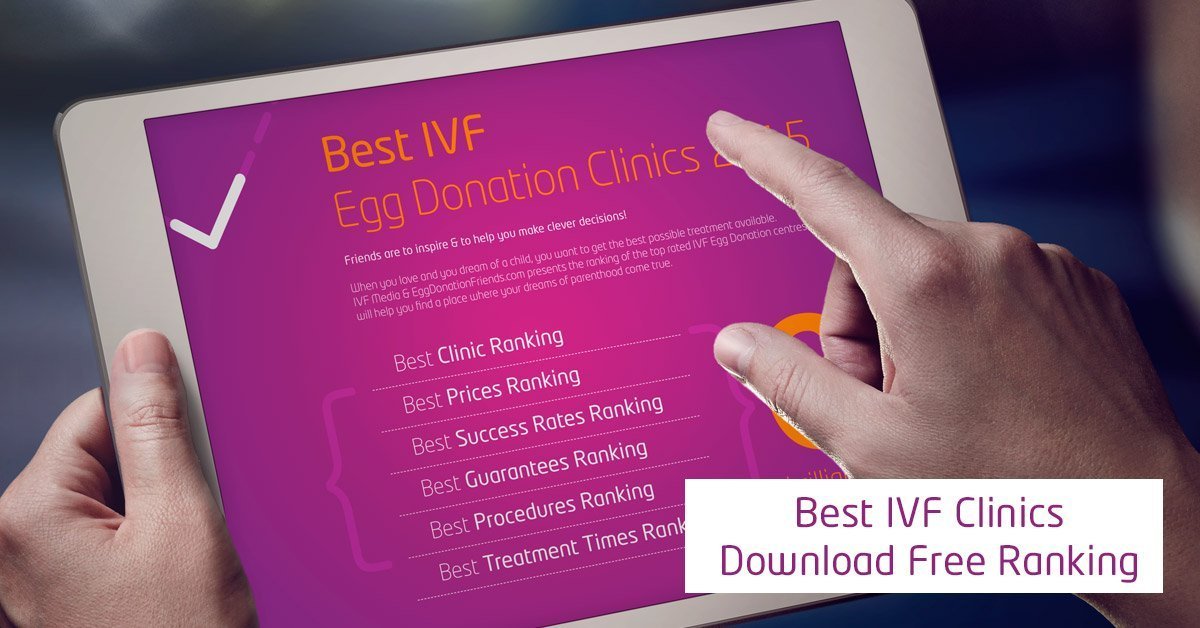 Choosing best fertility clinic for your needs is probably one of the most important decisions in your life. Make sure you make an informed choice that will lead you to your dream of becoming a parent. Before you book an initial consultation with a clinic, download and check the EggDonationFriends ranking as a priority and find out if the destination or the clinic you are interested in ranks best in the report.
Remember: knowledge is power. And you have the right to know, compare and choose. Download the Top Rated Egg Donation Clinics Worldwide Rankings 2017. They are free and always will be. EggDonationFriends have been helping you make the best choice since 2013.
* names have been changed
IVF Spain welcome Kathryn and Richard who were the lucky couple selected for free egg donation treatment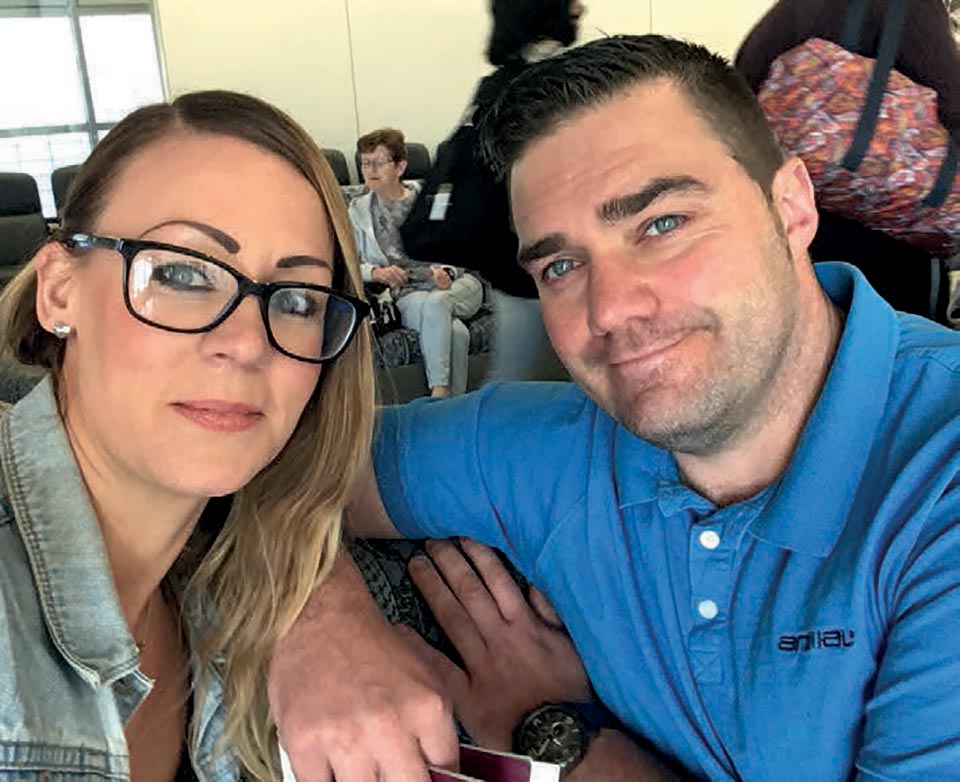 Once more IVF Spain are proud to be part of this wonderful initiative created by Fertility Road Magazine, whose aim is to help couples that wish to become parents by covering the cost of the best possible treatment in the best clinics so that the patients can achieve their dream of becoming parents.
We are happy to announce that we have selected the couple that will start this beautiful journey with us in 2017. Kathryn Hobbs and Richard Clement are an adorable couple that, even after years of failed attempts and frustrated hopes and dreams, has not given up and has decided to trust us in their journey to parenthood.
During our first conversation with the couple, we asked them how they've dealt with infertility and what drove them to take part in this year's Fertility Journey.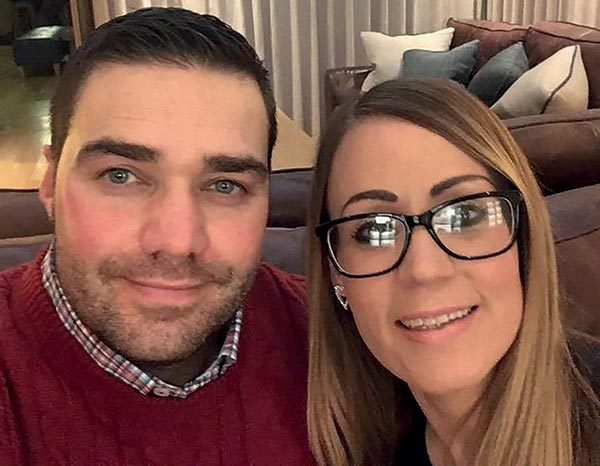 Tell us a little bit about yourselves and how you met?
We met on an online British dating website called Plenty of Fish. We met on a blind date just over four years ago and have been together ever since!
When did you decide that you wanted to be parents?
I've always wanted to be a mummy but was in a few relationships that didn't work out. When I met Richard, I knew that I wanted him to be the father of my child. He would make a perfect dad and he loves children too. My brother has three children who we both treat as our own.
How long were you trying to get pregnant before you sought medical treatment?
I already knew when I met Richard that I was unable to conceive naturally as I'd had a laparoscopy performed upon me 2 years prior to meeting him. When I met Richard, I'd been single for a while and desperate to become a mum so I made an appointment at the local fertility clinic to offer myself as an egg donor with a view to receive donor sperm and become a single mum. I was desperate.
Through the tests that I had, I discovered that I had a very rare chromosome arrangement- a 'Balanced Translocation' of chromosomes 4 and 12, which included an inversion on chromosome 4. I was told that I was not a suitable candidate for becoming an egg donor and that I would need to receive PGD/ PGS treatment to have any possible success at becoming a biological mum.
I was told at the time by the genetic counsellor that I was the only person they'd met with my chromosome arrangement. As you can imagine, I was devastated by this!
After I met Richard I reluctantly felt that I needed to inform him of my desire to have a baby. This was after a few weeks of meeting and we have been trying to become parents ever since. He has been my rock throughout all of this. It's been a stressful few years.
What fertility treatments have you done in the UK?
We have had one unsuccessful PGS cycle followed by 3 PGD cycles. In total we had 85 eggs collected, 58 embryos formed and only 2 'chromosomally normal' embryos. I got pregnant following my first transfer, which was on my second cycle, but this one sadly ended in a missed miscarriage, which I discovered at my 12-week scan. Our other 'normal' blastocyst didn't implant.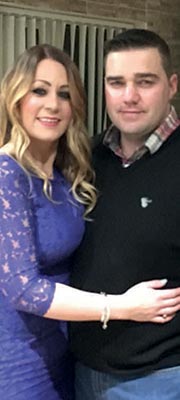 Which moments have you found most difficult in this journey towards parenthood?
The news of discovering that I have a Balanced Translocation; The travelling back and forth to London from Wales for treatment; The lack of chromosomally normal blastocysts formed; The waiting between cycles and stages of the treatment; The miscarriage after seeing the heartbeat twice; The fact that two of the cycles had no suitable embryos. The list goes on and on and on.
What made you apply for this year's Fertility Journey?
The acceptance that we would never have a biological baby together led me to apply as it feels like the closest I will ever get to being a mum to a new-born baby. I'm 40 in 14 months and feel like my life is slipping away. I feel like I have now mourned the loss of our baby and am ready now to go down this new exciting route.
What piece of advice would you give to other couples that are going through similar situations as you?
Don't give up I guess. I hope that this is the advice that I will be saying to myself in the near future.
THE FIRST STEP
Kathryn and Richard will be travelling to Spain in May for their consultation at IVF Spain. During this visit they will have the chance to meet our doctors and specialists in assisted reproduction and fertility such as Dr Jon Aizpurua, founder of IVF Spain and a gynaecologist of vast experience; and Dr Natalia Szlarb, medical director of IVF Spain.
The patients will also experience first-hand the personal and warm treatment that we offer all our patients and in their own language of course, so they feel as comfortable as possible.
They will also receive aid from our foundation which will cover the cost of their consultation, the tests they need and the exclusive egg donation treatment that Kathryn will undergo.
At IVF Spain, we are aware of the great number of difficulties that sometimes underlies the trip to parenthood.
Many couples dream of having a family but due to their fertility problems they cannot fulfil this dream, which puts them under a lot of stress and makes them deal with a great emotional load.
This situation, which nowadays many couples face, sometimes is accompanied by financial difficulties that make it hard for the patients to opt for an adequate fertility treatment.
With the aim of helping all these people accomplish their wish of becoming parents, we started the IVF Spain Foundation, which focuses all its efforts in supporting and helping finance the treatments of those with fertility problems and limited financial resources.
For the last four years we have supported the Fertility Journeys initiative with Fertility Road magazine, since they share the same principles on which the IVF Spain Foundation is based.
At IVF Spain, we are specialists not only in egg donation treatments, all anonymous by law, but also in complex cases such as that of Kathryn and Richard. Whether the case is about repeated miscarriages, implantation failures or genetically or immunological issues, we have developed protocols that allow us to reach success when facing these diagnostics.
This is possible thanks to the fusion of the most advanced technology with the experience of the best professionals in the field of assisted reproduction, which has yielded the highest success rates, even in the most complex cases.
In fact, our success rates have been certified by the prestigious international certification body TÜV (Technischer Überwachungs-Verein), which is independent and one of the strictest. Our statistics have also been certified by the Spanish Society of Fertility (SEF), and they have been ranked among the highest in Spain.
We are proud of being able to help Kathryn and Richard to write the next chapter of their lives, in which undoubtedly, we will put all our love, experience and professionalism so that this story has the happiest of endings.