- Advertisement -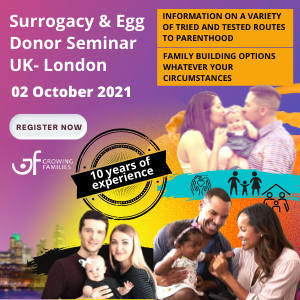 When I published my first article last November for Fertility Road – We asked a former IVF patient what it is really like to go through IVF? I was overwhelmed by the response the article received.
I was dubious to share my story to those closest to me at first. Would I be over-sharing? Would this upset my family and can good actually come out of spilling my guts on this subject? I felt the need to expose the reality of how IVF treatment was for me and I wanted those words to resonate with others undergoing the same pressures as to not feel alone.
But what followed opened my eyes to just how little awareness there is out there and how much we need to change that. I received a few sympathetic messages from friends saying how moved they had been at my honesty, having had no idea that my husband and I had undergone IVF and failed many cycles. Most had assumed that we didn't want kids because we were into our 40's, and perhaps our lifestyle choice was to be childfree.
Then something curious happened. I began to receive messages from friends I hadn't heard from in a while, who felt they too had been silently struggling about their own infertility.
More came forward, sharing their stories from Europe and beyond. They had shown the article to their friends – using it as a gateway, to express their own thoughts and in doing so had unlocked something they had so desperately wanted to talk about.
It raised the question again, why do we still suffer in silence about infertility?
We are living in a time when mental wellbeing is at the height of awareness, and yet infertility is still a taboo subject that remains hidden to outer circles, and is at best, only divulged between sisters or our closest of friends.
Perhaps we need to change the stigma attached to it. Are we afraid to be open because it's too painful, too personal, or do we worry that our infertility failings are a reflection on us?
If our fears are based on others not understanding us, then maybe we're misjudging them too?
When I read these messages from struggling couples, it was eye-opening on just how fragile each infertility situation is. How personalised their treatment plan is to their own infertility issues and the difficulty they have in making the right choices from the medical advancements that are available to them.
For a further year I kept touch with those who first contacted me. They were either considering more IVF cycles, going through new medical options, or had used up their last chances and were looking at other solutions to having a child. We talked, and even more, I listened without judgement or thoughtless advice.
Even when they fell into silence, it was clear they needed time to think about their next step.
I was told afterwards that those conversations formed a safe outlet to be honest about what they were going through. One friend told me that she had called a family meeting, to tell them the truth about her struggles to have a child and why she had been avoiding family dinners and celebrations. They were fully supportive and she felt a huge burden had been lifted so that she no longer felt she needed to invent further excuses and shut herself away.
I still keep in touch with those who first contacted me, most of which I am thrilled to say have successfully achieved full term pregnancies and, healthy smiley babies. But to get there they all underwent some level of anguish and battled through the hardest of times of their lives, often without saying a word to anyone.
Infertility can be a very lonely road for some and you might not quite know yourself when is the right time to be open about your own situation. Here are some indicators to know when it might be the right time to chat.
You want to keep it between yourself and your partner as you know friends will intervene but the stress of keeping it secret is outweighing the stress of the IVF/treatment – You don't need any added stress, so it's probably time to talk.
You have reached a point where you need to make critical decisions having got to a crossroads but can't make up your mind on the right thing to do – Find someone who is a great listener, no one can tell you what to do, but you might come to your own conclusion by talking through things clearly and calmly.
Your partner isn't being supportive – and it's taking its toll on the relationship – Talk to someone or seek support from someone other than your partner. A counsellor might be the best option for impartial support.
You feel completely isolated, scared and fearful of the future – Stress is playing its part so time to be more open before these feelings escalate.
You feel your friends with children won't understand – You might be surprised about that, give them the benefit of hearing you out before deciding that.
You want to be open with your family but you don't want to be hassled with questions or updates all the time – Don't be afraid to tell them what you need. If you prefer them to not ask you, let them know that. Communicate clearly that if you have news you will tell them in your own time.
Whether you have struggled with infertility or you're being a support for someone else, remember that it is a continuous open conversation and should be offered as long as someone needs it. We grow, learn and recover and try to always remain positive.
No one should feel that they can't talk about infertility, no more than depression or anxiety and as most clinics offer counselling it's time we put our mental health first and start talking.  
By Georgina Carter Pickard