- Advertisement -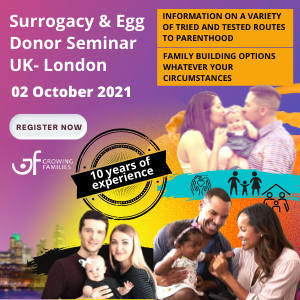 A GIFT FROM EMBRYOLAB!
Travelling for Treatment is now a viable option for couples with fertility issues, here Dr. Nikos Christoforidis, Lead Gynaecologist at Embryolab, explains why couples are travelling abroad for procedures and why he is offering free IVF to one lucky couple.
Over the last few years 'Medical tourism' has become a global industry, fuelled by the popularity of the internet, ease of travel, shorter waiting times for appointments and greater international sharing of medical advancements and innovations.
Many couples are now opting to travel abroad for fertility treatments that may not be available to them in their own countries, either financially or legally.
As Lead Gynaecologist at Embryolab I have met many couples from all over the world, whose lives have been changed by having fertility treatment and effectively giving them the gift of life, and have seen the joy that it brings. As well as the joy I have also seen the pain, as there are so many couples in need of help to conceive, and every one of them has a unique and compelling story. I was reading an article recently in Fertility Road where a couple in the UK could not afford IVF and were not eligible for NHS treatment and were left with very few options, this really pulled on my heart-strings.
If you do not meet the criteria of your local Primary Care Trust or insurance provider, then the only option is to go private, and these out of pocket expenses for fertility treatments make it very difficult, if not impossible, for couples to achieve their dreams of expanding their family in their home country.
Because of these compelling stories,  Embryolab have decided to make the dream of having a family come true for one lucky couple, by offering a full round of IVF, combined with a relaxing Grecian holiday in our life changing competition.
About Embryolab:
Here at Embryolab, we pride ourselves in looking after couples who are experiencing fertility disorders, providing them with an accurate diagnosis and then offering immediate and tailor made treatment to meet each patient's needs in order to help the couple conceive. We strongly believe that customized care is crucial in order to serve the individual needs of our patients.
Since the conditions under which oocytes and embryos develop is imperative to a successful treatment outcome our lab has developed a highly successful vitrifying cation protocol which guarantees high survival rates for both oocytes and embryos.
We ensure our laboratory is an industry leader, by a continuous updating of assisted reproduction systems coupled with the support provided by our state of the art equipment thus achieving our high success rates we have enjoyed so far.
We also have a fantastic team here, from our experts in the fertility field, right down to our receptionists. We all spend time getting to know each and every couple, understanding their needs, answering their questions, and supporting them every step of the way on their path to parenthood.
Our clinic is situated in Thessaloniki, the second largest city in Greece. Also known as Salonika or Saloniki, which has given Greece some of its greatest musicians, artists, poets and thinkers.

It also has some of the most beautiful beaches and some of the finest hotels and best restaurants in northern Greece. Built near the sea, at the back of the Thermaïkos Gulf, it is a modern metropolis bearing the marks of its stormy past and cosmopolitan character, giving it a special beauty and charm.
Gastronomy, world-class heritage sites and fantastic shopping are some of the things that visitors can indulge in. For more information on Embryolab please visit www.embryolab.co.uk
How to enter:
For your chance at winning a full IVF treatment at Embryolab all you have to do is read the terms and conditions below and fill out the entry form below.
The winning couple will receive:
• Flights from their home town to Thessaloniki.
• Accommodation at a luxury hotel in Thessaloniki.
• All transfers from airport to hotel and Embryolab clinic.
• Full round of IVF treatment.
• Dinner at a top restaurant on the first night.
• Complimentary acupuncture treatment (for the Female Patient).
Competition closes on February 14th, 2013 at 12:00 am PST – USA and the 'winning couples' names will be randomly selected on Valentine's Day 2013 and announced in the Fertility Road Magazine, Fertility Road(s) website, Facebook and Twitter accounts.
• Preliminary tests of suitability may be required. Please see below for full terms and conditions criteria.
A 20% discount will be offered after Valentine's Day, 2013 to everyone who enters the competition, so everyone is a WINNER!