- Advertisement -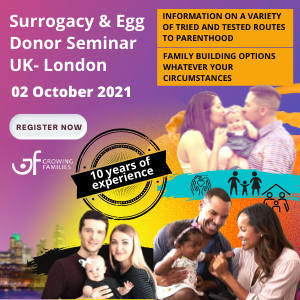 To match the desire for information and knowledge, Alternative Family Week is a week-long series of UK events held from September 13-19, each aimed at raising awareness about modern families and giving advice to would-be mums and dads.
Figures released by the ONS back up the obvious fact that, in 2014, families come in all different shapes and sizes. And there sits a reality that is certainly going to continue in the years to come as single men, single women and same-sex couples find extra ways in which to explore starting or extending a family.
Last year's event was covered by ITV's This Morning, Radio 4, Mail Online, The Guardian and Evening Standard.
Here's a rundown of what's in store in 2015:
ALTERNATIVE FAMILY WEEK EVENTS 2015
Out with the Family's London Zoo
Alternative Family Week 2015 launches at London Zoo on Sunday, September 14, with Out with the Family. The day out is aimed at same-sex families and their friends and will include entry to London Zoo, lunch and activities, with both kids and adults invited in throughout the day.
In seminar
The London Women's Clinic's popular INSEMINAR events have been running for eight years and are a great chance to learn more about treatment with donor sperm.
The session can guide you through selecting a sperm donor, your fertility and possible treatments, such as donor insemination, IVF, egg sharing and egg donation. Legal implications and how to support yourself through treatment will also be discussed at the event on Thursday, September 17.
Alternative Parenting Show
The week concludes at the Alternative Parenting Show on Saturday, September 20, at the Grand Connaught Rooms, in Holborn, London. An established exhibition with advice and exhibitors, it offers extensive, detailed, impartial and accurate information on alternative ways to start a family.
The Alternative Parenting Show is the original and biggest show of its kind. It provides a one-stop-shop, which gives valuable information to same-sex and heterosexual couples, plus single men and women, on how to make the dream of having a family a reality.
In today's society families are made up of many different combinations, which brings the need for fresh information on parenting. The show will include advice from leading experts in their field in terms of how to navigate through the minefield of having a child. Top areas include legal provision, surrogacy, fertility, co-parenting, fostering and adoption.
This one-day event provides you with the opportunity to chat to professionals in an informal atmosphere. There will also be a series of seminars and focus groups where you can explore in more detail the areas that interest you.
The show is run by event and publishing specialist Square Peg Media and has been sponsored by The London Women's Clinic every year since launch. The London Women's Clinic is the fertility clinic of choice for lesbian couples and single women, helping their clients take control of their future fertility.
There will be additional events announced before September, so keep an eye on the website alternativeparenting.co.uk/alternative-family-week, and follow us @Alt_Parenting.