Infertility affects many people around the world. However, some people find that they are unhappy with the IVF treatment provided in their own countries due to legal factors, costs and other issues. As a result, they seek treatment overseas. Many countries provide IVF treatment to international patients. Citizens who are unable to access the fertility care they want at home can travel to another country and seek high-quality IVF treatment overseas.
IVF Abroad Costs
IVF costs can often be high, so many people prefer to seek more affordable treatment abroad. Sometimes there are legal aspects to consider. For example, a woman may be over the legal age limit to receive treatment in one country but legally able to in another. Egg donor availability is another important issue. Sometimes the availability is limited in some countries due to legal aspects and there is far more availability in other countries.
IVF Abroad Success Rates
Success rates may be higher in certain countries for all kinds of reasons, including the quality of the clinics, doctors and the level of expertise. Sometimes patients have already undergone a few IVF cycles that have failed, and they are now seeking other experts and opinions. But choosing the right destination can be a challenge. Each country and clinic will differ in terms of treatment availability, legal aspects and costs, so choosing the right clinic within a country is not always easy.
Choosing a Country for IVF Treatment Abroad
So, how should you choose a country to receive IVF treatment? This is a big decision, and there are several factors to consider. Firstly, is the treatment that you want available in the country? Different countries provide different types of treatment, so make sure the treatment that you want is available Are there any restrictions in place in the country that will prevent you from receiving treatment? For example, many countries have a maximum age limit for women, and many countries will only provide treatment to heterosexual couples and single women.
The cost of IVF treatment is another important issue, and you will have to decide whether the cost matches your budget. Costs vary considerably from country to country. You should also consider the number of visits that you will need to make in order to complete the treatment. A country that is a long way from you may not be convenient if you need to make multiple trips.
The legal aspects of IVF treatment in the country are also important. For example, in some destinations, egg donation is strictly anonymous while in other countries non-anonymous donation is an option. There are also legal aspects regarding ICSI treatments.
In countries where egg donors are anonymous, the level of information provided about the donor can vary. Sometimes only very basic information is provided, while in other countries more detailed information is available.
What Is the Best Overseas IVF Destination for Me?
The best destination to receive IVF abroad will depend on your situation. There is no one "best" destination, and it will depend on several factors. There are four important areas to consider:
Your treatment expectations regarding the techniques that are used, the race of the donor and the donor availability.
Your budget, which is highly personal. When looking at the average cost of treatment, don't forget to factor in accommodation and flights. Also, remember that two or three visits are usually necessary.
Your age is another important factor. There are woman age limits when you go for IVF abroad. If you are aged 45 or over, there are many countries and clinics that will require an additional qualification test.
Your marital status will also play a role. Many countries will not provide treatment to homosexual couples, and there may also be restrictions for single women.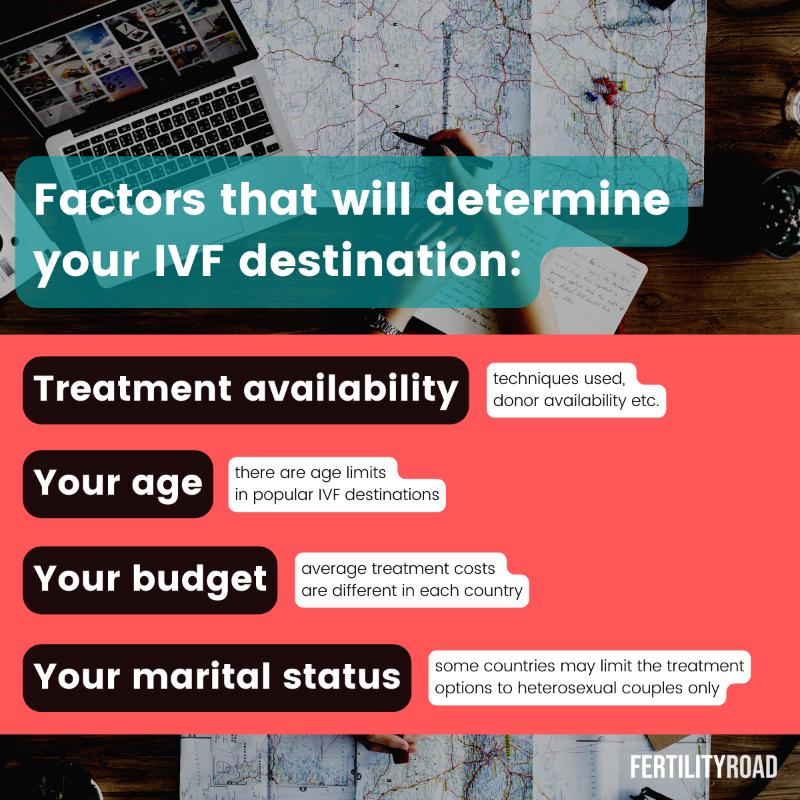 Top 7 Countries for IVF Abroad
No country can be said to be the best country for treatment. However, there are several countries that are very popular destinations for receiving IVF treatment. These countries provide a combination of excellent IVF treatment availability, liberal IVF laws and affordable costs compared to other European countries.
However, each country is different, and the differences in treatment options may affect which destination is right for you, At FertilityRoad, we have comprehensive IVF abroad guides for seven of the most popular countries for IVF treatment in Europe.
Top 7 IVF countries for IVF Abroad
IVF in Spain
While not the cheapest destination, Spain is very popular for several reasons. These include its liberal IVF laws, good treatment availability, lots of clinics specialising in IVF ICSI and egg donation IVF, good availability of egg donors of different races, and the fact that it is a popular holiday destination to combine IVF treatment with a relaxing break.
IVF in Czech Republic
One of the reasons the Czech Republic is a popular destination is because of its affordable IVF treatment. However, there is more to the Czech Republic than its prices. It is also popular because there is good availability of Caucasian donors, and all IVF treatments options are available in the country.
IVF in Greece

Greece has many excellent clinics that specialise in IVF ICSI and egg donation. Egg donor availability is very good, and there are lots of different ethnicities to choose from. Because it is a popular holiday destination, Greece is a good option for anyone who wants to combine IVF treatment with a holiday.
IVF in North Cyprus



Another popular holiday destination, North Cyprus is also popular for IVF treatment for patients across Europe and beyond. There is excellent availability of all IVF treatments here, and older patients up to 55 years old can also receive treatment in the country.
IVF in Ukraine


Ukraine is a very affordable destination for IVF treatment, which is one of its most appealing factors. However, it also has excellent clinics and very good treatment availability including IVF-ICSI, donor eggs and donor embryos. There is also no legal age limit for IVF patients.
IVF in Russia
Russia has a lot of excellent clinics in major cities like Moscow as well as highly experienced doctors. In terms of IVF costs, it is also a relatively affordable destination compared to many other European destinations, which is part of its appeal.
IVF in Latvia
Many people across Europe and beyond choose Latvia to receive IVF treatment for several reasons. Not only is the treatment of a very high quality with excellent IVF clinics, but there is also good availability of egg donors of various ethnicities including Caucasian and Scandinavian.
Source: IVF Abroad and popular IVF destinations, own study - 2021.