- Advertisement -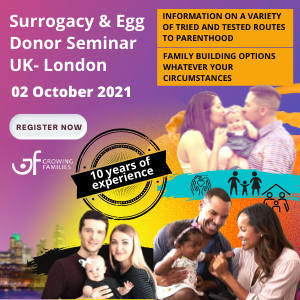 FIV Marbella is honoured to join the fantastic 2019 Fertility Journeys project, in collaboration with Fertility Road magazine, to help a couple or individual to fulfil their dream of building a family. The quality of care, our extensive experience and the personal and humane treatment of our staff differentiate us.
Infertility journeys can be long and sometimes discouraging. At FIV Marbella we are aware of this and we are very focused on making this journey as easy as possible for our patients. Because behind each oocyte, each needle, each egg collection … there is a story of overcoming and hope. A story of people who have a dream: to start or expand their family. Fulfilling that dream is our goal.
FIV Marbella
Founded in Marbella in 2012, FIV Marbella is a reference assisted reproduction clinic on the Costa del Sol and has offices in Málaga, Barcelona, Milan and Madrid. Formed by a multidisciplinary group of medical professionals; we have ISO 9001 accreditation, which certifies the quality of all our treatments. For us, each patient is unique and each case is a challenge.
Ovobank is integrated within the facilities of FIV Marbella, the first European donor egg bank, allowing egg donation treatments to have almost no waiting lists, thanks to the use of vitrified oocytes and its large pool of donors.
Our Clinical Director, Enrique Criado Scholz, has imported the best laboratory techniques and protocols, based on his extensive career as a clinical embryologist in Spain, Italy and the United States, which together with the extensive experience of the Medical Director, Daniel Sosa, differentiates FIV Marbella from the rest of assisted reproduction clinics.
Our philosophy is based on clarity, simplicity and humanity to provide the best service, not only
therapeutic but also on a personal level. We are aware of how important it is for a woman or a couple to make the decision of having a child, so we provide direct and personal contact with all of our patients throughout the process to achieve the desired pregnancy. At FIV Marbella we are transparent. We want our patients to feel this. That's why one of the walls of our IVF laboratory is glass.
We have incorporated the latest scientific advances into our facilities in relation to bio-medical, technical or computer knowledge, as well as equipment with the best and latest technology to carry out our work.
At FIV Marbella we are convinced that the laboratory is the engine of any assisted reproduction clinic. Therefore, we invest most of our resources in improving the equipment of our laboratories with the aim of increasing the probability of success of our patients. We have three different laboratories: IVF, Andrology and Research and Development.
FIV Marbella 
International Patient Care
Our International Patient Care Area offers continuous support throughout the process making our patients feel comfortable at all times. The language barrier will not be a problem as there will be a translator-coordinator with them at all times throughout the treatment; meeting the individual needs of each patient, facilitating communication with the clinic staff and offering support during consultations with the doctor.
Beginning an assisted reproduction treatment is not easy; it is a delicate and fragile step. We are fully aware of how important it is to feel comfortable and supported, and the Patient Care Department will be responsible for transmitting all the necessary care and assistance being by their side every step of the way.
Patients from all over the world, from different areas of the UK to places as far away as New Zealand or Australia have already placed their trust in us.
In 2019, for the first time, FIV Marbella is taking part in this Fertility Road Magazine project, offering a completely FREE Egg Donation cycle, in Spain (where egg donation is totally anonymous) to one lucky individual or couple; who otherwise may not be able to afford the costly treatment they need. The winner will give everyone the opportunity to go behind the scenes, following every step of their fertility journey and hopefully achieve their dream of conceiving.
With this FIV Marbella also wants to give infertility a voice, raise awareness and be able to talk about it allowing people who suffer from infertility to feel more and more supported.
Marbella, sunny paradise in southern Spain
Malaga province is becoming one of the most important destinations in the so-called "reproductive tourism" because what increasingly attracts more couples with infertility problems to our latitudes are not museums or the sun and beaches, but the quality of care of medical professionals in the assisted reproduction sector, as well as an advanced and modern legal framework. These two reasons, together with the much more affordable prices of these techniques and the great variety of choice of clinics, explain the rise of foreign patients in these types of treatments.
Patient's stay on the Costa del Sol, for treatment, will be around 5 days, depending on the technique to be applied and the leisure plans they have. Once the treatment is finalized, the patient's pregnancy follow-up will be in their home country, as it will develop exactly as a natural pregnancy would.
FIV Marbella's Fertility Journey
What's on offer
First consultation at FIV Marbella.
Full egg donation treatment.
OVOMatch®
The selected patient (s) will be matched with a fully screened egg donor, the matching will be done using our EXCLUSIVE new APP http://www.ovobankspain.com/®
FIV Marbella will cover the costs of all the donor compensation, screening, medications, procedures.
Certain costs will be responsibility of the patients; flights, accommodation, recipient medications, preliminary investigations and necessary monitoring in their hometown throughout treatment.
FIV Marbella's Fertility Journey is open to single women or couples under the age of 50, of all sexual orientations.
In return the Fertility Journey patients agree to share their story through videos and interviews made by FIV Marbella and Fertility Road teams.
We will contact all participants to arrange a skype consultation to get to know more about their case, prior to announcing the winner. We look forward to hearing from you and helping you fulfil your dream in 2019.