Having a baby is among the most miraculous moments in life. And when it comes to preconception and pregnancy, Fairhaven Health is with you every step of the way – offering a tradition of unsurpassed product quality, service, and compassion for each customer's unique journey to parenthood.
Fairhaven Health, a leading supplier of natural fertility, pregnancy and nursing-related products, offers a compelling "first step" for couples experiencing difficulty in conceiving. Having a baby can be a miraculous, life-changing experience.
Unfortunately, for many, achieving pregnancy can be a challenging and stressful experience as well – roughly 1 in 6 couples will have difficulty conceiving.
Historically, couples with infertility issues have been steered toward prescription drugs and costly, invasive treatments to help them become pregnant. However, thanks to a greater availability of online research along with a wider acceptance of alternative medicine, many are now turning to natural solutions before resorting to costly medical interventions.
Fairhaven Health has partnered with leading fertility expert and OB-GYN, Dr. Amos Grunebaum, to create a product line that helps couples conceive naturally. Once pregnant, Fairhaven Health offers products that provide the nutritional support women need to help ensure a healthy pregnancy and beyond.
But Fairhaven Health products are not just for couples who are having difficulty in conceiving, says Dr. Grunebaum. "Our FertilAid supplements are very popular with couples who are just beginning their conception efforts. These couples are simply looking to accelerate the time in which they are able to achieve pregnancy, and to do so in as healthy a manner as possible."
Fairhaven Health products receive overwhelmingly positive feedback from trying-to-conceive couples. Customers write in daily to share their own positive success stories, many of which had been trying to conceive for years without success.
Factors That Contribute to Difficulty in Conceiving
A Woman's Age
As women have entered the working world in increasing numbers, the average age at which they begin trying to conceive has risen. Unfortunately, a woman's ability to release healthy eggs for fertilization gradually declines. According to the American Fertility Association, the probability of having a baby decreases 3-5% per year after the age of 30.
Nutrition & Lifestyle
In today's hectic world, many people simply do not properly address their nutritional needs. Additionally, excess weight leads to decreased fertility and is among the main factors in preventing pregnancy.
Here, certain vitamins, nutritional supplements, and dietary changes can help to restore hormonal balance and improve a couple's chances of having a healthy baby. In addition, drinking alcohol, caffeine intake and smoking can negatively impact conception odds.
Cycle Irregularity
As conception can only occur 4-5 days prior to and on the day of ovulation, determining this 'fertile window' each cycle is critically important. Often times when a woman has an irregular cycle, i.e. a cycle length of under 21 days or over 36, determining this ovulation date can prove challenging.
Hormonal imbalance is an underlying factor of cycle irregularity and may cause women to not ovulate at all or to skip periods. Being overweight, excessive exercise and high-stress levels can also contribute to irregular cycles.
Popular Fairhaven Health Products to Help Couples Conceive
FertilAid for Women is a natural fertility enhancing supplement designed for trying-to-conceive women. An effective, non-prescription formula combines vitamins, minerals and antioxidants with a herbal fertility-enhancing blend designed to restore female hormone balance, promote regular ovulation and support overall reproductive wellness.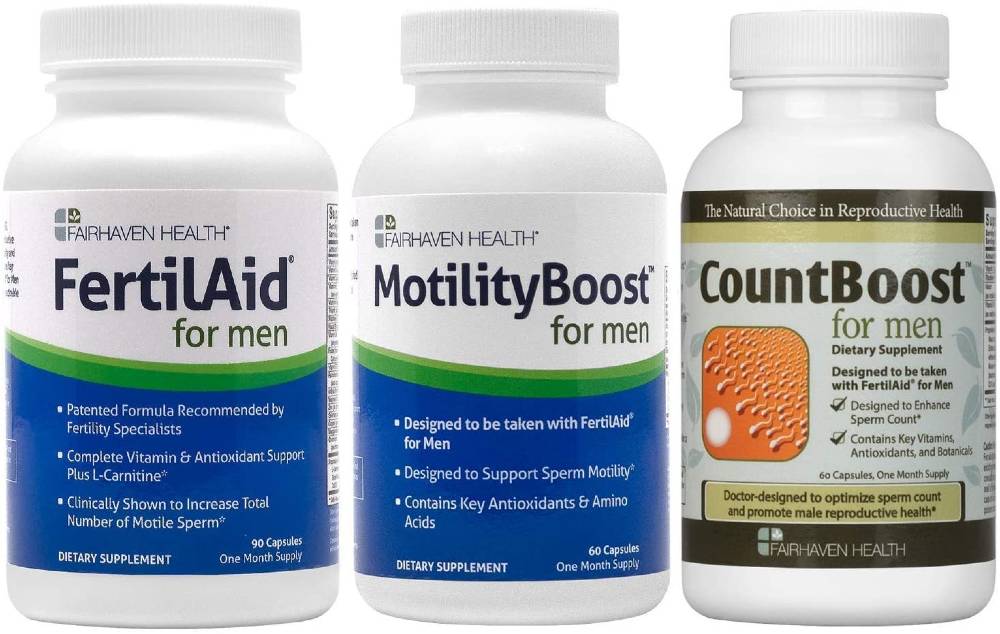 FertilAid for Men is an effective, non-prescription formula designed to improve male fertility safely and naturally. Clinically shown in a recent study to improve the total number of motile sperm, FertilAid for Men provides a comprehensive formula to improve sperm parameters such as count, motility, and morphology.
OvaCue Fertility Monitor predicts ovulation accurately up to 7 days in advance. OvaCue is a saliva-based monitor that measures electrolyte levels so no messy urine sticks are required. Features a full colour, calendar view display plus access to a free online fertility charting tool and community.