- Advertisement -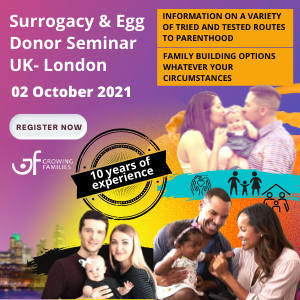 And so, the 2014 Fertility Journey came to a glorious end for cognitive hypnotherapist Russell Davis and Leah on the morning of March 19.
It brought to a close an incredible year for Leah and her partner James, who were struggling with secondary infertility and looking to find an alternative to IVF by tapping into the skill, expertise and insight of Russell Davis, who has helped countless clients conquer psychological gremlins in order to conceive.
Leah's situation was familiar in many ways. Firstly, she had a teenaged child, but now in another relationship wanted to add to the family. Secondly, she'd suffered miscarriages and was told the only route available was IVF, yet still carried a significant amount of emotional baggage and had lost touch with the innate wellbeing that we all need.
Leah started working with Russell in April last year, and almost a year on, her Fertility Journey was completed in the most fantastic way. In her own words, here's her final update.
Leah writes…
He's here!
Our wonderful perfect little miracle is here!! It's such a relief that little Joseph Jake Cruz (JJ for short), is healthy and thriving… such a delight!
Born on Thursday March 19 at 9.49am and weighing a healthy 7lb 5oz, JJ was safely delivered via elective Caesarean section. The procedure went well and we were even able to fi lm the birth from the TV monitor we viewed throughout. The staff were amazing too and really took on board every detailed request on my birth plan, even though it was a C-section. So right from the music we played, to the request to delay the cord clamping, the whole process was personal and calm and I would go through it again any day!
As my beautiful boy was passed to me for our first skin-to-skin cuddle the instant and pure love that I felt for him was overwhelming. I couldn't believe he was finally here in my arms. Our wish for so long had been granted and I felt complete!
I celebrated my 40th birthday in hospital the day after JJ's birth – indeed, being in the fog of the baby moon meant I totally forgot it was my birthday, but as far as I was concerned I had already received the best gift ever!
Now on day 18, the last two-and-a-half weeks have gone by in a blur of visitors and breast feeds. Our family and friends are overjoyed and we have been showered with gifts and cuddles for JJ.
I'm recovering well and, considering my age, I feel I have got away with a lot. The breast feeding is going well and JJ is thriving – he put on 12 ounces in six days… he certainly does feed a lot! All standard tests have come back normal and his thyroid levels have normalised which indicates he will have escaped inheriting my autoimmune disease… thank goodness!
As I look down at this precious little joy in my arms I have a feeling of completeness… I want for nothing more – we have our happy ever after!
James and I wish to thank Russell Davis for his laudable help in making our dreams come true, and the Fertility Road team for all their help and support in this amazing opportunity. You have truly been a blessing – thank you eternally!
When we started out on this journey five years ago we had no idea where it would take us, the things we would learn on the way, the invaluable people we would meet and how we would grow.
I have always believed that everything happens for a reason and while in the fog of fertility issues I could not see the justice in what I was going through, I look back now and smile with pride at what we have achieved, both individually and as a family.
I am much more content and at ease with life. And as a family we have become so close – we feel strong and confident enough to face any challenge life throws at us from here on in.
Finally I just want to say this – for those individuals and couples out there struggling with fertility issues I want you to know that I am proof that there is much that can be done naturally to achieve the baby wish. I was told IVF would be my only option, but Russell changed all that.
When all hope seems lost, don't give up. There are always choices –it's just our thinking gets in the way.