You can't make a move without being bombarded with the message 'GO VEGAN' or are you ready for Veganuary but making a living from being vegan is now a thing. In fact, vegan-based jobs are quite literally sprouting up across the UK with London leading the way for vegan revolution.
There has been a huge 284% surge in postings for 'vegan' jobs fuelled by Britons' growing interest in plant-based food and beauty products. The biggest jump in job postings cam in January 2019 as a quarter of a million people signed up Veganuary.
Vegan jobs are most commonly found in restaurants, the food production and beauty sectors, according to new data from the world's largest job site, Indeed.
In fact, new research from Indeed reveals that job postings with the word 'vegan' in the title have nearly quadrupled in just three years.
Bill Richards, UK managing director at global job site Indeed, comments: "An explosion in the popularity of vegan lifestyles has brought with it both business and employment opportunities.
"The 'Vegan Pound' is increasingly powerful. As restaurants, bars, the food industry as a whole – and the beauty sector – rush to cater to it, we've seen a surge in job creation.
"With a quarter of a million people switching to a vegan diet during Veganuary this year, veganism is becoming increasingly mainstream. In the workplace, we're seeing increasing numbers of employers catering to employees' values, with many introducing vegan-friendly policies and perks.
"And with many environmental campaigners also championing the plant-based diet as a simple but effective way for individuals to help tackle the climate crisis, its popularity is set to increase further.
"Our data shows this shift is encouraging more people to live vegan and even enabling some to make a living from veganism too."
Veganism has become a popular lifestyle choice for thousands of Brits, and consumers are increasingly demanding products which do not contain any animal products – both out of concern for their health and for ethical and environmental reasons. Indeed's data suggests those forces are now being felt in the labour market too.
Indeed's research, which coincides with World Vegan Day on November 1st, found that job postings with 'vegan' in the title rose 284% from July 2016 to July 2019. Meanwhile, postings with 'vegan' in the job description have risen by an incredible 276% since 2017 alone.
The rapid increase in employer demand for such vegan jobs, which appear most frequently in the food and beauty sectors, has coincided with an explosion in the number of vegan restaurants, shops, cafes and food products, along with the growing popularity of beauticians and hairdressers who use animal-free products.
Indeed's data also shows there is a strong supply of workers looking for such jobs, with third more candidates searching for vegan roles in 2019 compared to 2016 (up 34.4%).
The Vegan Society estimates there are currently 600,000 vegans in the UK, a four-fold increase on the 150,000 it counted just five years ago.
The analysis found almost two-fifths (38.1%) of vegan job postings were in London. The rest are spread around the country, with Essex (5.4%) registering the next highest number of job openings, followed by Edinburgh with 3% and Greater Manchester (3.1%).
Though job postings with 'vegan' in the description have risen steadily since 2017, January 2019 saw a sudden 28% spike in opportunities, coinciding with the biggest ever "Veganuary" – a campaign that encourages people to eat vegan during January. Postings have risen every month since then.
Graph: Jobs per million containing 'vegan' in the job description, 2017 to 2019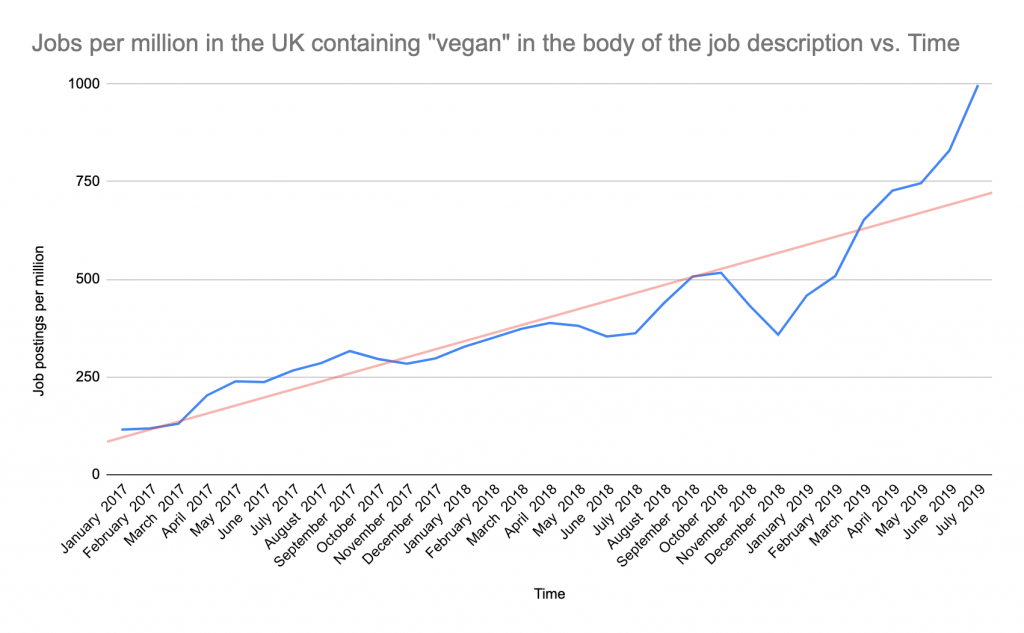 Restaurants and cafes account for the greatest number of 'vegan vacancies', with chefs, kitchen assistants and waiting staff all being in high demand. Other in-demand vegan roles are to be found in the food production sector, while an increasing proportion of beautician and hairdresser vacancies now come from businesses catering for vegan customers.
So there you have it. Switching to a vegan or plant-based diet is so much more than just about what you do or don't eat it, it's now a way for you to make living.