Ovusense fertility monitor is a breakthrough in ovulation monitoring by a British medical company will be presented at ASRM in Boston on 13th October 2013.
A remarkable new technical development by a British medical company is set to have a major impact on the burgeoning cost of fertility treatment which is being met by public health services, insurance companies and individuals all over the world.
The developer is Fertility Focus Ltd, a company pioneering new technologies for fertility. The product is OvuSense – an advanced ovulation fertility monitor and fertility tracker that delivers an unprecedented 99% sensitivity and 99% accuracy over 24 hours.
OvuSense predicts the onset of ovulation, detects the exact ovulation date just three days after it occurs, and provides all this information in real-time on the screen to the user. This performance, for the first time, puts the certainty of ultrasound in a handheld ovulation monitor.
The financial implications of OvuSense are significant as CEO of Fertility Focus, Robert Milnes, explains:
We see very positive benefits for clinicians and patients. For clinicians, real-time data on the timing of ovulation will enable better patient management and the more efficient use of ultrasound resources. Many patients who enter infertility treatment with 'unexplained infertility' will have a better chance of conceiving more quickly by understanding their cycle properly, and by their early treatment being monitored more closely.
Why use an OvuSense Fertility Monitor?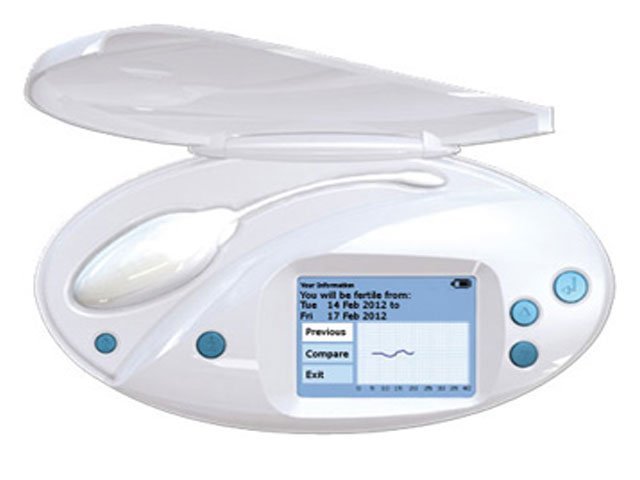 This certainty in ovulation detection also enables accurate prediction of the fertile window for each successive IVF cycle. The fertile window is the period of 5-6 days in which it is possible for a woman to get pregnant if egg and sperm are able to meet.
This information is extremely valuable to women struggling to get pregnant because it helps with planning, and reassures them that they are getting on with the solution. It is equally valuable to clinicians committed to providing the best possible diagnosis and treatment pathway for their patients.
Many methods of predicting the fertile window have been developed and some are heavily marketed but, for a variety of reasons, all fall short of the accuracy and convenience provided by the OvuSense fertility monitor app.
Fertility Focus is a company with an interesting ability to adapt concepts from other fields into its chosen specialist area. The OvuSense story began at Bristol Veterinary School, one of the world's leading animal science centres, where breakthroughs in bovine fertility research by two veterinary scientists led to the identification of the OvuSense concept for human fertility.
Fertility Focus was incorporated in 2005 to carry forward the ideas and a patent for intra-vaginal temperature measurement from Bristol University. Initial start-up capital from angel investors enabled the company to begin three years of intensive product development and the development of the further vital intellectual property which sets the OvuSense fertility monitor apart from previous inventions in this area.
This investment resulted in initial prototypes by 2008 and initial trials in 2009, achieved in close consultation and cooperation with clinicians, patients and investors.
Invaluable support was received from Norgenix and the UK regional venture capital company, Midven. Norgenix is the women's health subsidiary of South Carolina-based J.M. Smith Corporation, a privately-held conglomerate focussed in the areas of pharmacy distribution, healthcare and technology.
In 2009, Fertility Focus won the 'Best Entrepreneur and Investor Partnership' award from the SWAIN investor group, the original regional angel investors in the UK, and underlined a successful and 'investor-friendly' development programme with the "Medtech Investment of the Year" award from the British Business Angels Association in 2011.
Full clinical trials in Birmingham, England followed. The trials confirmed the scientific accuracy of the development by using direct comparison with ultrasound results and helped create a stratified results database. This database also confirmed the variability and unpredictability of the fertile window and, with excellent trial results, Fertility Focus presented a poster on the first iteration of OvuSense at ASRM 2012.
Reproductive science supports the OvuSense fertility monitor approach. There is a body of peer-reviewed research which dispels the myth of the regular 28 day cycle. This is no more than a confusing 'average' relevant to less than 30% of the female population. In reality, the female cycle varies from as little as 21 days to as many as 35 and the timing to predict ovulation and the fertile window are rarely consistent within these different cycle lengths.
Determined to deliver even better quality information, Fertility Focus has undertaken further intensive R&D during 2013 which has led to the launch of the second generation OvuSense fertility monitor just one year after launch. Work in 2013 has also resulted in two further clinical publications, one of which will be presented at this year's ASRM, as well as the all-important 510(k) clearance allowing the product to be marketed in the United States. These are all vital milestones in this young start-up's development.
Robert Milnes, goes on to describe the new development as
"an incredibly exciting period in which we discovered trends in core temperature data which, because of our unique vaginal measurement technology, we believe we were the first people ever to see. These results enabled us to programme and patent a more advanced and more predictive algorithm using state-of-the-art techniques. Fertility Focus has chosen the most prestigious reproductive medicine conference, ASRM, combined this year with the IFFS meeting, to launch the second generation OvuSense".
Ultrasound has emerged as the gold standard in the quest for understanding the fertile window, but it is only truly valuable if the scans are performed at the right time – and generally up to four scans are required per cycle, which presents an obstacle in terms of cost and patient convenience. OvuSense fertility monitoring system, combined with a single cycle scan for tracking the number of follicles, now offers a real practical alternative.
The emergence of OvuSense just eight years after the initial idea means that, with unexplained infertility rising as a percentage of all diagnoses, as many as 20% of the 150,000 IVF cycles undertaken annually in the USA and over 500,000 cycles in Europe might be avoided by providing a greater chance of conception earlier in the patient pathway.
Mike Rackley, COO and senior Vice President of Norgenix, concludes:
This is a great moment for us. We have been involved almost from the very beginning and are delighted to be bringing this remarkable innovation to the USA where it will enable many thousands of women and their clinicians to shorten the time it takes to achieve the dream of pregnancy.