- Advertisement -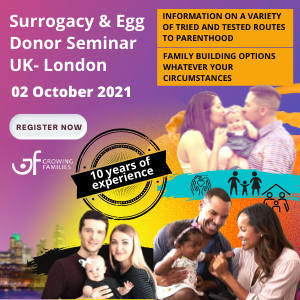 When is the right time to have a baby? Is there a definitive answer? Should finance and career be the deciding factors over age, relationship status, or health and fitness? Is it wiser to have a baby in your late teens when your energy levels are supposedly at their peak and you've youth and vitality on your side, or is being an older mum with life experience and perhaps more financial stability beneficial? Or is there, in reality, never a 'perfect' time other than when feels right for you? Our cross section of mums would suggest the latter may be the nearest thing to the truth.
The Teen Mum
Britain's high rate of teen pregnancy and birth makes for perpetual news stories and 'shock' statistics, despite the government's own data typifying an overall trend towards later childbearing. Since 1971, the average age of mothers at childbirth in England and Wales has increased by three years from 26.2 to 29.1, and over the past decade, the average age of women at the birth of their first child has risen by one-and-a-half years to reach 27.1. Teenage pregnancies though, have also increased, with figures released in 2009 showing a rise for the first time in five years, with conception rates among girls increasing from 40.9 per 1,000 in 2006 for those aged 15-17, to 41.9 per 1,000 in 2007.
Jo has two children, her first pregnancy was unexpected at 17, her second planned at 24. She is now 31 and has no regrets over being a young mum.
"I had my first baby when I was just 17, and it isn't something I'd particularly wish on my own daughters, but on reflection it has worked out very well for me. I now have a 14-year-old who some- times gets mistaken for my sister, and because I am still young enough to remember being a teenager, I feel much more able to empathise with her. As a result we have a very close relationship, and she feels able to share her problems with me quite openly."
But some aspects of pregnancy came as quite a shock to Jo – particularly the lasting effect it had on her physically:
"My first pregnancy really left its legacy – I am covered in stretch marks all over my body. I was always under the illusion that young skin was stretchy and supple, but apparently that doesn't equal no stretch marks! My stomach, waist and hips are seriously scarred.
"I can't say I particularly enjoyed being pregnant, either. First time round I was sick a lot – pretty much after every meal for the first four months. The second time I was actually only sick half a dozen times, but felt a hideous nausea throughout and was permanently exhausted. I was commuting two hours a day to work, and by the time I got home in the evening I would be shattered, with a pounding headache. Being so young, I didn't have any real pregnancy problems though – and clearly I am quite fertile – with my second baby, I came off the pill and was pregnant a month later, before I'd really even got used to the idea of trying."
Having devoted her late teens and twenties to pregnancy and babies, Jo feels in some ways that she is now 'over' motherhood:
"Being single at the moment, I haven't given a lot of thought to a third baby. Part of me would really like to do it again, if just to correct all the mistakes I feel I made first and second time around, and to do it all with a more 'grown-up' hat on. And then I think of the exhaustion of pregnancy, those awful early months with a newborn and no sleep, and I don't think I could face it again. When I was younger I had a lot more energy and enthusiasm. I almost feel now like I am coming out the other side of parent- hood – I've been a parent for nearly 15 years now – and I'm not sure I could start again. I would never say never though. I'm still young and who knows where my life might be five, or even 10 years from now?"
I chose to have kids at 27 and 30, and it proved a huge novelty amongst my friends at the time – most of them are just trying now in their late 30s. We hadn't had a chance to develop a lifestyle before we had kids so didn't have so much to miss when they were little. PATRICIA, 40
The Motherhood Delayers
Throughout the 1990s, 'having it all' almost become the phrase with which to parody the working mum – the woman who had her career and her kids. But for all those who skipped effortlessly from birthing pool to boardroom, there was another breed emerging – the motherhood delayers – those who made sure their life and careers were in good order before embracing pregnancy.
Lindsay, now 40, delayed mother- hood in favour of a career until her 30th birthday, when Mother Nature and the tick of her biological clock took over.
"I never wanted to have kids in my 20s, not at all. My 20s were for study, my career, having fun, going to parties. I got married at 24, and my husband had two children from a previous relationship whom I adored, so in a way I got to have my cake and eat it whatever. I was a part-time parent to two great kids without having to sacrifice my time or my job – it was wonderful!
Someone once told me that if you wait until you can afford to have children you will never have them. We kept that in mind and it is so true. JULIE, 29
"But I never ruled out having my own babies. I always figured that one day I would, and that day came when I was 30 and my hormones kicked in. I suddenly realised that I desperately wanted a baby. One of my elder sisters who was childless by choice told me just to ignore the feelings and they would go away! I knew in my heart though that it was more than just hormonal: I really wanted a baby."
After much consultation with her husband, Lindsay finally felt ready to begin trying to conceive at the age of 33.
"By the time I was 33 I knew for sure that having a baby really, really mattered to me, so we started trying. I thought I'd just get pregnant, you know? But it didn't happen. A year went by and still nothing. Two years passed. I wanted us to go and get tested but my husband was really reluctant. Even though he said that he was up for starting a family, it either had to just happen or it wasn't meant to be.
"This was rather heartbreaking for me, worrying that maybe I was missing out on a baby for something that actually could be quite insignificant and easily fixable. But I'd never know. I went once to the doctor who was really unhelpful and very condescending – along the lines of 'well if your husband won't get tested too there's really not any point'. I was too embarrassed to go again."
"Finally after nearly five years of trying for a baby, my husband was made redundant. It was the final straw. I just threw up my hands and said 'right, that's it. I give up. This just is never going to happen.' Then I almost immediately fell pregnant. But I knew in my heart that something was wrong. I went for the 12-week scan and sure enough, it was a 'missed' miscarriage. The baby had probably died around the five or six-week mark but it was still 'there'. I was devastated, thinking, 'well this is it, that took five years and now I'm 37. I don't really have another five years.' How- ever, miraculously, I got pregnant again almost straight away and had my baby boy, Daniel, a month after my 38th birthday. Just hours after the birth, my husband sat holding his new son in his hands. He looked up at me and said: 'Let's have another one!'"
The Multi-Decade Mum
You'd assume those who eschew the 2.4 children trend and add to their families throughout their fertile lives would have the 'what age is best?' debate neatly sewn up. Not so – Jackie, now 37, had her first baby at 29, then three more in her 30s. Her last baby was born last year when she was 36 – but she now wishes she'd begun motherhood earlier:
"I was 29 when I had my first baby. Now that I have four, I really wish I had had them earlier and not listened to the negative comments about how hard it is as a young mum. For some reason, when I was younger there was a part of me that felt I would never be able to have kids – a lack of confidence I guess. We had friends who'd had fertility problems and we lived through that with them, so we never took anything for granted. Our first baby took two attempts, but the others all happened immediately! With my last baby, I was hugely aware that 35 was somehow the 'cut off' point, but again, I had no problems."
"Despite wishing I had started my family earlier, having my babies was actually the best career move I have ever made – having the children gave me the kick I needed to get out of office life and do what I had always wanted to do in starting my own business. I didn't want to leave my children with childminders so knew I just had to get on with it and get the work in."
I think that the best age to have a baby is the age you're at when you have one! My family is all terribly fecund, so it came as a huge shock when I found that I didn't get pregnant at the drop of the hat. In fact it took five years. So instead of having my family in my early 30s I didn't get started until my late 30s. Lisa 39