For the 1 in 6 people in the UK experiencing fertility issues, finding the right information and unbiased advice is essential to set you on the right path to parenthood. Fertility is a widely debated topic in the media and it can be hard to know the truth behind the headlines and understand what options are best for you.
If you don't know which way to turn, why not visit The Fertility Show taking place on 4th-5th November at Olympia, London offering unrivalled access to the some of the world's leading fertility experts.
The Show is for everyone wanting to start a family. Whether you're considering IVF, want to find out about egg and sperm donation, need to understand alternative options such as surrogacy or simply want to know how to boost your fertility, then this event is for you.
Expert speaker programme
This year is set to be another fantastic show with a host of expert speakers and top names in the field of fertility. Already signed up are Professor Geeta Nargund, Zita West, Professor Allan Pacey, Professor Adam Balen and Professor Simon Fishel – to name a few. The speaker programme for 2017 promises to be one of the most informative and comprehensive ever, with 50 seminars over 2 days covering:
The latest treatment options and clinical advances
Factors to consider when choosing a fertility clinic in the UK and abroad
Advice on conditions which may affect fertility e.g. Polycystic Ovary Syndrome (PCOS) and endometriosis
Understanding fertility treatment "add-ons"
What men need to know about their fertility – testing it, boosting it, treating it
Exploring the benefits of and debate surrounding complementary therapies
Coping with issues such as recurrent miscarriage
Boosting fertility through nutrition
Alternative routes to parenting including donor conception, surrogacy and adoption
Visitors can also spend time at the Show talking directly to specialists from more than 100 exhibitors including support groups, UK and overseas clinics, complimentary therapists, nutritionists and wellbeing experts.
Fertility Question Time!
Visitor feedback from last year's Show confirmed that The Fertility Show's first ever Q&A stage was a real success. So, the lively forum will be returning for 2017, with sessions running throughout the two days, giving visitors an opportunity to put their questions directly to an exclusive expert panel.
Visitors to the Show are encouraged to take a seat at these informal "no ticket required" sessions, share their questions and either listen to or join in the expert discussion. For those who want to remain anonymous, questions can be posted confidentially and read out on their behalf.
The Q&A stage will be hosted by the brilliant Jessica Hepburn, Director of Fertility Fest and author of The Pursuit of Motherhood. With such recent personal experience of fertility treatment and a passion to support others in a similar situation, Jessica is ideally placed to help steer the Q&A sessions. At the Fertility Show in Manchester earlier this year, visitors and experts freely engaged in informative and lively debate, encouraged by Jessica's empathetic and inclusive approach.
Jessica is excited to be involved in The Fertility Show London 2017, commenting; "Going through IVF is a stressful process which can leave you with many unanswered questions.
At the Fertility Show in both London and Manchester, I was really encouraged to see the amount of people who attended the Q&A sessions and were happy to put their questions to the panel.
Having been through fertility treatment myself and listened to hundreds of different pieces of advice, I am able to understand what visitors are going through and how desperately they want a baby. I'm always moved to hear how my personal journey has helped other people – and so I'm looking forward again this year to hosting the Q&A stage, enabling people to address their fertility questions, hopes and fears."
Exploring all the options
The Fertility Show also provides advice and information on alternative routes to parenting such as surrogacy, egg donors, adoption and fostering. These options are of interest to heterosexual couples, same sex couples and single women. Seminars will explore relevant issues including the options available, logistical considerations, legal complexities and emotional challenges. Specialists due to speak at this year's show include Helen Prosser, non-profit surrogacy agency Brilliant Beginnings, Natalie Gamble, campaigner and founder of leading law firm Natalie Gamble Associates and Gemma Gordon from First4Adoption.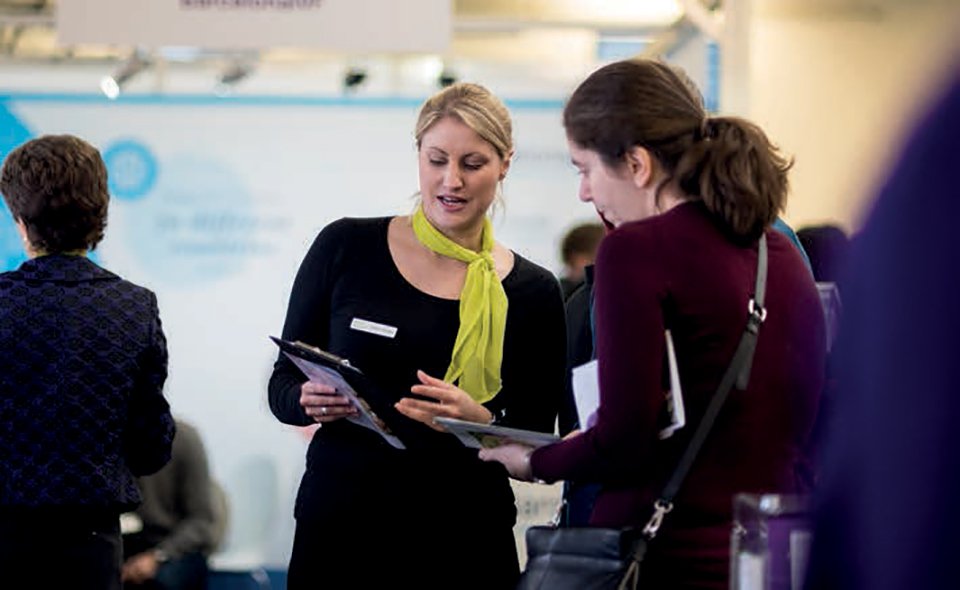 Support for visitors
Finding trustworthy advice on fertility is crucial for couples and, every year, The Fertility Show aims to provide a safe and discreet environment where people can get the information and advice they need, all in one place – and in confidence.
While some people are happy to speak openly about their fertility experiences, others are naturally more apprehensive. So, for anyone who needs some "time out" when they're at the Show to reflect or to talk to the supportive team at Fertility Network UK, visitors have access to a comfortable, private Quiet Room.
Many of the seminars and sessions at the Q&A stage also deal with the emotional aspects of fertility issues which many visitors can relate to. Visitors can seek advice and support from fertility counsellors, former fertility patients and representatives from the industry's independent organisations such as the Human Fertilisation and Embryology Association (HFEA), the British Fertility Society (BFS) and the British Infertility Counselling Network (BICA).
Susan Seenan, Chief Executive of Fertility Network UK, comments, "The Fertility Show is an opportunity to get good quality medical information from recognised experts and a feel for the treatment options out there. I think what's helpful for people who come to an event like this, is that they leave feeling much more empowered to make decisions about where they'd want to go and which path they want to follow after attending the Show. The more information that people have, the easier it is for them to take control of whatever it is that might be next for them in their journey towards becoming a parent."
Join the Show
With the unique opportunity to have one-to-one conversations in confidence with a range of fertility experts, those visiting the Show will leave feeling more enabled to make informed decisions about their fertility journey.
So, it's easy to see why the show is the biggest and highest attended event for fertility patients in the world. Tickets go on sale in August! Watch this space or visit fertilityshow.co.uk/london for full details about seminar speakers and exhibitors.
Follow the Show on Twitter @fertilityshow or join us on Facebook.
The Fertility Show – in numbers!
Up to 50 seminars over the 2 days
More than 100 exhibitors ranging from doctors to clinicians and practitioners including UK & overseas clinics, advice groups, charities, reflexologists, nutritionists and counsellors
Up to 5 Q&A sessions every day
Advance ticket prices:
Entry ticket – £12, Admissions to the show for either Saturday OR Sunday
Two – day ticket – £20, Admission to the show for both Saturday and Sunday