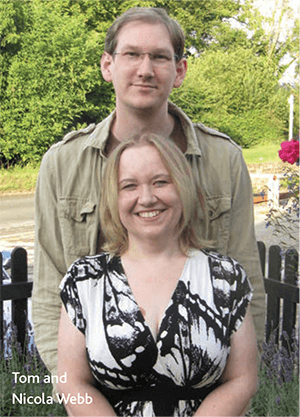 THE WEBBS
Nicola, 36, and Tom, 35, are from Manuden, near Bishop's Stortford, Hertfordshire. Nic is a researcher for Which? magazine and Tom is head of production for a media company. They write a blog, Journey to the Dark Side of the Womb, documenting their trials and tribulations.
How did you meet? Tom: In 2001 through a friend. How long have you been trying to conceive?
Nic: Coming up to 11 years.
What supplements have you used?
Nic: I've tried CassaNovum, NHP Fertility for women package, vitamin D (high strength), royal jelly and bee propolis.
Tom: I've tried NHP fertility for Men package, maca root, ginseng and I've now been on Androferti for three months. It's pleasant to drink – a lot easier than the pile of tablets that I'd been taking previously.
What treatments have you had?
Nic: Clomid five years ago, and one cycle of IVF. We're preparing for a second cycle at Bourn Hall Clinic near Cambridge.
Sperm tests?
Tom: All normal.
What challenges have you faced during the time you have been trying to conceive?
Tom: Stress, heartbreak (we had one natural miscarriage in 2010), self-blame, frustration, anxiety, depression. It's all-encompassing. Nicola lost 12 stone via a privately funded gastric bypass to be eligible for NHS IVF.
What changes would you like to see in the NHS and/or private clinics to make fertility journeys such as yours easier?
Nic: At least three fully funded cycles for couples with no children, taking each case into consideration individually. I was discharged from having treatment originally in 2009 until my BMI had reached 30. No support was given to help me lose weight.
Tom: Reproductive medicine and fertility clinics, as well as miscarriage treatments being treated in a separate area away from heavily pregnant women. It's soul-destroying being surrounded with pregnancy bumps when you've been trying for so long.
What changes would you like to see in society to make fertility journeys such as yours easier?
Tom: It needs to be a less taboo subject; people have avoided us as they don't know what to say. We need to talk about what does and doesn't help. Those that we have spoken to often come out with lots of clichés; which although well-meaning can be upsetting and frustrating.