Although it will not be until mid-September when Laura (41) and Ian (44), the 2018 runners-up visit us in Alicante for their embryo transfer, they already talked about the differences between IVF Spain and former clinics. They were impressed at how extensively their case had been studied by our fertility specialists.
"I think the longer you have treatment the more difficult it becomes. When you begin there's a naivety along the lines of, 'we'll have one, maybe two goes at IVF and have a baby in our arms'.
After 7 treatments (and lots of fertility add-ons) the feelings completely change. You feel terrified that it won't work, and you'll never become parents. You're scared it will work and you'll lose the baby again (Laura and Ian have experienced 5 losses). You're scared of physically going through the treatment as you've had so much. Each test and treatment creates fear – fear that it will hurt, be traumatizing, that it will give you more bad news. Then there's the impact on your own mental health and emotional well-being.
Can I handle this? What if the results say something's wrong with me? Will I blame myself? It starts to really damage your mental health and well-being. Financially you start to feel that you're risking everything, and it may not pay off.
For us we have renewed hope with IVF Spain. We have undergone tests that we've never had before (ERA, NK biopsy and KIR). We have paid for lots of very expensive blood tests and drugs but never received this kind of analysis. So, we feel as though the treatment is now specifically for us.
This creates more positivity, a feeling of being cared for and that maybe, just maybe, we'll get to be parents.
Plus, we're now using donor eggs. The hope starts to soar and with that comes excitement. Hope is the only thing that keeps you going and overcoming the fears I mentioned. This opportunity with IVF Spain has given us hope that we thought we'd lost."
Laura is 41 years old and has already been through traumatic losses including an ectopic pregnancy. Due to this and to the fact that Laura suffers from recurrent miscarriage, our medical team at IVF Spain recommended an egg donation treatment to increase their chances.
The couple is thankful for the egg donation process being anonymous, as otherwise, it would be really difficult to find a donor:
"For us, it's taken some of the pressure away. I can't imagine how difficult it would be to choose a donor ourselves. But putting your complete trust into someone else's hands is hard.
We've explored whether it would be better for our future child to know the donor. I think that's something we'll never know. But we hope that he/she will understand our decision to choose an anonymous donor. It would be good to know a little more about the heritage of the donor but then we also know that we often don't even know our own heritage. We'll make sure Spain is a key part of their story.
It's also really odd to not know who this person is. What they look like and personality. What's motivating them to help us. One of the things I've been really consumed with is the gratitude you have for this person. I'd like to thank them but can't.
Anonymity means we have a chance to become parents. Without it there'd be a shortage of donors like there is in the UK. For us, this makes it a wonderful gift – a chance to hopefully find a donor that is perfectly matched to us genetically (due to the KIR tests) as well as in physical looks.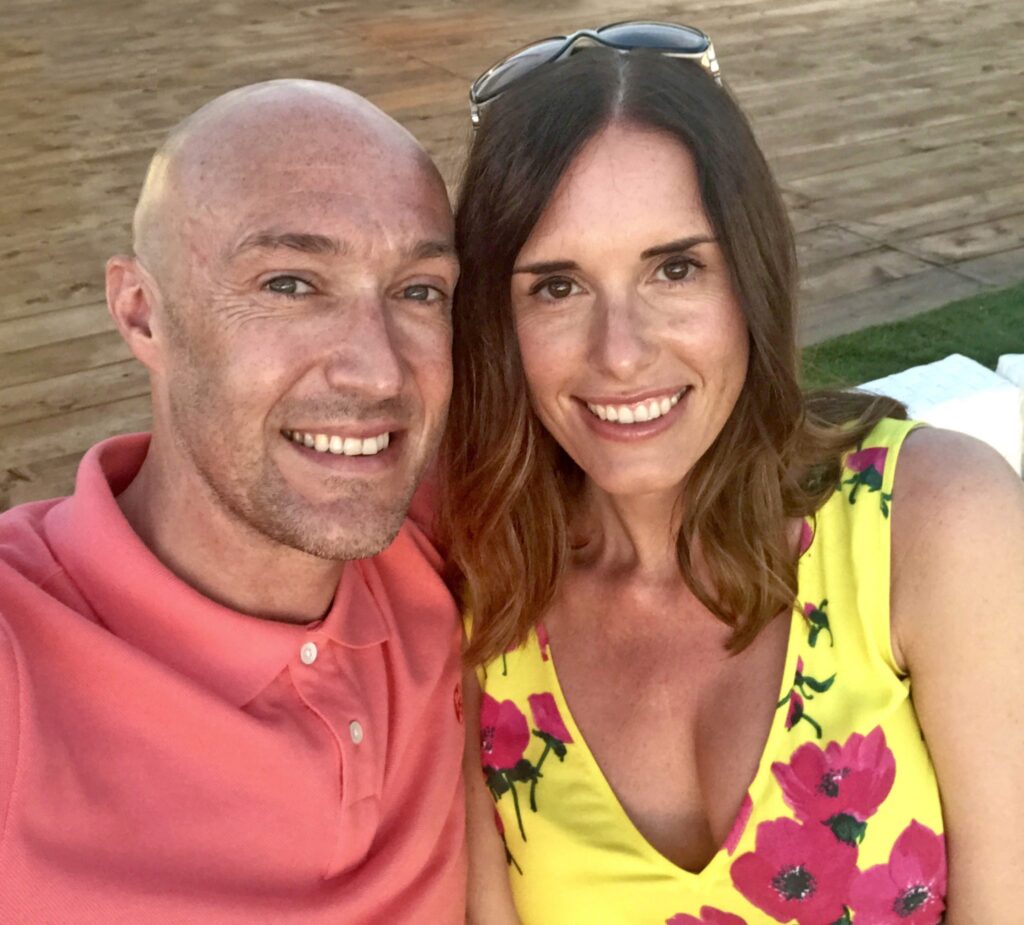 I can't stop thinking about what our future child will look like – but I think that's quite normal" says Laura.
Immunologically speaking, finding a matching donor for Laura is certainly a challenging task, which is why IVF Spain suggested that we find out her KIR via a blood test. Ian was also tested for his HLA-C in order to determine whether the maternal – foetal interaction will be optimal or not.
Thanks to the KIR-HLA-C genotyping test it is possible to determine if the uterine KIR and the embryonic HLA-C will both be compatible. If so, the pregnancy will carry on successfully; if not, then the most probable outcome will be an unviable pregnancy and subsequent miscarriage.
"We carried out the KIR-HLA-C genotyping and concluded that the patient had a KIR AA. It is known that KIR expressed by the natural killer cells present in the maternal part and the HLA presented by the trophoblastic cells together will influence the outcome of the pregnancy. With Laura's KIR AA variant, the sperm would have to be HLA C1 C1 and the HLA of the donor should be as well HLA C1 C1; as her husband has a HLA C1 C2 variant, we will treat her with a medication that reduces her immune-genetic reaction. We believe that not paying attention to this issue in the past is what may have caused the implantation to fail" suspects fertility specialist Dr Isabel Herrera.
We tend to recommend a single embryo transfer, as it has been proven that on patients with an immunological profile such as Laura's, double embryo transfers would increase the immunogenetic reaction, hindering the achievement of a pregnancy" says Dr. Herrera.
It is also known that these cases tend to have a higher risk of pre-eclampsia, late spontaneous abortion or miscarriage.
Until their transfer day the couple will try to enjoy summer just as any other couple would;
"I've tried to just carry on as normal. Remain healthy, take pre-conception vitamins. Reach out and get support through the Donor Conception Network in the UK and connect with other people going down the DE route via online forums. It's quite isolating and scary so it's important to reach out and not feel so alone.
I'm trying to relax a little – not so easy with work but it's a work in progress. I need to get that bit sorted now treatment is on the horizon."