Quirónsalud University Hospital offered free IVF treatment to one of Fertility Road readers
Stacey & Kurt applied and was successful in their application
COVID-19 put their first visit on hold
September clinic held a video consultation with the couple
Over the summer period we have been in regular contact with Dr Gosalvez and Marta to closely monitor the situation in Madrid and also to see whether it was still possible for us to travel to start our journey. We were liaising with them both by email before arranging a video consultation with the doctor during September.
During our initial consultation we discussed our personal details, our reasons for wanting to start our journey in Madrid and also our previous IVF treatment in the UK. We were in constant discussion with Marta, who advised that the usual hotel they use, Hotel Principe Pio, had closed for the rest of the year due to the Covid situation and for refurbishments. We discussed that we would need to find our own accommodation for the trip. Marta sent lots of different types of accommodation that she would recommend. We decided that the one that suited our needs most was Be Mate Plaza Espana.
Monday 12th October
The day after Stacey's 29th birthday. Excited and slightly nervous, we head to Heathrow Airport. It's the first time we have flown from Heathrow, so takes us a little bit of time to get our bearings when we arrive. We check in and drop off our bags at the Iberia Express check in desk before the usual routine of passing through security. Surprisingly, the airport appears to be running as close to usual as possible despite all of the Covid concerns. When we board the plane, the Flight Attendants are handing out sanitising wipes to clean down our seats and any other areas that we may touch. All feels Covid safe so far!
We land at Madrid Barajas Adolfo Suarez Airport on Spanish National Day (Fiesta Nacional de Espana). Collecting our luggage we head off to meet Alberto, our taxi driver, to take us to the apartment. On the journey there he tells us about the celebrations and parade that happens on this day every year, with this year being the exception due to Covid 19.
We check in at our apartment at Be Mate Plaza, Espana and decided to relax for the rest of the day.
Tuesday 13th October
Our first appointment at the Universitario Quironsalud Madrid Hospital. This is our first "in person" meeting with Marta Gutierrez Garcia and Dr Antonio Gosalvez Vega. They were both very friendly on our arrival, helping us to feel at ease when explaining the course of action for that week. We both had Viral blood tests done, with Stacey also having an ultrasound scan and blood tests to measure her hormone levels and Kurt having to give a semen sample for the IVF survival test!
After all of our test we headed back to the apartment before heading out to find somewhere to get some lunch. We wander down a side road off Gran Via (Spain's version of Oxford Street) and head to a restaurant where a few locals are eating and drinking. Heading inside we are directed off to a table where we do our best to order from the menu. When the food arrived we quickly realised our Spanish ordering isn't the best!
After lunch, we took a walk to Plaza Mayor and Puerta Del Sol, both of which were completely empty.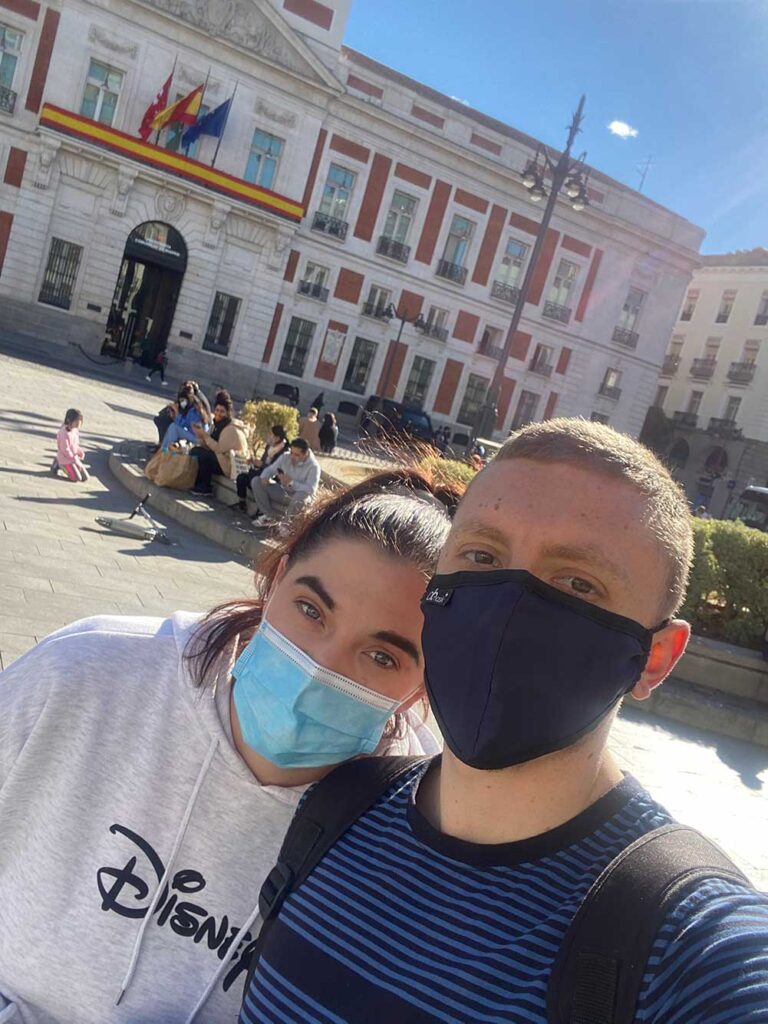 Wednesday 14th October
We are back at the hospital today to find out the results of our tests from yesterday. Both of our viral blood tests come back OK. Stacey's hormone levels showing the cycle will be due in approx 1-3 weeks. The doctor explained the medication we would need to take back to the UK which was (225 FSH & Vaginal Progesterone).
FSH is premixed in a pen to be injected everyday, starting on day three of my cycle. The doctor advises us we must be back in Madrid on day 11 of my cycle in order for blood tests, ultrasound and the next step of treatment to start. After reviewing the sperm survival test our doctor advised to use ICSI rather than IVF, and that embryo glue and Embryoscope were used as standard procedure in Quirónsalud, Madrid unlike some other Units and in the UK and these are additional chargeable items.
Looking at my results compared to the last IVF treatment back in the UK, the doctor explained that we would have a better chance of success using a treatment plan which is appropriate to embryo vitrification and also suitable for donors, whereby I would be taking medication for only 11 days before egg collection, rather than the long cycle that I did back in the UK.
Thursday 15th October
No hospital appointments today, so we spent the day out seeing the sights of Madrid (that were still open). Close to where we were staying were the Temple of Debod and the Royal Palace. We then headed towards Gran Via again stopping in a souvenir shop. The shop owner was so pleased to see us due to lack of tourism from the effects of Covid when we walked in he said he would give us 50% off everything in the shop.
Our next stop was Chocolateria San Gines which was founded in 1894 (one of the oldest Chocolate shops in the capital) for chocolate and churros. We walked these off in the afternoon by walking round El Retiro Park. We must have easily covered nearly 10 miles walking today!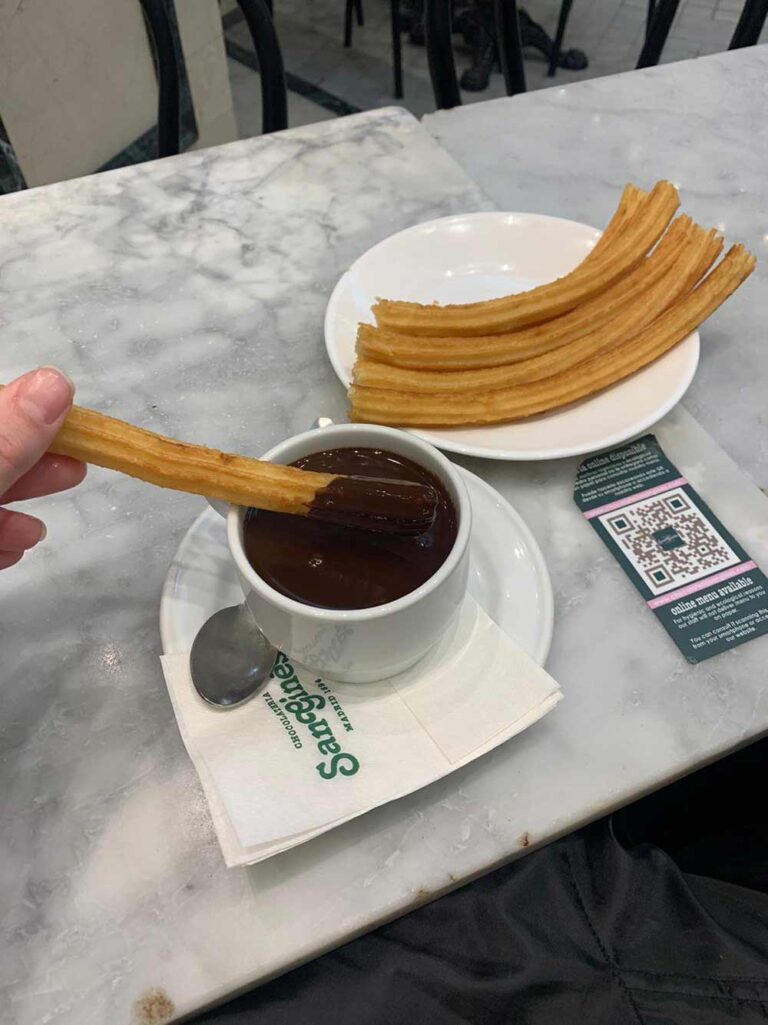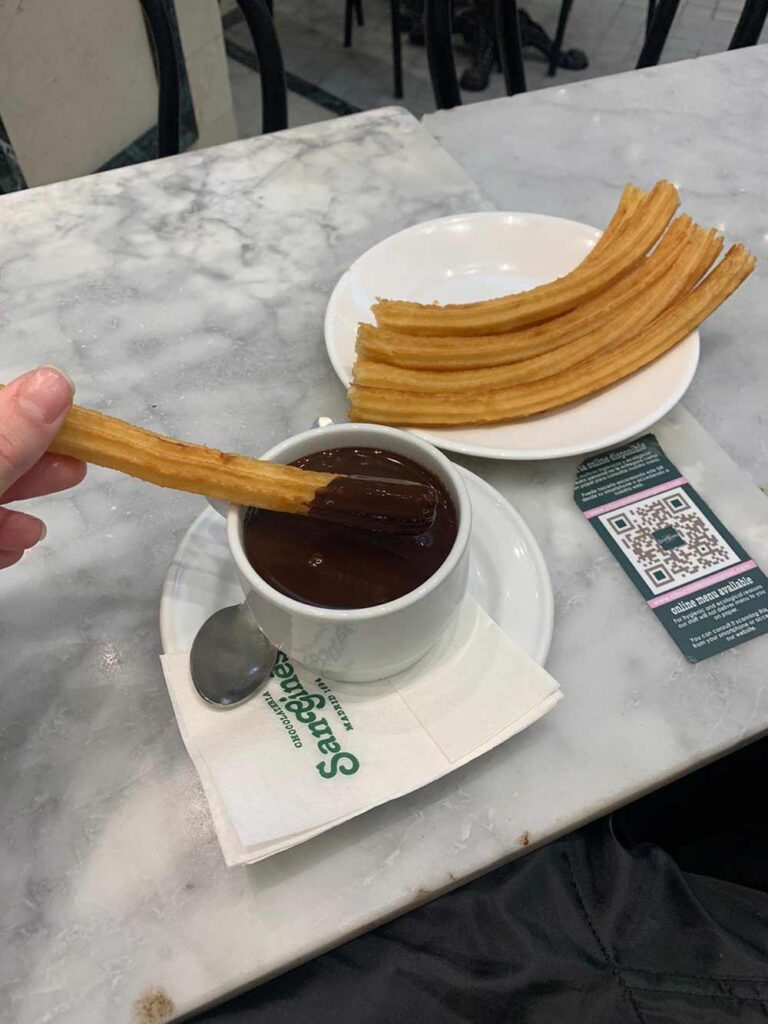 Friday 16th October
We flew back to London Heathrow.
Friday 23rd October
Stacey woke to find she had started her monthly cycle as predicted by Dr Gosalvez. We contacted the Doctor by the Whatsapp group we had set up confirming medication to start on day three before arranging to be in Madrid on day 11.
Sunday 25th October
The afternoon was spent looking at flights for the following week. We booked to fly out on Sunday the 1st from Gatwick airport with Air Europa, returning on Saturday the 7th.We also booked to return to Be Mate Plaza Espana for the duration of our stay. What an absolute whirlwind!
Thursday 29th October
Judith (unit Psychologist and foreign coordinator) confirmed our appointment with Dr Gosalvez on Monday 2nd of November @ 12.45pm.
Saturday 31st October (Halloween)
Boris Johnson announces a second UK lockdown beginning at a minute passed midnight from Thursday the 4th of November, despite this we still intend to carry on with our plans to travel.
Sunday 1st November
We headed down to Gatwick airport (nervous but full of hope). The airport was the emptiest we have ever seen. Despite this the check in staff still managed to delay the flight in boarding everybody extremely slowly. The flight itself was fairly uncomfortable due to weather conditions outside, it felt like at one point the plane was sideways as we left the runway. To make things even worse the luggage took nearly two hours to arrive at the conveyor in the airport.
Monday 2nd November
We did not realise that we have once again travelled on a Spanish national holiday (All Saints Day). We head off in our hire car for the appointment at 12.45pm giving ourselves plenty of time to adjust to driving on the opposite side of the road.
The doctor meets us at the hospital even though it was a national bank holiday (would that happen back in the UK? Definitely not). Stacey had a blood test to check hormone levels and an internal ultrasound scan. The Doctor advises the follicles are developing well and that the egg collection will go ahead for Wednesday. The doctor also shows Kurt how to do the trigger injection with strict instructions on when it should be done.
Tuesday 3rd November
We spent the day in the apartment resting and making full use of Netflix!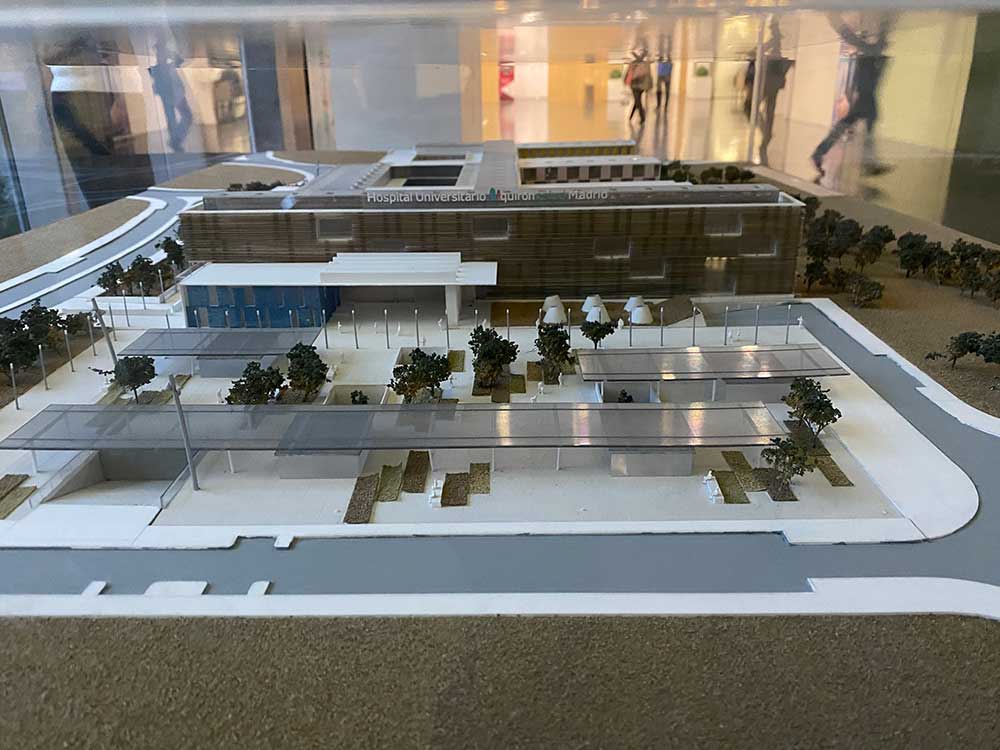 Wednesday 4th November
Early start as we need to be at the hospital for the egg collection at 8am. Stacey was fasting from previous night, arriving at the hospital and going straight down to theatre. Stacey felt a little nervous and excited. It all feels so real right now.
Despite the language barrier, the theatre staff was so caring and kind making I felt at ease throughout the whole procedure. Kurt does his business!
After the collection we went to the onsite restaurant for breakfast before we had to go back down to the clinic for an ultrasound to make sure there was no internal bleeding. Later in the afternoon, one of the embryologists called to advise they had collected 16 eggs, 14 of which they were suitable for ICSI.
Absolutely fantastic news!!
Thursday 5th November
"The rain in Spain falls mainly on the plain!" Audrey Hepburn once sang. The third day of continuous rain. Making the most of the brief stop in the rain, we headed out for a walk. The embryologist called at approx 10am and updated us that 9 embryos are currently going strong. They will monitor them overnight before deciding whether they will be frozen on Friday or Saturday. We have our next appointment at hospital at 1.30pm.
On arrival, Dr Gosalvez carries out another ultrasound and confirms no internal bleeding. We discuss with the Doctor our third trip for the embryo transfer will be on my next natural cycle. We are given prescriptions for Estradiol which must be started on day 2 of my next cycle and Utrogestan which must be started around day 10 of my cycle. We also discussed that we must return on day 10 for Ultrasound and blood tests before deciding the day of transfer based on the results. We managed to locate a pharmacy and pick up the medication needed to come home with us.
Throughout our whole experience so far, we cannot fault the staff at the Hospital or the care and attention from the Doctor and his team at the hospital. Marta has been regularly in touch with us checking how we are and how we are feeling right from the initial point of contact. As daft as it sounds, one of the most simplest things which means the most is that we are always referred to as Stacey and Kurt. Having gone through a cycle of IVF in the UK previously where you are always referred to as a number, and the clinics can be funny if you don't remember this number, our experience with QuironSalud has made us feel like a part of their family already.
Friday 6th November
A bit of a slow day today … a walk up Gran Via and we noticed that the locals have started to put up the Christmas decorations. We spotted our first Christmas tree for the year outside the Teatro Real before heading back to pack for our flight the next morning.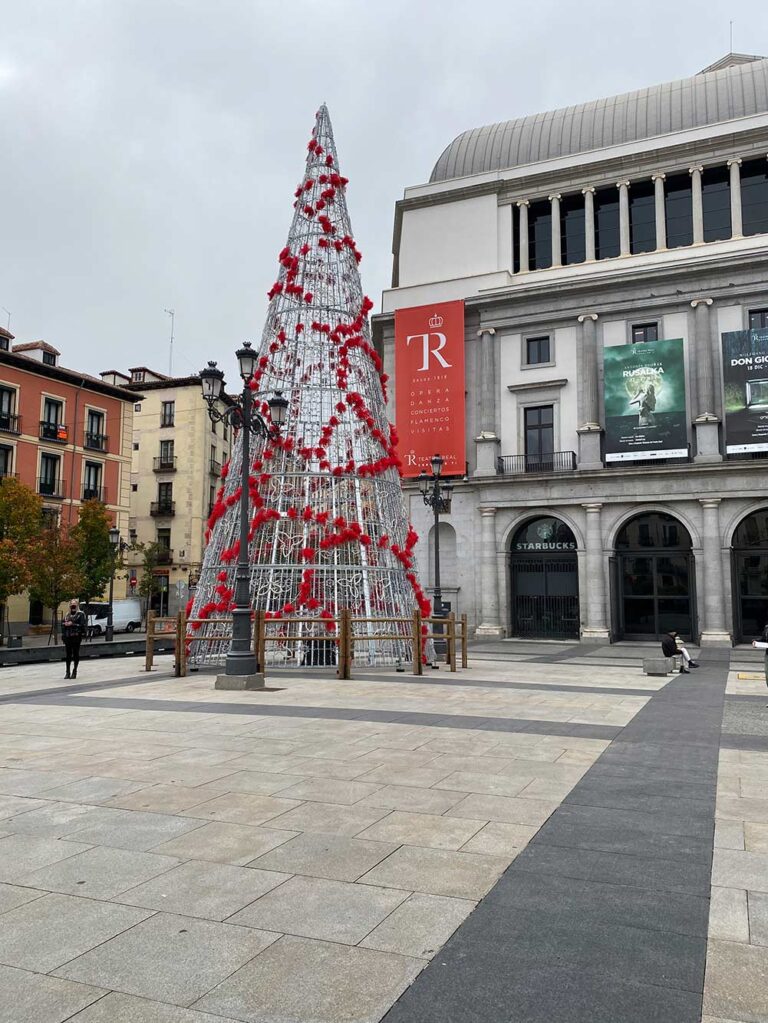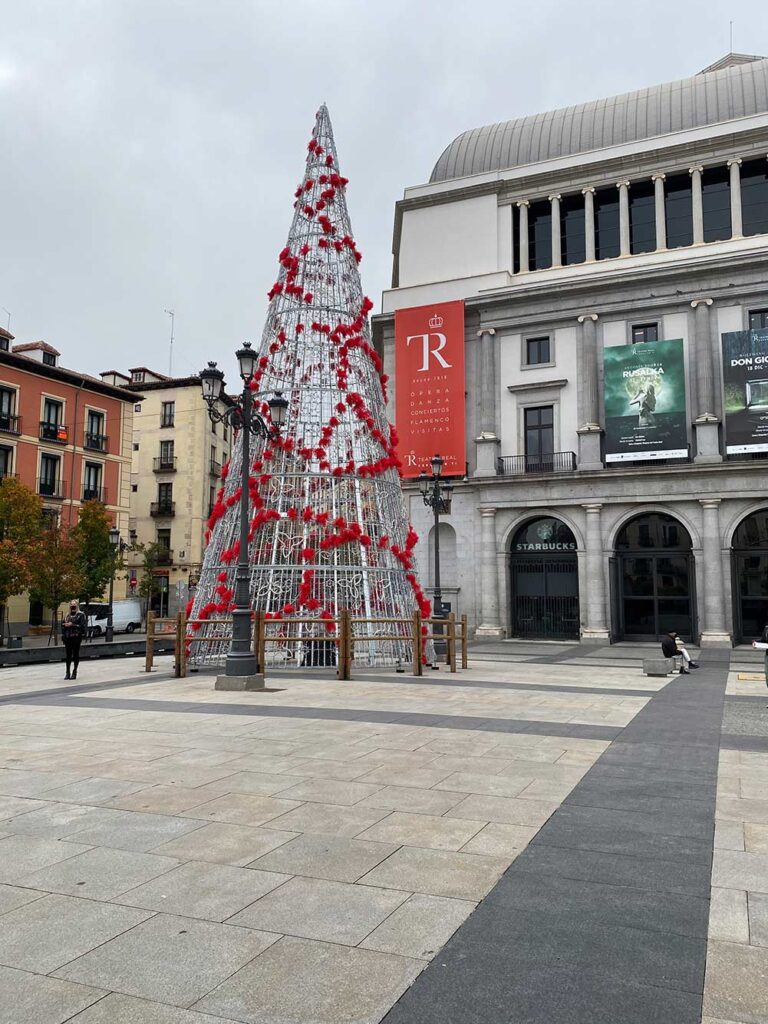 Saturday 7th November
A 4am wake up for out flight @ 7.30 am meaning we hit the road very tired. We received an email from the embryologist @ midday advising that are the embryos are evolving and they will keep watching them until they reach blastocyst stage. They will call us to advise when these will be frozen.
Tuesday 10th November
Stacey received a call early on Tuesday morning with the amazing news that 6 embryos have made it to the blastocyst stage and have been frozen this morning. This is fantastic news to start the day! We confirmed with the Dr via Whatsapp as to when the tablets must be started and when we should arrange for our next trip. He advised tablets are to be started on my next cycle and to advise him when this would be before arranging flights.
Quirónsalud is the leading hospital group in Spain and is the largest hospital group in Europe. They have over 60 years' experience in caring for people's health.